News:
Two female grizzly bears captured in the Yaak (posted 6/28/17)
Relocated bears feeding on lawns near residences
Montana Fish, Wildlife & Parks
On June 20, 2017, Montana Fish, Wildlife & Parks (FWP) captured two 2.5-year old grizzly bear siblings in the upper Yaak River area after the bears were seen grazing on lawns at several residences, and accessed songbird feeders. These siblings were previously captured in the Creston Valley area of British Columbia, Canada after being seen near residences on June 5, 2017. Canadian conservation officers captured and relocated the bears in British Columbia near the Montana border to prevent conflict with humans in the Creston area. Canadian researchers fitted one of the females with a GPS tracking collar.

The decision was made to split up the siblings and put as much landscape as possible between them. This technique of splitting up siblings has worked in the past for reducing potential conflict with people. British Columbia offered to take back the female that was collared in Canada, therefore that female was relocated back to British Columbia in White Creek, a tributary of the St. Mary's River, on June 22 and will continue to be monitored by researchers in British Columbia. The second female was fitted with a GPS collar and released in upper Spread Creek, Montana, on June 21. This female will be monitored by FWP.

Montana Fish, Wildlife & Parks encourages residents to remove songbird feeders and other bear attractants during the months that bears are awake.

For more information, contact Kim Annis, FWP Cabinet-Yaak Bear Management Specialist, at 406-293-4161 or 406-291-1320.

---
New legislation offers chance for property owners to file claims on exempt water rights (posted 6/16/17)
Montana Dept. Natural Resources and Conservation
HELENA, MONTANA – As part of its work to implement House Bill 110 (HB110), which was passed by the 65th Legislature, the Montana Department of Natural Resources and Conservation (DNRC) is notifying all property owners in the state of their opportunity to file a claim for their exempt water rights.

Not all property owners who receive a notification letter will find it necessary to respond, said DNRC Director John Tubbs.

"The conditions required for a water right owner to file a claim do not apply to everyone, but the legislation mandates that all landowners be notified by July 1, 2017," Tubbs said. "Ultimately this is a property right issue, and lawmakers determined it was important that everyone receive the information."

An exempt water right is defined as a water right that was in existence before July 1 of 1973. Water rights in this time period were exempted from two previous mandatory claim filing periods which took place in 1982 and 1996. Exempt water rights are for livestock and individual domestic uses based upon instream flows or groundwater sources only – they do not include rights for irrigation, diverted stock water from ditches or reservoirs, or commercial and municipal wells.

Under HB110, the filing period for exempt water right claims began on May 7, 2017, and will end on June 30, 2019. Tubbs said it's very important that exempt water right owners take advantage of this opportunity to file their claims.

"If you don't file your claim, your water right will not be enforceable against any filed water rights, including water rights that are junior in priority," he said. "Filing ensures protection for your water right."

Step-by-step instructions for filing an exempt water right claim, along with FAQs, contact information and more, is available on the DNRC web site at http://dnrc.mt.gov/divisions/water/adjuciation/hb-110-exempt-claim-filing

Exempt water right claim forms are available at any DNRC regional office, the Montana Water Court, or online at the web address above. The cost to file an exempt claim is $130.00, with a cap of $1,560.00, or 12 claims per water division. All claims beyond 12 for a single owner within a single water division have no additional filing fees.

Exempt water right owners who filed their claims prior to April 30, 1982, or during the late filing period that ended on June 30, 1996, do not need to update their claims.

Tubbs noted that some landowners may have previously filed a 627 form (Exempt Notice), titled "Notice of Water Right with the DNRC." This notice is not a water right; it provided a means of ensuring that exempt water right owners who had not yet filed a claim received legal notices in accordance with other water users in their area.

"The 627 Exempt Notice form was for noticing purposes only and is not considered a valid water right," said Tubbs. "If you filed this form, you should consider filing an exempt statement of claim at this time."

DNRC has set up a call center to assist landowners with any questions they may have about the filing process. The number is (406) 444-0560.

---
Yaak School Arts & Crafts Fair July 1 (posted 6/12/17)
The 5th annual Yaak School Arts and Crafts Fair will be held on Saturday, July 1, 2017 from 11AM to 5PM.

On display by local vendors will be photographs, pottery, hand-made jewelry, crocheted rugs and critters, original note cards, log furniture, wood carvings, hand-crafted soaps and lotions, antique maps and books.

Other offerings will include a silent auction, free activities for children beginning at 12:30PM and an exhibit by Montana Fish Wildlife and Parks. Lunch will be available from Troy's Preview Cafe, and the Yaak Women's Club will sponsor a bake sale. The proceeds from this event will help fund student field trips.

The one-room log Yaak School House was built in 1932 by local area residents. Two additions were constructed in subsequent years to provide bathrooms, a library and office, but the basic structure has not changed.

"We have an excellent teacher, knowledgeable clerk and hard-working board of trustees. Our K - 8 school provides a good basic education to children in the valley who have gone on to become teachers, accountants, lawyers, doctors, engineers, musicians, nurses and researchers. We are proud of our school, staff and students," the event press release states.

The Yaak School is located 45 minutes from Troy, Montana. Driving from Troy, take US Hwy 2 west and turn right (north) onto MT Hwy 508 (Yaak River Road). The Yaak School House is located between mile marker 30 and 31.

For more information contact Chris Oster 406-295-5016 or Sandy Beder-Miller 406-295-7095.

---
Troy Kids Fishing Day June 17 (posted 6/6/17)
Montana Fish, Wildlife & Parks, the US Forest Service, and the US Army Corps of Engineers are sponsoring the annual Troy Kids' Fishing Day on Saturday, June 17, 2017 from 9 am to noon. The event will take place at the Troy Community Pond at Roosevelt Park, and is open to kids of all ages. Prizes and great fun will be available for all participating kids. For questions or more information contact Jim Dunnigan (FWP in Libby) at 406-293-4161 ext. 200.

---
Man has encounter with mountain lion near Libby (posted 5/29/17)
Montana Fish, Wildlife & Parks
Montana Fish, Wildlife & Parks
On the morning of Saturday, May 27, FWP Game Wardens received a report of a man receiving minor injuries from an encounter with a mountain lion near Boundary Mountain North of Libby. The encounter occurred Friday morning, May 26.

The individual told investigators he was bent over hooking up a chain to drag out a log he'd cut for firewood when he was struck from the side and knocked into a tree. He said he swung at the animal with his arm striking it, and it ran off. He got up and ran to his truck and saw a mountain lion walking back towards the vehicle. He scared the lion off with his truck.

Game Wardens and USFS law enforcement personnel met the man at the scene and verified he had superficial scratches to the side of his face and stomach. The individual did not seek medical attention for his wounds. Hounds trained to track mountain lions were brought to the scene and "hit" on a scent, but after several hours tracking up the mountain they were unable to find or tree the lion. At 11 p.m. the search was called off. The hot dry conditions and the length of time from when the incident was reported made tracking a challenge.

Wardens placed a trail camera at the encounter site and there have been no images of a lion returning to the area over the weekend. No further action is planned at this time.

While encounters with mountain lions are rare, when they do occur it is often a young lion. Male lions can have a home range of up to 150 square miles.

Outdoor recreationists should be aware that mountain lions are common across northwest Montana. Hikers should travel in groups and carry pepper spray to deter lions as well as bears. Keep children close. If a lion threatens, experts say to make your image large and fight back if attacked. FWP asks people to report any encounters with mountain lions or any unnatural behavior displayed by mountain lions as soon as possible.

For more information on living with lions, please visit the FWP website at:
http://fwp.mt.gov/recreation/safety/wildlife/lion/lionBehave.html

---
Troy High School 100th Year Anniversary celebration June 30 – July 2 (posted 5/29/17)
Troy High School is celebrating its 100 Year Anniversary from June 30 to July 2, 2017. For more information contact Diane Holden, holdendiane73@gmail.com.

---
Lincoln County Real Estate update (posted 4/21/17)
Alice Hayes, Loveless Realty, Libby, Montana
January 1, 2017 to April 1, 2017 Current Real Estate figures:

SALES & PENDINGS:
26 Residential SALES:
15 in Libby
8 in Troy
3 in Sanders

6 Land SALES
5 in Libby
1 in Troy

0 Commercial SALES

28 Residential PENDING:
19 in Libby
2 in Troy
1 in Flathead
6 in Sanders

10 Land PENDING:
6 in Libby
1 in Troy
2 in Yaak
1 in Sanders

4 Commercial/M-Family PENDING:
3 in Libby
1 Troy

ACTIVE LISTINGS:
143 Residential ACTIVES:
58 in Libby
41 in Troy
7 in Yaak
3 in Flathead
34 in Sanders

193 Land ACTIVES:
102 in Libby
55 in Troy
14 in Yaak
1 in Flathead
21 in Sanders

31 Commercial ACTIVE:
21 in Libby
2 in Troy
2 in Flathead
6 in Sanders

2017 is starting as a busy year – and we are looking forward to helping Buyers and Sellers realize their 'dreams'.

"So How Did Our Market Actually Do? Let's Compare"
January 1 – December 31, 2016:
175 Residential SOLDS: 83 Land SOLDS: 5 Commercial SOLDS

January 1 – December 31, 2015:
143 Residential SOLDS: 58 Land SOLDS: 6 Commercial SOLDS

January 1 – December 31, 2014:
157 Residential SOLDS: 53 Land SOLDS: 8 Commercial SOLDS

January 1 – December 31, 2012:
120 Residential SOLDS: 33 Land SOLDS: 6 Commercial SOLDS

January 1 – December 31, 2011:
111 Residential SOLDS: 37 Land SOLDS: 7 Commercial SOLDS

January 1 – December 31, 2010:
93 Residential SOLDS: 28 Land SOLDS: 0 Commercial SOLDS

Interest Rates Remain LOW—NOW Could be a Great Time to Buy!
As of 04/01/2017 Conforming & FHA Loans & VA Loans:
30-Year Fixed, Interest = 4.125%; APR= 4.142%
30-Year Fixed VA Loans, Interest = 3.750%; APR=3.868%
15-Year Fixed, Interest = 3.375%; APR=3.450%

Information obtained through Lincoln County MLS

Alice Hayes: 406-293-8364, alice@alicehayes.com

Jim Hayes: 406-293-1926, jim@alicehayes.com

Website: www.alicehayes.com
---
Libby lies in the northwest corner of Montana and is nestled in a valley carved by the Kootenai River on the flank of the majestic Cabinet Mountain Range and Wilderness Area. Today about 2,800 people live within Libby proper. The main industries are lumber and wood products, mining, tourism and recreation. The movies "The River Wild" and "Always" were filmed here. Contact the Libby Chamber of Commerce for brochures, info on lodging and events, general area information, and contact information for local businesses and services.
SUMMER
When the weather warms and the mountain snows melt away, the Kootenai National Forest comes alive with over 2.2 million acres of public land as a playground. Mountain trails and lakes open up, beautiful wildflowers come in bloom, and wildlife have their young. Libby is the basecamp for the Cabinet Mountains Wilderness Area, 90-mile long Lake Koocanusa, the Northwest Peaks Scenic Area, and the Ten Lakes Scenic Area. There is good access to most of the Forest and plenty of room to get away from it all!
WINTER
Winter in Montana means snow, and lots of it! For those who love to play in the deep powder, the Libby area offers tremendous winter fun. Turner Mountain Ski Area, located just 22 miles from Libby, offers challenging downhill skiing with a beautiful view. Their slogan is "steep, deep and cheap", and Turner definitely lives up to that. It's still fairly undiscovered, so you can escape the crowds and get the cheapest lift tickets around. For those who love snowmobiling, there are hundreds of miles of backcountry roads to sled on in the Kootenai National Forest. Cross-country skiers and ice fishermen also can find solitude on a lake and miles of quiet forest trails to enjoy the outdoors. Those who are a bit on the wild and crazy side will love the antics of the Libby Polar Bear Club. Members take winter-time "swims" in frigid Libby Creek every Sunday from October to April. Plungers have ranged in age from 3 to 61. As long as the ice can be broken on the creek, if it has formed, the group will take their plunge, no matter the temperature.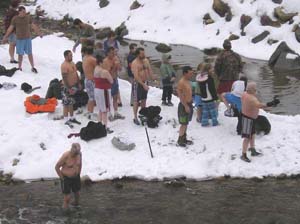 These people must be craaaazzzzzy!
Libby Polar Bear Club