News:
Troy Mine winds down and awaits SEIS from Forest Service (posted 3/4/15)
Duane Williams, KLCB-KTNY Radio
Monday, March 2, announced that the transition to care and maintenance at the Troy Mine has been successfully completed during February.

Mining operations ceased at the end of January and an orderly transition of milling operations to care and maintenance occurred during February, 2015.

A care and maintenance team consisting of eight Troy Mine employees is now in place.

The Troy Mine continues to report a strong safety record while winding down operations and transitioning to care and maintenance having now completed nearly two and a half years without a lost time accident or reportable injury.

According to John Shanahan, Revett's President and CEO, it remains focused on the advancement and completion of permitting the Rock Creek project.

The U.S. Forest Service has circulated the Draft Supplemental Environmental Impact Statement (SEIS) to co-operating agencies for review and expects that the SEIS will be issued in the second quarter of this year for public comment, 2015.
_______________________________________________

By Duane Williams, KLCB-KTNY Radio, e-mail: klcb@frontiernet.net, www.klcb-ktny.com

---
Three arrested for Libby vehicle break-ins (posted 3/4/15)
Duane Williams, KLCB-KTNY Radio
Yet another bust by the Libby Police in the vehicle entry spree.

Thursday (Feb. 26th), Libby Police arrested Zachery Trayer charged with motor vehicle theft and common scheme, a felony. According to police, it appears this is a theft ring allegedly including Tyler Nicholas Davis, 27, of 474 Park St. #7, Libby, and Isaac William Macy, 18, of 307 West 2nd St., Libby, arrested and charged two weeks ago with Theft, Common Scheme, Felony and Theft of Motor Vehicle, Felony while in possession of a Ford Explorer belonging to Duane Tyner.

During the arrest Thursday, Libby Police seized items stolen from vehicles around the area. The items are in the procession of police. Anyone having lost items in these thefts, contact Libby Police or County Sheriff's Office to claim your belongings.
________________________________________

By Duane Williams, KLCB-KTNY Radio, e-mail: klcb@frontiernet.net, www.klcb-ktny.com

---
Elk and Deer permit application due March 16 (posted 3/4/15)
March 16 is the deadline to apply for Montana's 2015 deer and elk hunting permits. An easy-to-use application packet is available from all hunting license providers, Montana Fish, Wildlife & Parks offices and online at fwp.mt.gov.

FWP urges hunters to apply online. "It's fast, convenient and accurate," said Ron Aasheim, FWP spokesman in Helena.

Resident hunters need a 2015 conservation and elk license to apply for a special elk permit but everything else needed to apply is in the application and information packet, Aasheim said.

Hard copies of the hunting regulations will be on the shelf at FWP offices and local license providers in April.

Nonresidents who wish to apply for big game combination, elk combination or deer combination licenses and deer and elk permits for the 2015 Montana hunting season can also apply online or download an applicationfrom FWP's website.

To request an application by mail, write to: Licensing Section; Montana FWP; P.O. Box 200701, Helena MT; 59620-0701; or call: 406-444-2950. The application deadline is March 16.

Aasheim said May 1 is the deadline to apply for moose, sheep, goat and bison licenses and June 1 for antlerless deer B and elk B licenses, antelope and antelope B licenses.

---
Hunters' bear identification training required (posted 3/4/15)
Montana Fish, Wildlife & Parks reminds all black bear hunters of the responsibility to avoid mistakenly shooting a grizzly bear during the state's upcoming spring black bear hunt. Montana's spring black bear hunting season begins April 15.

Before first-time bear hunters can purchase a black bear hunting license, they must be certified by successfully completing FWP's bear identification training. FWP offers a bear identification training course on its website under the Education tab at fwp.mt.gov. Click "Hunter Education," and then "Bear Identification Program".

FWP urges bear hunters to take advantage of the free bear identification training and to ensure they have the required certification before purchasing a hunting license. There are multiple ways to obtain and take the test—go online or pick up a mail-in test from any FWP office. Bear identification tests can also be obtained by writing to: FWP Bear Test, 1420 E. 6th Ave., Helena, MT 59620-0701.

Hunters may purchase black bear hunting licenses online at fwp.mt.gov, at FWP license providers, or download and print a paper license application and mail it to FWP. Licenses issued through the mail may take two weeks to process.

---
Online hunter education available to adults (posted 3/4/15)
Montana Fish, Wildlife & Parks offers hunter education on the Internet to anyone 18 years and older.

State law requires anyone born after Jan. 1, 1985 to take a hunter education course and complete a field course before purchasing a hunting license in Montana. The $25 online course allows adults to take the required hunter education course at their convenience.

Following the online coursework, students must sign up for a scheduled field day. There are field days available throughout Montana every spring and fall.

For more information go to the FWP website at fwp.mt.gov. Click on the Education tab and then click "Hunter Education".

---
FWP College Intern program gearing up (posted 3/4/15)
Summer program lets college students gain practical experience in wildlife work
Montana Fish, Wildlife & Parks is again offering college students an opportunity to gain practical experience working as interns in a variety of capacities. Students typically receive academic credit while completing practicum requirements and gaining valuable work experience.

FWP will fill positions around the state that involve work in the areas of fish and wildlife biology, environmental studies, education, interpretation, outdoor recreation, range management, natural resources, statistics and more. The majority of the internships run from April to September.

College students are urged to contact their career placement office immediately for current postings of all internship announcements, or visit the FWP website at fwp.mt.gov. Go to the Doing Business tab and click employment to learn more about available Internships, application deadlines and other details.

Students are urged to read the announcements carefully for deadline information before selecting and applying for an internship as the details and requirements vary with each position.

For more information or questions about the intern program, contact Debbie Cheek, statewide intern coordinator, at 406-439-8299.

---
Shooting Range Development Grant deadline May 1 (posted 3/4/15)
Funds help build and improve public shooting ranges in Montana
Montana Fish, Wildlife & Parks reminds shooting range enthusiasts that the deadline to apply for range development grants is May 1.

Montana's Shooting Range Grant Program, administered by FWP, provides funding to private shooting clubs, organizations, local governments and school districts to build and improve public shooting ranges throughout the state.

To learn more about the Shooting Range Grant Program, and for a grant application, go to the FWP website at fwp.mt.gov, click on the Recreation page and look under Shooting Ranges. Or, call FWP at: 406-444-9947.

Completed Shooting Range Grant applications may be mailed to: Montana Fish, Wildlife & Parks, attn: Shooting Range Grant, Communication and Education Bureau, 1420 East Sixth Ave., PO Box 200701, Helena, MT 59620.

---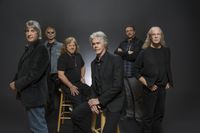 2015 Big Sky Bash July 11th. Tickets go on sale May 1st. This year's event will feature Three Dog Night and local favorite Copper Mountain Band.

2015 Big Sky Bash July 11th (posted 2/15/15)
Will feature Three Dog Night and Copper Mountain Bands in concert
The CARD Foundation is pleased to announce its 5th annual Big Sky Bash concert to benefit the Center for Asbestos Related Disease (CARD). Legendary music icons, Three Dog Night and local favorite Copper Mountain Band will be performing in Libby on Saturday, July 11th, 2015, with gates opening at 6pm, and music playing from 7pm until midnight at J Neils Park.

Legendary music icons, Three Dog Night celebrate their 4th decade, performing to sell-out crowds and bringing along some of the most astonishing chart statistics in popular music including 21 consecutive Top 40 hits, including 3 #1 singles, 11 Top 10's, and 12 straight RIAA Certified Gold LPs.

Perfectly re-creating their larger than life songs with customary impeccable harmonies and exciting arrangements, Three Dog Night will perform their hits including "Mama Told Me (Not To Come)", "Joy to The World", "Black and White", "Shambala", "One", "Liar", "Celebrate" and many more songs that drive their chart and sales success.

Three Dog Night, which is made up of founding members Cory Wells and Danny Hutton on lead vocals, original band mates Jimmy Greenspoon (keyboards) and Michael Allsup (guitar) and completed by Paul Kingery (bass and vocals) and Pat Bautz (drums), now perform for audiences spanning several generations.

Initially brought together in 1968 by Danny Hutton and Cory Wells, Three Dog Night recorded the music of the best (and mostly undiscovered) new songwriters of their time including Harry Nilsson, Randy Newman, Elton John, Laura Nyro, Paul Williams and Hoyt Axton among many others. The group's eclectic taste, combined with their ability to recognize and record hits in a unique, distinctive and appealing style, resulted in Three Dog Night dominating the charts for years. The now-famous name came from a story about Australian hunters who, on cold nights in the outback, sleep with their dogs for warmth. The coldest evenings are known as a "three dog night".

Recently Three Dog Night added new songs to their arsenal with the release of their first double-A sided single in nearly 25 years. These new tracks, "Heart Of Blues" and the a-cappella ballad "Prayer of the Children", are available now in an exclusive online release. See www.threedognight.com for more information.

After more than 40 years together, Three Dog Night continues to grow its fan base and develop new ways of doing business. They maintain an aggressive schedule of concerts at theatres, performing arts centers, fairs, festivals, corporate events, and casinos. Since 1986, they have performed over 2,300 shows including two Super Bowls.

Copper Mountain Band is a high-energy, mainstream, country music group with family roots that lie deep in the history of Montana. Copper Mountain Band appeals to all audiences as they incorporate music from many genres and styles into their performances. They have found a way to give cover tunes a whole new dimension and they have outstanding original material as well. They have also received praise for their rendition of Cher's "Just Like Jesse James". They are a one-of-a-kind group with a fiery passion for their craft. The band plays more than 150 dates a year throughout the US and abroad and continues to build their fan base on their way to the top!

Tickets will go on sale May 1, 2015. Ticket prices will be $25.00 advance purchase and $30.00 at the gate. All proceeds from this event will go to the CARD Foundation, the fundraising arm of CARD, to support CARD in its ongoing efforts to provide healthcare, research and outreach to benefit all people impacted by exposure to Libby Amphibole Asbestos. For more information please call 406-293-9274 ex 132.

---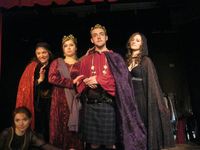 Pitiful Players will perform MacBeth in Troy and Libby in March.

Pitiful Players to perform 'Macbeth' in Troy and Libby in March (posted 2/15/15)
The Pitiful Players will be performing a slightly modified version of William Shakespeare's "Macbeth" in March. There will be performance in Troy and Libby on the following dates:

Saturday, March 7th, 7pm, Lincoln Theater, Troy
Friday March 13th, 7pm, Maki Theatre, Libby
Saturday, March 14th, 7pm, Maki Theatre, Libby

Will might not approve, but the show has been cut down to size with several characters and many long speeches removed. What remains is a fast-paced, entertaining show. But it is still Macbeth, with all the darkness and murders intact. For more information, call Keith Meyers at 406-293 9277.

---
Hunter Education classes scheduled for Eureka and Troy in March (posted 2/15/15)
Hunter Education Classes have been scheduled for a number of communities in northwest Montana. All hunter education classes are free of charge. By state law, anyone born after January 1, 1985, must have completed the Hunter Education Course to buy a hunting license in Montana. To attend class and become certified, students must be at least 11 years old. All students must register online (Register online at fwp.mt.gov, click education) for the courses. When registering, students will note specific information and guidelines for the course included in the online posting. Below is information for Eureka and Troy in Lincoln County. Classes are also upcoming in other towns outside the county in northwest Montana.

Troy: Register online. Classes are held 6-8 p.m. at the Troy High School on March 10, 11, 12, 17, and 18; field course is held Saturday, March 14. Contact: Jim Jones 406-295-4520.

Eureka: Register online now. First night of class is March 9, 7-9 p.m. at the Eureka Middle School Library. Classes continue from 7-9 p.m. on March 16, 17, 19, 23, 24, and 26. Field day is Saturday, March 21. Call Megan Strom 406-297-7909 for more information.

---
Heritage Museum summer season dates (posted 2/15/15)
The Heritage Museum in Libby will open on Saturday, May 30th for the 2015 summer season. They will be open Monday through Saturday from 10-5 and Sundays from 1-5PM. Admission is by donation. Their closing day will be Monday, August 31st. Their Holiday Bazaar is scheduled for Friday, November 6, 5-8 p.m. and Saturday, November 7, 10 a.m-4 p.m. For more information call 406-293-7521, www.libbyheritagemuseum.org

---
Libby lies in the northwest corner of Montana and is nestled in a valley carved by the Kootenai River on the flank of the majestic Cabinet Mountain Range and Wilderness Area. Today about 2,800 people live within Libby proper. The main industries are lumber and wood products, mining, tourism and recreation. The movies "The River Wild" and "Always" were filmed here. Contact the Libby Chamber of Commerce for brochures, info on lodging and events, general area information, and contact information for local businesses and services.
SUMMER
When the weather warms and the mountain snows melt away, the Kootenai National Forest comes alive with over 2.2 million acres of public land as a playground. Mountain trails and lakes open up, beautiful wildflowers come in bloom, and wildlife have their young. Libby is the basecamp for the Cabinet Mountains Wilderness Area, 90-mile long Lake Koocanusa, the Northwest Peaks Scenic Area, and the Ten Lakes Scenic Area. There is good access to most of the Forest and plenty of room to get away from it all!
WINTER
Winter in Montana means snow, and lots of it! For those who love to play in the deep powder, the Libby area offers tremendous winter fun. Turner Mountain Ski Area, located just 22 miles from Libby, offers challenging downhill skiing with a beautiful view. Their slogan is "steep, deep and cheap", and Turner definitely lives up to that. It's still fairly undiscovered, so you can escape the crowds and get the cheapest lift tickets around. For those who love snowmobiling, there are hundreds of miles of backcountry roads to sled on in the Kootenai National Forest. Cross-country skiers and ice fishermen also can find solitude on a lake and miles of quiet forest trails to enjoy the outdoors. Those who are a bit on the wild and crazy side will love the antics of the Libby Polar Bear Club. Members take winter-time "swims" in frigid Libby Creek every Sunday from October to April. Plungers have ranged in age from 3 to 61. As long as the ice can be broken on the creek, if it has formed, the group will take their plunge, no matter the temperature.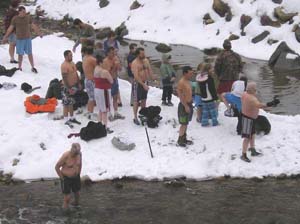 These people must be craaaazzzzzy!
Libby Polar Bear Club