News:
Deer & Elk hunting permit applications available January 26 (posted 1/25/15)
Montana Fish, Wildlife & Parks
Montana's new 2015 hunting and fishing year begins March 1. Licenses will go on sale—and applications for resident and nonresident deer and elk hunting permits will be available—Jan. 26.

Deer and elk permit applications and information will also be available online at fwp.mt.gov; click "March 16—Deer & Elk Permits" beginning Monday, Jan. 26, at 9 a.m. The application deadline is March 16.

FWP urges hunters to apply online. "It's fast, convenient and accurate," said Ron Aasheim, FWP spokesman in Helena.

Nonresidents seeking to apply for big game combination, elk combination or deer combination licenses and deer and elk permits for the 2015 fall Montana hunting season can also apply online or download an application from FWP's website. To request an application by mail, write to: Licensing Section; Montana FWP; P.O. Box 200701, Helena MT; 59620-0701; or call: 406-444-2950.

Aasheim said May 1 is the deadline to apply for moose, sheep, goat and bison licenses and June 1 for antlerless deer B and elk B licenses and antelope and antelope B licenses.

Montana's upcoming hunting and fishing license year runs from March 1 to Feb. 29, 2016.

---
Free tax aid for Libby residents available in Kalispell Feb 2 – April 14th (posted 1/25/15)
Libby no longer has the AARP Foundation free tax aide program. Libby residents can still take advantage of free tax preparation help offered in Kalispell by appointment February 2 through April 14, 2015. AARP is offering free tax help to low- and moderate-income taxpayers, especially those age 60 and over. Help is free, individualized, and no strings attached.

Tax preparation specialists will be at the Kalispell Gateway Community Center Monday, Tuesday and Thursdays from 8AM to 4PM. Appointments are required - call 406-407-8355. Please use the southwest entrance of the Gateway West Mall Suite, 1203 Hwy 2 W - Southwest Entrance A - Space 50.

You will need to bring the following documents with you:
- Government issued identification
- Last year's tax return
- Social Security cards or other official documentation for yourself and all dependents
- Checkbook or pre-printed direct deposit information for your reloadable prepaid card showing routing number and direct deposit account number if you want to do a direct deposit of any refund(s).

Income
- W-2 from each employer
- Unemployment compensation statements
- SSA-1099 form showing the total Social Security benefits paid to you for the year, or Form RRB-1099, Tier 1 Railroad Retirement benefits
- 1099 forms reporting interest (1099-INT), dividends (1099-DIV), proceeds from sales (1099-B), as well as documentation showing the original purchase price of your sold assets
- 1099-R form if you received a pension or annuity, especially if you had a portion withheld for income tax purposes
- 1099-MISC form showing any miscellaneous income

Payments
You will need to bring all forms and canceled checks indicating federal and state income tax paid (including quarterly estimated tax payments).

Deductions
Most taxpayers have a choice of taking either a standard deduction or itemizing their deductions. If you have a substantial amount of deductions, you may want to itemize. You will need to bring the following information:
- 1098 form showing any home mortgage interest
- Receipts or canceled checks for medical/dental expenses (including doctor and hospital bills and medical insurance premiums), receipts for prescription medicines, costs of assisted living services and bills for home improvements, such as ramps and railings for people with disabilities
- Receipts for contributions to charity
- Receipts or canceled checks for all tax income and property taxes you paid, as well as records of tax refunds

Credits
- Dependent care provider information (name, employer ID or Social Security number)
- Receipts, canceled checks or 1099 forms related to continuing education

Affordable Care Act (ACA) Information
Be sure to bring relevant documents with you to prove you are in compliance with the ACA. You will need one of the following:
- Documentation proving health care coverage for you, your spouse and all your dependents
- Information indicating that you were covered for at least nine months of the year
- Form 1095-A (which you will receive by Jan. 31, 2015) if you purchased insurance through the Marketplace/Exchange
- Documentation of a Health Care Exemption received from the IRS or the Marketplace/Exchange

Related Links:
AARP Tax Aide program

---
Revett to place Troy Mine on care and maintenance (posted 1/24/15)
Duane Williams, KLCB-KTNY Radio
Due to low metal prices, Revett will place the Troy Mine on care and maintenance. Development work to the I Beds will cease immediately and milling operations will continue through to the end of January.

An orderly shutdown will take place during the month of February with the expectation that development and operations may resume in a more favorable metals price environment. Revett will continue to focus on Rock Creek permitting efforts with the expected issuance of the draft Supplemental Environmental Impact Statement issued for public comment by mid-2015.

John Shanahan, Revett's President and CEO says, "Although this is a difficult decision, it is important to note that redevelopment efforts at Troy have been successful. Unfortunately, at current metal prices, commercial operations are not sustainable in the near term. We believe that in a higher metals price environment, it may be possible to recommence operations at Troy and complete development to the I Beds. We are very proud of the efforts and accomplishments of our operating team during the past two years. Placing the Troy Mine on care and maintenance will conserve cash while we focus on Rock Creek permitting and preserve Troy as a viable deposit for possible future development."

The recently announced "moth balling" of the Troy Revett mine due to market condition will not affect progress with the Montanore mine, according to Jessica Klepfer, spokesperson for Mines Management, owner of the Montanore.

Montanore is continuing to move forward. Price, at this point, has no effect on the project, she told KLCB. "We are very close to getting a Final EIS from the agencies, expected in a couple of weeks, " said Klepfer.

By Duane Williams, KLCB-KTNY Radio, e-mail: klcb@frontiernet.net, www.klcb-ktny.com

---
2015 events in Libby and Eureka (posted 1/24/15)
Mark your calendar
January
Jan 24-25: Ice Fishing Derby-Halfway House/Bull Lake
January 31: ANNUAL CHAMBER FUNDRAISER-Memorial Events Center

February
February 7: First in series of writing workshops presented by Caroline Patterson, Missoula writer and editor. 9:30 - 11:30am Sunburst meeting room, Eureka. Caroline will come to Eureka again in March and April as workshop participants develop their pieces. For more information call Sunburst Community Service Foundation call Rita at 406-297-0197.
February 13: Rebecca Folsom Duo! Fourth concert in this year's Performing Arts Series. 7pm LCHS auditorium, Eureka. $12/adult; students 18 and younger for free. For more information call Sunburst Community Service Foundation call Rita at 406-297-0197.

March
March 7: Irish Fair/Memorial Events Center
March 28: CHC Fundraiser

May
May 1: Rotary Wine Tasting
May 8: Farmer's Market Opens/Chamber Parking Lot- 12pm-5
May 16: Kootenai Kiwanis Family Day in the Park
May 31: Memorial Day

June
June 6: Kootenai Wildlands Firefighter Challenge & FireSafe Challenge
June 20: Incredibull- J Neils Park
June 25-28: Libby Logger Days-J Neils Park

July
July 17-Relay For Life
July 17-18: Kootenai Highland Gathering
July 24-25: Kootenai River Rodeo-J Neils Park

August
August 12: SBA from Helena will be at Chamber Luncheon
August 14-15: Ignite the Nites-Mineral Ave

September
September 11-13: Libby Nordicfest

---
FVCC's Libby Campus to provide financial aid help at College Goal Montana (posted 1/24/15)
Flathead Valley Community College
Flathead Valley Community College's Lincoln County campus in Libby will host College Goal Montana, a program that provides students who want to attend college and their families the opportunity to obtain assistance in applying for financial aid.

Free and open to all higher-education-bound students and their families of all income levels, College Goal Montana is dedicated to guiding students and their families through the paperwork required to apply for financial assistance. Financial aid officers and other qualified professionals will be present to ensure students receive assistance in understanding and completing the necessary paperwork, including the Free Application for Federal Student Aid (FAFSA), to receive financial aid.

The event will take place February 10 from 3 to 7 p.m. at the college's Lincoln County campus in Libby in room 125. Appointments are not required.

Each student and family who attends will need to bring with them their FAFSA personal identification number (PIN)—logon to www.pin.ed.gov to obtain PIN; Social Security numbers; 2014 federal income tax returns (or 2013 federal income tax returns if 2014 returns are not complete); W-2 forms, tribal income or other aid information, such as TANF, child support or other benefits; and additional asset information, including money market funds, stocks and other investments.

For more information, please contact Deb Huisentruit at 406-293-2721, or visit smartaboutcollege.org.

---
Real Estate in Libby, Troy & the Yaak (posted 1/19/15 )
Guest article by Alice L. Hayes, Loveless Realty
The figures of the Current Activity and Past Activity show we are moving forward—not at incredible speeds—but slowly moving ahead.
2014 showed One (1) More Residential SALES than 2013.
2014 showed Land SALES were Three (3) Less than 2013.
2014 showed One (1) More Commercial SALES than 2013.
2013 and 2014 were busy years with a number of our long-time listings moving to new owners.
We are looking forward to keeping the SALES momentum moving.

Interest Rates Remain at ALL Time LOWS—
Inventory Selections Are Growing—
NOW Could be a Great Time to Buy!
As of 1/01/2015 Conforming & FHA Loans:
30- Year Fixed; Interest = 3.81%; APR= 3.89%
15- Year Fixed; Interest = 3.10; APR=3.22%

2014 at a Glance—How Was Lincoln County Real Estate in 2014?

ACTIVE LISTINGS
263 Residential ACTIVES:
105 in Libby
64 in Troy
8 in Yaak
14 in Flathead
72 in Sanders

376 Land ACTIVES:
128 in Libby
107 in Troy
18 in Yaak
27 in Flathead
96 in Sanders

31 Commercial ACTIVE:
14 in Libby
3 in Troy
2 in Yaak
2 in Flathead
10 in Sanders

January 1, 2014—December 31, 2014 Current Real Estate Figures:

SALES & PENDINGS
157 Residential SALES:
99 in Libby
29 in Troy
4 in Yaak
5 in Flathead
20 in Sanders

53 Land SALES:
17 in Libby
18 in Troy
5 in Yaak
1 in Flathead
12 in Sanders

8 Commercial SALES:
5 in Libby
1in Troy
2 in Sanders

22 Residential PENDING:
5 in Libby
5 in Troy
1 in Yaak
2 in Flathead
9 in Sanders

12 Land PENDING:
8 in Libby
3 in Troy
1 in Sanders

2 Commercial/M-Family PENDING:
2 in Libby

So How Did Our Market Actually Do? Let's Compare

January 1 to December 31, 2013
156 Residential SOLDS
56 Land SOLDS
7 Commercial SOLDS

January 1 to December 31, 2012
120 Residential SOLDS
33 Land SOLDS
6 Commercial SOLDS

January 1 to December 31, 2011
111 Residential SOLDS
37 Land SOLDS
7 Commercial SOLDS

January 1 to December 31, 2010
93 Residential SOLDS
28 Land SOLDS
0 Commercial SOLDS

January 1 to December 31, 2009
82 Residential SOLDS
33 Land SOLDS
6 Commercial SOLDS

January 1 to December 31, 2008
98 Residential SOLDS
67 Land SOLDS
11 Commercial SOLDS

For more information contact:
Alice & Jim Hayes, Team Hayes
Loveless Realty
519 W. 9th
Libby, MT 59923
PHONE: 406-293-8364 or 406-293-1926
TEXT: 406-293-8364
EMAIL: alice@alicehayes.com or jim@alicehayes.com
WEBSITE: www.alicehayes.com

Information obtained from Lincoln County MLS.

---
Fish virus detected in Montana's Kootenai River (posted 1/9/15)
Infectious hematopoietic necrosis (IHN)
Montana Fish, Wildlife & Parks
Fish-health testing by state fisheries biologists in November detected a virus in wild spawning kokanee salmon in the Kootenai River below Kootenai Falls.

It marks the first time the common virus, called infectious hematopoietic necrosis, or IHN, has been detected in state waters, said Mark Deleray, fisheries manager for Montana Fish, Wildlife & Parks in Kalispell.

While IHN doesn't harm humans, it does occur naturally in Pacific Coast wild salmon, steelhead, and herring and can be passed on to other fish. The virus was known to be present in in portions of Kootenai River that pass through Idaho and Canada. It is not known how long the virus has been at this location in Montana, but since fish can move into Montana from the downstream reaches in Idaho and Canada, it likely has been around for some time.

Montana has sampled fish for the IHN virus from a variety of waters for about 20 years. In 2013, shortly after the virus was detected in stretches of Kootenai River in British Columbia, Canada, FWP began testing for the ailment in the Kootenai River in Montana.

Impacts to wild populations are poorly understood, although fish kills in the wild appear to be rare. IHN, however, can be extremely lethal in hatchery settings and has often erupted in hatcheries from Alaska to California. The virus attacks the blood-forming tissues of the kidney.

Deleray said the Montana finding will lead FWP to redouble efforts to keep the virus from spreading into wild kokanee salmon brood stocks in Lake Mary Ronan—where salmon eggs are collected each fall—and to nearby fish hatcheries at Murray Springs near Eureka and the Flathead Lake Salmon Hatchery south of Somers.

In other states, the virus entered hatcheries via water pumped in from associated rivers and streams. Recent tests found no salmon or trout species being reared at the Murray Spring and Flathead Lake facilities have contracted the virus. Neither of the hatcheries use surface waters.

The virus was first noticed in sockeye fingerlings at a Washington State fish hatchery at Winthrop, Wash., in 1951. Columbia Basin trout farmers in Idaho have battled IHN since the early 1970s.

A vaccine has been developed to combat IHN, Deleray said, but it is expensive, not yet approved for use in the U.S., and not useful outside of hatcheries.

Deleray said the discovery of IHN in state waters will lead to increased monitoring and testing of trout and salmon in other waters in the region and additional protective measures at our state hatcheries.

Montana's best defense against the destruction caused by invasive species and fish diseases is for anglers and others to get into the 'inspect, clean, and dry habit'," Deleray said.

"If we all inspect, clean, and dry our boats, trailers, and fishing gear after each use we have a chance to control the spread of invasive plants, animal and disease by not carrying them from one water to the next," Deleray said.
---
Libby lies in the northwest corner of Montana and is nestled in a valley carved by the Kootenai River on the flank of the majestic Cabinet Mountain Range and Wilderness Area. Today about 2,800 people live within Libby proper. The main industries are lumber and wood products, mining, tourism and recreation. The movies "The River Wild" and "Always" were filmed here. Contact the Libby Chamber of Commerce for brochures, info on lodging and events, general area information, and contact information for local businesses and services.
SUMMER
When the weather warms and the mountain snows melt away, the Kootenai National Forest comes alive with over 2.2 million acres of public land as a playground. Mountain trails and lakes open up, beautiful wildflowers come in bloom, and wildlife have their young. Libby is the basecamp for the Cabinet Mountains Wilderness Area, 90-mile long Lake Koocanusa, the Northwest Peaks Scenic Area, and the Ten Lakes Scenic Area. There is good access to most of the Forest and plenty of room to get away from it all!
WINTER
Winter in Montana means snow, and lots of it! For those who love to play in the deep powder, the Libby area offers tremendous winter fun. Turner Mountain Ski Area, located just 22 miles from Libby, offers challenging downhill skiing with a beautiful view. Their slogan is "steep, deep and cheap", and Turner definitely lives up to that. It's still fairly undiscovered, so you can escape the crowds and get the cheapest lift tickets around. For those who love snowmobiling, there are hundreds of miles of backcountry roads to sled on in the Kootenai National Forest. Cross-country skiers and ice fishermen also can find solitude on a lake and miles of quiet forest trails to enjoy the outdoors. Those who are a bit on the wild and crazy side will love the antics of the Libby Polar Bear Club. Members take winter-time "swims" in frigid Libby Creek every Sunday from October to April. Plungers have ranged in age from 3 to 61. As long as the ice can be broken on the creek, if it has formed, the group will take their plunge, no matter the temperature.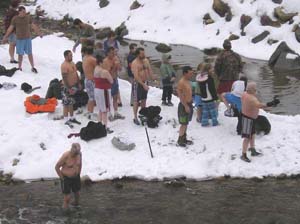 These people must be craaaazzzzzy!
Libby Polar Bear Club