News:
2016 Hunting licenses on sale Feb. 1 with change in fees (posted 1/27/16)
Montana Fish, Wildlife & Parks
Montanaís 2016 hunting and fishing licenses go on sale Monday, Feb. 1, under a new fee structure passed by the state legislature. Licenses will be available at all Montana Fish, Wildlife & Parks license outlets.

This year hunters must purchase a new "base hunting license" that is a prerequisite to buying any state hunting license. The $10 resident license includes the hunting access enhancement fee that was charged separately for $2 last year. The new base hunting license was created in lieu of adjusting license fees for individual species.

A season-long Montana resident fishing license will increase by $3 this year to $21. Fishing licenses will no longer be sold in combination with a conservation license Ė which is required for any hunting or fishing license purchase. The price of a resident conservation license will remain at $8 for all ages.

Under the new structure, most licenses that were free or discounted in 2015 will be charged at half of the standard license cost. Previously, free licenses or a variety of discounted prices were offered to some youth, seniors and disabled sportsmen. In 2016, only military recognition and block management cooperator combination licenses will remain free. FWP is reimbursed by the state general fund for military recognition licenses and block management cooperators provide hunting opportunities for all sportsmen.

Starting Feb. 1, the new fee structure will standardize the definition of youth as those between 12 and 17 years old. This language replaces a number of age categories.

The price of all other resident tags, licenses, drawing fees and permits will remain the same as in 2015.

---
BIG SKY BASH 2016 to be held July 9, 2016 (posted 1/17/16)
CARD Foundation 1
The CARD Foundation is pleased to announce its 6th annual BIG SKY BASH concert to benefit the Center for Asbestos Related Disease (CARD). Country Music Legend, John Michael Montgomery and The Devon Wade Band will be performing in Libby on Saturday, July 9th, 2016, with gates opening at 5pm, and music playing from 6pm until midnight at J. Neils Park.

John Michael Montgomery has turned an uncanny ability to relate to fans into one of country music's most storied careers. Behind the string of hit records, the roomful of awards and the critical and fan accolades that have defined his phenomenal success lies a connection that goes beyond his undeniable talent and his proven knack for picking hits. Since the days when "Life's A Dance" turned him from an unknown artist into a national star, John Michaelís rich baritone has carried that most important of assets--believability. Few artists in any genre sing with more heart than this handsome Kentucky-born artist.

It is readily apparent in love songs that have helped set the standard for a generation. Songs like "I Swear," "I Love the Way You Love Me" and "I Can Love You Like That" still resonates across the landscape--pop icon and country newcomer Jessica Simpson cited "I Love The Way You Love Me" as an influence in a recent interview. It is apparent in the 2004 hit "Letters From Home," one of the most moving tributes to the connection between soldiers and their families ever recorded, and in "The Little Girl," a tale of redemption that plumbs both the harrowing and the uplifting. It is apparent even in the pure fun that has always found its way into John Michael's repertoire--songs like "Be My Baby Tonight" and "Sold (The Grundy County Auction Incident)," where John Michael's vocal earnestness takes musical whimsy to another level.

Devon Wade is an independent country music artist out of Sandpoint, Idaho with a strong love for what country music has always been songs about real life and things that matter most in life. Most recently opening for such acts as Jerrod Niemann, The Josh Abbott band, and Roseanne Cash, Devon has become known for his strong country voice coming from such influences as George Strait, Clint Black, and Garth Brooks, as well as his lively shows.

"Performing music has always been about the people, I want everyone at one of my shows to have a great time, it isnít about me, but it should be about them. I want people to hear the memories, either it be from one of my songs, or a cover of another artist that they can request. Many times during a show, I have even learned a song someone requested that I didnít know from an MP3 of the song or the internet, and if I canít learn it then they are welcome to come up and sing it themselves" says Devon.

Being a frequent concert-goer himself he understands what makes for a memorable experience and he is always trying to make everyone feel special at each of his shows.

"My most memorable concert experience was seeing Chris Ledoux live, I can still hear the crowd, the songs, and still remember the way I felt after that concertÖ.I said to myselfÖthatís what I want to do. I may not be as popular as Chris Ledoux, but when I am on the stage with the band, thatís who I imagine myself as. I want people to walk away from a show and feel the same way I did."

With his songwriting skills coupled with his energetic shows he has become a favorite among country music fans everywhere. "For me, making it big in the music business is not what really matters, but if I can make a new fan of country music out of someone in the audience then I couldnít ask for anything more".

Tickets will go on sale May 1, 2016. Ticket prices will be $30.00 for advance purchase and $35.00 at the gate. All proceeds from this event will go to the CARD Foundation, the fundraising arm of CARD, to support CARD in its ongoing efforts to provide healthcare, research and outreach to benefit all people impacted by exposure.

---
Libby lies in the northwest corner of Montana and is nestled in a valley carved by the Kootenai River on the flank of the majestic Cabinet Mountain Range and Wilderness Area. Today about 2,800 people live within Libby proper. The main industries are lumber and wood products, mining, tourism and recreation. The movies "The River Wild" and "Always" were filmed here. Contact the Libby Chamber of Commerce for brochures, info on lodging and events, general area information, and contact information for local businesses and services.
SUMMER
When the weather warms and the mountain snows melt away, the Kootenai National Forest comes alive with over 2.2 million acres of public land as a playground. Mountain trails and lakes open up, beautiful wildflowers come in bloom, and wildlife have their young. Libby is the basecamp for the Cabinet Mountains Wilderness Area, 90-mile long Lake Koocanusa, the Northwest Peaks Scenic Area, and the Ten Lakes Scenic Area. There is good access to most of the Forest and plenty of room to get away from it all!
WINTER
Winter in Montana means snow, and lots of it! For those who love to play in the deep powder, the Libby area offers tremendous winter fun. Turner Mountain Ski Area, located just 22 miles from Libby, offers challenging downhill skiing with a beautiful view. Their slogan is "steep, deep and cheap", and Turner definitely lives up to that. It's still fairly undiscovered, so you can escape the crowds and get the cheapest lift tickets around. For those who love snowmobiling, there are hundreds of miles of backcountry roads to sled on in the Kootenai National Forest. Cross-country skiers and ice fishermen also can find solitude on a lake and miles of quiet forest trails to enjoy the outdoors. Those who are a bit on the wild and crazy side will love the antics of the Libby Polar Bear Club. Members take winter-time "swims" in frigid Libby Creek every Sunday from October to April. Plungers have ranged in age from 3 to 61. As long as the ice can be broken on the creek, if it has formed, the group will take their plunge, no matter the temperature.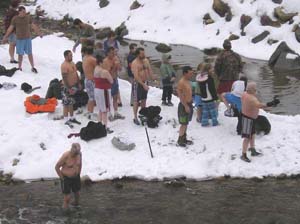 These people must be craaaazzzzzy!
Libby Polar Bear Club