News:
Troy Area Kidís Fishing Day June 25 (posted 6/22/16)
Montana Fish, Wildlife & Parks, the US Forest Service and the US Army Corps of Engineers are sponsoring the 15th annual Troy Kidsí Fishing Day on Saturday, June 25, 2016 from 9 am to noon. The event will occur at the Troy Community Pond at Roosevelt Park, and is open to kids of all ages. Prizes will be available.
---
4th Annual Yaak Montana School Fair July 2 (posted 6/15/16)
The 4th Annual Yaak Montana School Fair to be held on Saturday, July 2nd from 11-5. There will be numerous local vendors highlighting photography, pottery, jewelry, lotions, handmade rugs, crafts, honey, note cards, authors, yarn and knitting, and woodworking. Come and learn about local organizations and more. Lunch will be available from the Preview Cafť, Troy, along with free activities from 12:30 to 5:00 pm to keep the children entertained while the parents check out the vendors.

The Yaak School is located 45 minutes from Troy, Montana. Driving from Troy, take US HWY 2 west and turn right onto MT Hwy 508 (Yaak River Road). The school is located between mile marker 30 and 31.
---
Forest Service releases draft revised plans (posted 6/3/16)
Flathead National Forest
On June 3rd, the U.S. Department of Agriculture Forest Service released the draft revised land and resource management plan (draft forest plan) and draft environmental impact statement (DEIS) for the Flathead National Forest for public review and comment. In addition to the effects of the draft forest plan, the DEIS includes the environmental consequences of the proposed forest plan amendments to incorporate habitat management direction for grizzly bears for the Helena-Lewis & Clark, Lolo, and Kootenai National Forests. Written and electronic comments will be accepted for 120 days.

Todayís publication of a Notice of Availability of the draft documents in the Federal Register begins the public comment period on both the draft forest plan, amendments and DEIS. A total of two open houses are scheduled in Kalispell and Missoula during the 120-day comment period. These open houses are intended as an opportunity to visit with individual planning team members and review maps of management area allocations by alternatives. The location and schedule of these open houses will be publicized in local newspapers and can be found on the Flathead National Forest website at: www.fs.usda.gov/goto/flathead/fpr. The draft documents are available for review and comment online.

Comments may be submitted via email to flatheadplanrevision@fs.fed.us, via facsimile to (406) 758-5379 or in writing to: Flathead National Forest Supervisorís Office, Attn: Forest Plan Revision, 650 Wolfpack Way, Kalispell, MT., 59901 The Forest Service will carefully review the comments on the draft Forest Plan, Amendments and DEIS. There will also be an objection process for any unresolved concerns prior to the final decision.

For additional information, please contact Joe Krueger, Project Manager, at (406)-758-5243, or jkrueger@fs.fed.us.

---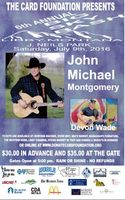 Big Sky Bash in Libby on Saturday, July 9th, 2016. The concert is a benefit for the Center for Asbestos Related Disease (CARD).

Big Sky Bash in Libby July 9th (posted 6/2/16)
With John Michael Montgomery and Devon Wade
The CARD Foundation will host its 6th annual BIG SKY BASH concert to benefit the Center for Asbestos Related Disease (CARD). Country music legend John Michael Montgomery and The Devon Wade Band will be performing in Libby on Saturday, July 9th, 2016. Gates open at 5pm and music will be playing from 6pm until midnight. The concert will be held at J. Neils Park, off Hwy 37 just north of Libby.

Ticket prices are $30.00 for advance purchase and $35.00 at the gate. All proceeds from this event will go to the CARD Foundation, the fundraising arm of CARD, to support CARD in its ongoing efforts to provide healthcare, research and outreach to benefit all people impacted by exposure to Libby Amphibole Asbestos. For more information please call 406-293-9274 ex 132.

---
Libby lies in the northwest corner of Montana and is nestled in a valley carved by the Kootenai River on the flank of the majestic Cabinet Mountain Range and Wilderness Area. Today about 2,800 people live within Libby proper. The main industries are lumber and wood products, mining, tourism and recreation. The movies "The River Wild" and "Always" were filmed here. Contact the Libby Chamber of Commerce for brochures, info on lodging and events, general area information, and contact information for local businesses and services.
SUMMER
When the weather warms and the mountain snows melt away, the Kootenai National Forest comes alive with over 2.2 million acres of public land as a playground. Mountain trails and lakes open up, beautiful wildflowers come in bloom, and wildlife have their young. Libby is the basecamp for the Cabinet Mountains Wilderness Area, 90-mile long Lake Koocanusa, the Northwest Peaks Scenic Area, and the Ten Lakes Scenic Area. There is good access to most of the Forest and plenty of room to get away from it all!
WINTER
Winter in Montana means snow, and lots of it! For those who love to play in the deep powder, the Libby area offers tremendous winter fun. Turner Mountain Ski Area, located just 22 miles from Libby, offers challenging downhill skiing with a beautiful view. Their slogan is "steep, deep and cheap", and Turner definitely lives up to that. It's still fairly undiscovered, so you can escape the crowds and get the cheapest lift tickets around. For those who love snowmobiling, there are hundreds of miles of backcountry roads to sled on in the Kootenai National Forest. Cross-country skiers and ice fishermen also can find solitude on a lake and miles of quiet forest trails to enjoy the outdoors. Those who are a bit on the wild and crazy side will love the antics of the Libby Polar Bear Club. Members take winter-time "swims" in frigid Libby Creek every Sunday from October to April. Plungers have ranged in age from 3 to 61. As long as the ice can be broken on the creek, if it has formed, the group will take their plunge, no matter the temperature.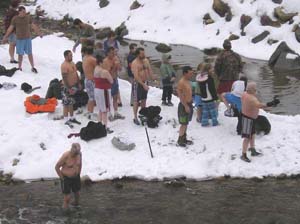 These people must be craaaazzzzzy!
Libby Polar Bear Club