News: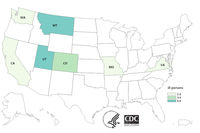 Map courtesy Centers for Disease Control (CDC)

Consumers alerted to celery recall related to E. coli outbreak (posted 11/30/15)
19 people reported getting sick, 6 from Montana
A multi-state E. coli outbreak has been traced back to celery distributed by Taylor Farms in California. Consumers, restaurants, and retailers should not eat, serve, or sell any of the recalled products containing celery produced by Taylor Farms Pacific, Inc. dated on or before November 20, 2015. Customers who have any recalled products are urged to discard the affected products immediately.

Multistate Outbreak of E. coli infections linked to Costco Rotisserie Chicken Salad Centers for Disease Control (CDC), Friday, November 27, 2015.

As of November 23, 2015, 19 people infected with the outbreak strain of STEC O157:H7 have been reported from 7 states (Montana, Utah, Colorado, California, Washington, Missouri and Virginia, (http://www.cdc.gov/ecoli/2015/o157h7-11-15/map.html). The majority of illnesses have been reported from states in the western United States. 5 ill people have been hospitalized, and 2 have developed hemolytic uremic syndrome, a type of kidney failure. No deaths have been reported. CDC and state and local public health partners are continuing laboratory surveillance through PulseNet to identify any additional ill persons and to interview them.

Montana reports the most sicknesses traced to a rotisserie chicken salad from Costco eaten by several people who became ill. Taylor Farms celery was used in many pre-mixed salads sold through Costco, Safeway, and Albertsons in Flathead County.

States with reported sickness:
California, 1 sick
Colorado, 4 sick
Missouri, 1 sick
Montana, 6 sick
Utah, 5 sick
Virginia, 1 sick
Washington, 1 sick

Taylor Farms Pacific, Inc. of Tracy, California, is recalling the products listed because they may include celery which could potentially contain E. coli 0157:H7. The products listed are being recalled out of an abundance of caution due to a Celery and Onion Diced Blend testing positive for E. coli 0157:H7 in a sample taken by the Montana Department of Health. The Celery and Onion Diced Blend tested by the state of Montana was used in a Costco Rotisserie Chicken Salad that has been linked to a multi-state E. coli 0157:H7 outbreak.

Escherichia coli O157:H7 is a bacterium that causes a diarrheal illness often with bloody stools. Most people infected with Shiga toxin-producing E. coli (STEC) develop diarrhea (often bloody) and abdominal cramps an average of 3-4 days after swallowing the germ. Although most healthy adults can recover completely within a week, some people can develop a form of kidney failure called Hemolytic Uremic Syndrome (HUS). HUS is most likely to occur in young children and the elderly. The condition can lead to serious kidney damage and even death.

The celery was sold in multiple products in states including: Alaska, Arizona, California, Colorado, Georgia, Hawaii, Idaho, Missouri, Montana, Nebraska, Nevada, New Mexico, North Dakota, Oregon, South Dakota, Utah, Virginia, Washington, and Wyoming.

Stores receiving products from the company include 7-Eleven, Albertsons, Costco, King Sooper, Pantry, Raleys, Safeway, Sams Club, Savemart, Starbucks, Target, Tonyís, Vons, and Walmart.

Products are things like snack food trays, celery dice bags, celery stick bags, chicken salad, Waldorf salad mix, tuna salad, pasta toss salad, potato and bacon salad, potato salad, macaroni salad, veggi salad kit, Mandarin Orange Chinese W/Chicken Kit, seafood salad, cornbread stuffing, vegetable and Ranch dip, chopped salad, bulk salads, premade salads, Buffalo chicken wrap, celery & carrot slims.

Use dates are around November 20th and range to December 6th. Check the complete list for specific stores, their products, and the lot numbers that will be stamped on the product.

The following retailers are the only stores that are known to have received affected products are (where a town/state was given, we have included that in this list):
Allens SPR Save 1, Provo, Utah
Bowmans
Fresh Market, Richfield, Utah
Fresh Market, Park City, Utah
Clarkís Market, Aspen
Dickís, Centerville, Utah
Dickís, Bountiful, Utah
Leeís Marketplace, Logan
Maceyís, Providence, Utah
Maceyís, Spanish Fork, Utah
Payson Food Corp
Petersonís Fresh Market
Reams, Springville, Utah
Danís, Foothill, Utah
Stewarts Roosevelt B.W.W.
The Market at Park City, Utah
Town & Country Foods, Bozeman, Montana
Fresh Market, Holladay, Utah
Fresh Market 21st South
Harmons 7th Street grocery
Harmons at the Brickyard
Harmons at City Creek
Orange Street Market
Missoula Fresh Market, Missoula, Montana
Vanís Thriftway Inc
Jackson Whole Grocer
Broulims Market, Rigby, Idaho
Saveway Market
Broulims Market, Driggs, Idaho
Broulims Market, Rexburg, Idaho
Atkinsons, Ketchum, Idaho

Click here to see the complete list of states, stores and recalled food products: http://www.fda.gov/Safety/Recalls/ucm474601.htm

Only the products listed are subject to this recall. This recall is being conducted in coordination with the U.S. Food and Drug Administration (FDA). CDC and state and local public health partners are continuing laboratory surveillance through PulseNet to identify any additional ill persons and to interview them.

Consumer advice from the CDC: http://www.cdc.gov/ecoli/2015/o157h7-11-15/advice-consumers.html

Consumers may call 209-830-3141 for any further information Monday to Friday, exclusive of holidays, between the hours of 8am-5pm (PST). Consumers with concerns about an illness from consumption of any of the recalled products should contact a health care provider.

Taylor Farms Pacific, Inc. contact phone: (209) 830-3141

---
Upcoming Events (posted 11/30/15)
December 4th: Tree of Life Celebration Sponsored by Home Options Hospice. Friday, December 4th at Libby Christian Church at 7:00PM. To participate, call Hospice 406-283-7300.

December 12: Christmas Bazaar at Asa Wood Center from 10-AM-4 PM.

December 16th: Farmerís Market

December 16th: Gun Raffle Kootenai Valley Christian School Middle School Mission Team is hosting a Gun Raffle. All proceeds from the sale go towards the Middle School Spring Mission trip. The gun to be raffled is a Mossberg Patriot 30-06 with Vortex Scope. Tickets are $5 each, or 5 for $20. Drawing Dec. 16. Need not be present to win. Must pass a background check. For more information call 406-293-2303.

January 23-24: 2nd Annual Bull Lake Ice Fishing Derby Hosted by: The Halfway House.

February 6: One Dream Ė One Team Hosted by the Libby Area Chamber of Commerce. Annual Fundraiser Dinner on Saturday, February 6, 2016 at the Libby Memorial Events Center. It starts at 5:00 pm with a No Host Bar. The first ticket drawn at 6PM. Dinner served at 7:30pm. "Football Fantasy". Dress Casual; "your favorite Team jersey". Raffles, Silent Auction, great door prizes! "Fun" Draiser. Tickets available at the Chamber now.

---
EPA finalizes Human Health Risk Assessment for Libby Asbestos Superfund Site (posted 11/24/15)
Environmental Protection Agency
The U.S. Environmental Protection Agency (EPA) today (Tuesday, Nov. 24, 2015) announced release of the final human health risk assessment specific to the Libby Asbestos Superfund Site.

EPA completed its rigorous scientific review of toxicity values and a draft risk assessment in December 2014.

Comments received during a public comment period for a proposed cleanup decision did not change the agencyĀfs ultimate conclusion: it is possible to live and work in Libby and Troy without excessive exposure to asbestos.

Finalization of the risk assessment confirms that EPAĀfs indoor and outdoor cleanups have significantly reduced risk from exposure to asbestos. EPA has removed major sources of Libby Amphibole (LA) asbestos in and around Libby and Troy.

Higher levels of LA could be found at some properties where owners have not yet provided access and in areas located on and near the former vermiculite mine. EPA has investigated more than 7,000 properties within the site but is still awaiting access to about 700 properties. These property owners are encouraged to contact EPAĀfs Libby Information Office, 406-293-6194, to schedule a property investigation.

The final risk assessment will be posted on EPAĀfs web site for the Libby site, www.epa.gov/superfund/libby-asbestos (http://semspub.epa.gov/work/08/1562963.pdf)

If you would like to receive a copy of the final risk assessment please contact Jennifer Lane, EPA
Region 8 Community Involvement Coordinator, 303-312-6813 or lane.jennifer@epa.gov.

---
Bull Trout redd counts for waters across NW Montana completed for 2015 (posted 11/24/15)
Montana Fish, Wildlife & Parks
Montana Fish, Wildlife & Parks (FWP) Fisheries field crews have completed the annual inventory of bull trout spawning sites in the Flathead, Clark Fork and Kootenai drainages, which comprise northwest Montanaís FWP Region One. Experienced observers walk known spawning areas and count the number of spawning nests called redds. Female bull trout excavate a depression in the streambed, deposits her eggs, which are immediately fertilized by a male, and then covers the fertilized eggs with clean gravel. These nests are typically four to six feet long by three feet wide, and easily identified. Redd counts are indicative of the abundance levels of spawning adult bull trout each year and used to assess status of bull trout populations in northwest Montana.

According to FWP Bull Trout Specialist Tom Weaver, low stream flows created shifts in spawning locations during the 2015 counts in some river drainages in Northwestern Montana. "In some streams our annual index sections were not accessible to fish due to debris jams, beaver dams, or other flow related conditions, resulting in lower than expected counts," says Weaver. He noted that as time allowed, crews conducted additional surveys downstream from the normal index reaches to confirm if spawning runs had been blocked.

"With the exception of portions of the Kootenai, bull trout redd numbers were stable for all basins similar to 10-year averages," says Weaver. Region One Fisheries Program Manager Mark Deleray adds that his staff and cooperators put in a significant amount of field time to collect these data every year. Avista, Bonneville Power Administration and the Department of Natural Resources and Conservation (DNRC) provide funding assistance. Glacier National Park, the US Forest Service and Plum Creek Timber Company assisted with field counts. "Itís important to have the actual field counts as there is considerable agency and public interest in bull trout population status since they were listed under the Endangered Species Act," says Deleray.

Deleray noted that bull trout redd counts provide a means to assess the status of bull trout populations over time, and that one yearís count alone is not indicative of a population trend. Rather, these redd counts provide an annual basis for bull trout conservation discussions among fisheries professionals and angler groups.

The following is a summary of the status of bull trout redd counts in the drainages of northwest Montana:

Flathead Lake: This was the 36th year of annual FWP index counts for Flathead Lake bull trout. The index count consists of parts of eight streams and is a partial count for the basin.
FWP personnel, with help from Glacier National Park staff survey parts of four North Fork and four Middle Fork tributaries each year. The count in the four North Fork streams over the past 10 years has ranged from 51 to 144, averaging 86 redds. The 2015 count of 50 is below this 10 year average, but similar to the counts of 54 in 2010, 58 in 2012 and 51 last year. We had an extremely low count in the Big Creek index section this year (1 redd), which caused concern. When a supplemental survey in Hallowat Creek, a tributary which typically contains a portion of this drainageís spawning resulted in no redds, we suspected a blockage downstream. Since the Moose and Robert fires, a log debris accumulation has formed approximately one mile downstream from the lower end of our index section. An additional survey of this area found new gravel deposition and channel braiding, with extensive beaver activity which blocked most upstream migration. We observed 20 redds in the area below the blockage, which has not contained suitable spawning habitat prior to the recent channel changes. In additional surveys conducted outside of the four North Fork index reaches, FWP fisheries teams counted over 130 redds in the Canadian North Fork and others in additional Montana North Fork tributaries.

Counts in the four Middle Fork reaches have ranged from 56 to 171 over the past decade, averaging 114 redds. The current count of 132 is identical to last year, higher than seven of the past 10 years and 16% above average. The high Middle Fork index counts in recent years are similar to the counts in the 1980s.

When combined, the eight stream index count of 182 is under the average number (200) observed over the past 10 years, and the second lowest in that time period. Again, low flows, barriers and the additional 20 redds found downstream from the standard index section in Big Creek, which are not included in this yearís combined total of 182, makes the 2015 total closer to the ten year average.

Every three to five years crews count all 33 stream sections in the North and Middle forks that are known to support bull trout spawning. This includes streams of the North Fork in British Columbia, additional Middle Fork streams in Glacier National Park and in the Great Bear and Bob Marshall Wilderness areas. These basin-wide total counts have shown that the eight index sections support about 45% of the annual bull trout spawning run out of Flathead Lake and allows us to estimate total redd numbers with a high degree of confidence. Using the 2015 index count of 182 redds, we estimate a basin-wide total of 404 this year. If the Big Creek number is adjusted, the basin-wide estimate would be 449 redds. Overall, redd counts for Flathead Lake are stable.

Hungry Horse Reservoir/South Fork: In the South Fork, FWP has annually counted four tributaries draining directly into Hungry Horse Reservoir for the past 23 years. These streams support just under 20% of total spawning in the South Fork drainage. The 2015 count of 52 redds for the reservoir index sections is below the ten year average. Considering the extremely low flow conditions this fall and the resulting changes in habitat conditions observed elsewhere, some spawning may have occurred downstream from the annual index sections, but timing constraints did not allow for additional surveys. The 2015 bull trout net catch of 9.1 fish per net in Hungry Horse Reservoir was the second highest on record. In general, redd numbers in the South Fork are stable.

Field crews have surveyed four Wilderness backcountry spawning streams10 times since initiated in 1993. A basin-wide count in the South Fork Drainage requires in excess of 60 worker days and ten head of stock for backcountry sections. Expanded backcountry counts are tentatively planned for 2017.

Swan Drainage: Index counts in four stream sections in the Swan Drainage have been completed annually for the past 34 years. With field assistance of Plum Creek Timber Company and US Forest Service personnel and partial funding from DNRC, we have completed basin-wide surveys in the Swan annually since 1995. This includes our four index sections plus an additional six stream sections. While this yearís basin-wide total of 421 redds is below the average over the last decade (494), it is similar to last yearís total of 428. In the recent seven years, Swan Drainage redd counts appear to have stabilized around this lower level. Although identification of the exact mechanism is difficult, reductions in the number of redds in the Swan drainage are likely the result of competition/predation from lake trout and netting bycatch bull trout mortality from the interagency lake trout suppression experiment.

Upper Stillwater and Whitefish Lakes: Upper Stillwater Lake and Whitefish Lake support bull trout populations which are distinct from the larger systems in the Flathead Basin. Bull trout from Upper Stillwater Lake spawn in the Stillwater River. Those from Whitefish Lake spawn in Swift Creek and the West Fork of Swift Creek. FWP fisheries biologists have monitored these populations in cooperation with the DNRC for the past 22 and 23 years respectively. The 2015 count of 45 redds for the Stillwater River is the highest in the last 10 years. The 2015 Whitefish Lake count of 11 is equal to the 10-year average. Redd numbers appear stable.

Lower Clark Fork: Bull trout inhabiting the lower Clark Fork River and the reservoirs behind Thompson Falls, Noxon Rapids and Cabinet Gorge Dams spawn in accessible tributaries from the Thompson River downstream to Cabinet Gorge. Data in the attached table come from tributaries to the Clark Fork River from the Thompson River downstream to Idaho. FWP-led field crews have monitored spawning runs in these streams annually over the past 15 years. The 2015 count of 70 redds is lower than the annual average. Overall redd numbers are stable. In some cases bull trout redds were found outside of monitoring reaches because of low water. These redds were not included in the index count. Approximately 18 accessible tributaries from eight major drainages are monitored annually by crews from FWP, AVISTA Utilities, Plum Creek Timber Company, and the US Forest Service.

Kootenai Drainage: Over the past 21 years, bull trout redd counts have been completed by FWP and Canadian fisheries biologists on the Wigwam River and three other Kootenai River tributaries in Canada, the Grave Creek Drainage, the Quartz Creek Drainage, OíBrien, Pipe, Bear, the West Fisher and the Callahan Creek Drainages. Bull Lake supports a separate population which spawns in the Keeler Creek Drainage. This effort includes assistance from British Columbia and Idaho Fish and Game. The vast majority of bull trout from Koocanusa Reservoir and the Kootenai River upstream spawn in the Canadian tributaries. These tributaries in British Columbia accounted for an average of over 90% of the annual spawning in the Kootenai Drainage.

The 2015 counts for Koocanusa Reservoir spawning tributaries including the Grave Creek drainage, Wigwam River drainage, Skookumchuck River and White River drainage in British Columbia were within the range observed over the past decade and higher than the last several years. Counts by FWP staff in spawning streams downstream of Libby Dam toward Kootenai Falls including the West Fisher, Quartz, Pipe, and Bear creek drainages were considerably lower than average, as were those in tributaries downstream from the falls to the Idaho border. Extremely low flows resulted in passage problems, including both partial and potentially complete debris jam barriers, enhanced beaver related impacts and an overall reduction in quality spawning habitat availability. Additionally, historic spawning site gravels have been removed through flow events and not replaced due to debris jams. The lowest count on record in the Keeler Creek Drainage is likely influenced by an expanding northern pike population in Bull Lake.

---
Slots still open for Kalispell Wolf Trapper Certification (posted 11/24/15)
Class start Saturday, December 5
Montana Fish, Wildlife & Parks
Openings still remain for the Montana Fish, Wildlife & Parks Wolf Trapper Certification class coming up on Saturday, December 5. The class will be held from 10 a.m. to 2 p.m. at the FWP Headquarters on North Meridian Road in Kalispell. This one-time certification is required for all wolf trappers in Montana. Individuals that have been certified in years past do not need to take the class again.

The Class is free, and interested students can check the schedule and register online at fwp.mt.gov. Follow the links to "hunter education." Online registration is required for all participants.

Classes are taught by FWP staff and experienced wolf trappers. In addition to specifics on equipment and techniques, participants will learn about the history, ethics, management, regulations and requirements of wolves and wolf trapping. The class will be taught in a rotating-station format. Students should bring a lunch and dress for the weather for the outside station.

---
Deer harvest still slightly ahead of last year in NW Montana (posted 11/24/15)
Montana Fish, Wildlife & Parks
Deer harvest in northwest Montana is slightly ahead of last year at the same point in the season, according to check station results around Region One.

At the six northwest Montana check stations through Sunday, November 22, a total of 15, 130 hunters checked 953 white-tailed deer (779 of these were bucks) as compared to 879 whitetails last year. Also in the count were 114 mule deer, and 76 elk for an overall 7.6 percent rate of hunters with game. Harvest was up slightly as compared to last year when 7.4 percent of hunters checked game. Hunter numbers are up about seven percent as compared to last year.

The Highway 2 Check Station west of Kalispell has led the way in whitetail counts, followed by the Olney Check Station, and then the Swan Check Station. The counts at the six northwest Montana check stations represent a sampling of the harvest and do not represent the complete number of animals taken.

Hunters are reminded that it is buck-only for whitetails in northwest Montana. Antlerless whitetails remain legal game for youth 12-15 years of age (and some qualifying 10- and 11-year olds). Mule deer are buck-only for the entire season. Elk are brow-tine bull only. Spike bull elk are not legal game for any hunter in Region One. Hunters should refer to the hunting regulations for the hunting district they plan to hunt.

Biologists report that the whitetail rut is now in full swing, which should aid hunters as they take to the field during the upcoming Thanksgiving holiday. This past weekend, hunters brought a good number of older bucks through the check stations.

The general big game season ends one half hour after sunset on Sunday November 29.

Wolf Harvest: The wolf take is about the same as last year at this same point in the season. Hunters have taken 24 wolves in Region One to date; statewide, hunters have taken 82 wolves.

---
Troy holds Christmas Lights Contest (posted 11/23/15)
Deadline to enter Dec. 16th
Troy will host their Annual Christmas Lights Contest this year. There will be cash prizes awarded for the most impressive displays.

1st Place - $150.00
2nd Place - $75.00
3rd Place - $50.00

Homes and businesses that are located within a two mile radius of the Troy city limits are eligible to enter. Deadline to enter is Wednesday, December 16th. Judging will take place December 17th-20th. Winners will be notified before Christmas.

---
Festival of Trees Dec. 12th in Libby (posted 11/22/15)
Fundraiser for the Cabinet Peaks Foundation
The Cabinet Peaks Foundation will hold their 21st Annual Festival of Trees on Saturday, December 12th at the Libby Memorial Event Center. The event is a fundraiser with all proceeds to benefit the Foundationís Mission Fund. There will be hors díoeuvres, dancing, auctions, raffles and music by the Brady Goss Band. Advance purchase tickets only. Tickets are $50/person. For tickets or more information, contact Kate at 406-283-7140.

---
Events in Eureka (posted 11/22/15)
November 24: Community Soup Night at the Tobacco Valley Senior Center. Sunburst Community Service Foundation staff and volunteers will be helping. Good food and live music 4-7pm.

November 27: Community Dance Live music and callers at Pinkham School House starting at 7pm. Come by for a great time. There will be contras, squares, waltzes and polkas.

November 28: Shop Small Saturday in Eureka Support local businesses as they are so great at supporting nonprofits in the valley.

December 2: Holiday caroling Everyone welcome to come for caroling in downtown Eureka from 4-5pm. Meet at the corner of Glacier Bank with the song books and go into shops along the main street. Dress warm.

January 15, 2016: Jesus Garcia Band concert Latin band and a guest appearance by Ray and Shirley Jacobs. 7pm at LCHS auditorium in Eureka. $12/adult and students 18 years and younger for free.

January 23, 2016: Robbie Burns Night in Eureka Four Corners Restaurant. A great evening with Scottish dinner and pipers. Order your tickets soon as space is limited.

For more information contact Rita at the Sunburst Community Service Foundation, 406-297-0197.

---
Upcoming events at the Libby Memorial Event Center (posted 11/4/15)
Saturday, Nov. 14: Scott Kirby, ragtime pianist will be performing at the Libby Memorial Event Center on November 14, 2015 at 7 pm. Tickete: $15, PreSale - $12, Students - FREE with a paying Adult. Ticket Outlets: Cabinet Books, Chamber of Commerce, Homesteaders Farm & Ranch, Western News, Mountain Meadow, Rocky Mtn Music, River Mist. For more information please contact Starr Backen or Gary Huntsberger at 406-293-9643.

Saturday, December 12, 2015: Cabinet Peaks Foundation 21st Annual Festival of Trees Fundraiser with all proceeds to benefit the Cabinet Peaks Foundationís Mission Fund. Hors díoeuvres, dancing, auctions, raffles and music by the Brady Goss Band. Advance purchase tickets only. Tickets are $50/person. For tickets or more information, contact Kate at 406-283-7140.

Saturday, December 26, 2015: Another Rockin' Christmas 7:00PM at the Libby Memorial Event Center featuring the Smart Alex band from the Flathead Valley. This is a benefit fundraiser that assists the Kootenai Heritage Council, Inc. cover the operating expenses of the Libby Memorial Event Center. For tickets and information please contact Starr Backen or Gary Huntsberger at 406-293-9643.

Tuesday, Feb. 16, 2016: Valinor Quartet is a unique hybrid of jazz and classical music with their performance at the Libby Memorial Event Center on February 9, 2016 at 7 pm. For tickets and information please contact Starr Backen or Gary Huntsberger at 406-293-9643.

Friday, April 1, 2016: Queen Nur is a story teller ,but be prepared to interact and have an evening of fun and enjoyment at the Libby Memorial Event Center on April 1, 2016 at 7 pm. For tickets and information please contact Starr Backen or Gary Huntsberger at 406-293-9643.

Friday, April 15, 2016: Norman Foote is a Juno award winning songwriter who will be performing at the Libby Memorial Event Center on April 15, 2016 at 7 pm. For tickets and information please contact Starr Backen or Gary Huntsberger at 406-293-9643.

Related Links:
www.libbymemorialcenter.com/ Libby Memorial Center

---
Free Community Thanksgiving Dinner Nov. 26 (posted 11/4/15)
Everyone welcome to come and enjoy turkey with all the trimmings at the VFW in Libby on Thursday, November 26, from 2:00 Ė 4:00 PM. This event is sponsored by Christ Lutheran Church, St. Joseph Catholic Church, Libby United Methodist Church, and Libby Assembly of God Church. Delivery is available to the homebound Ė call ahead and leave name and phone number for call back. For information, to volunteer to help, or to contribute to the dinner, contact Pastor Roberta 406-293-3705, or Rhea 406-293-7866.

---
Residents reminded not to feed wildlife (posted 10/31/15)
Montana Fish, Wildlife & Parks
FWP has seen a sharp rise in the number of people illegally feeding wildlife, especially in the Libby area. Under Montana law (MCA 87-6-216) it is illegal to provide "supplemental feed" to ungulates (including deer, elk, and moose) and bears, and lions. "Supplemental feed" includes such items as salt/mineral blocks, corn, and grain. Under Libby City Ordinance (1829), it is also illegal to feed turkeys and pigeons inside Libby City limits.

Although people who are feeding wildlife often believe that they are doing wildlife a favor by feeding them, there are many reasons why they should stop Ė other than the fact that itís illegal. Supplement feeding of wildlife:

ē Spreads disease by creating unnatural congregations of deer and other wildlife. When deer and other wildlife are congregated in a small area and share the same feeding site it increases the ability of diseases and parasites to be spread to all the animals using the area. At times these diseases can greatly impact populations and become difficult to eliminate from wildlife populations.

ē Increases the likelihood of deer-vehicle collisions, as deer travel farther and cross more roads to reach unnatural sources of food.

ē May also kill wildlife directly. Providing supplemental food sources to deer can cause disease directly through corn acidosis or even overeating disease (enterotoximia). Often a deerís digestive tract cannot handle sudden changes in diet as a result of feeding and deer die with full rumens. In effect, this means that the folks who are feeding the wildlife may actually be killing the wildlife with kindness; also may attract predators to your yard, such as mountain lions and bears.

ē May become aggressive and injure people or pets. Wildlife that is fed tends to lose fear of people and can become aggressive, not only to the people feeding them but to neighbors. Residents who intentionally feed deer or other wild ungulates are subject to citations, so FWP encourages residents to remind their neighbors of why it is important to avoid supplemental feeding. The penalty is up to $1,000 fine, six months in jail, and possible loss of hunting, fishing and trapping privileges. Please call FWP Libby area Warden Tamie Laverdure at (406-291-1954) or FWP Wildlife Biologist Tonya Chilton-Radandt (406-291-0568) with questions or concerns.

---
Libby lies in the northwest corner of Montana and is nestled in a valley carved by the Kootenai River on the flank of the majestic Cabinet Mountain Range and Wilderness Area. Today about 2,800 people live within Libby proper. The main industries are lumber and wood products, mining, tourism and recreation. The movies "The River Wild" and "Always" were filmed here. Contact the Libby Chamber of Commerce for brochures, info on lodging and events, general area information, and contact information for local businesses and services.
SUMMER
When the weather warms and the mountain snows melt away, the Kootenai National Forest comes alive with over 2.2 million acres of public land as a playground. Mountain trails and lakes open up, beautiful wildflowers come in bloom, and wildlife have their young. Libby is the basecamp for the Cabinet Mountains Wilderness Area, 90-mile long Lake Koocanusa, the Northwest Peaks Scenic Area, and the Ten Lakes Scenic Area. There is good access to most of the Forest and plenty of room to get away from it all!
WINTER
Winter in Montana means snow, and lots of it! For those who love to play in the deep powder, the Libby area offers tremendous winter fun. Turner Mountain Ski Area, located just 22 miles from Libby, offers challenging downhill skiing with a beautiful view. Their slogan is "steep, deep and cheap", and Turner definitely lives up to that. It's still fairly undiscovered, so you can escape the crowds and get the cheapest lift tickets around. For those who love snowmobiling, there are hundreds of miles of backcountry roads to sled on in the Kootenai National Forest. Cross-country skiers and ice fishermen also can find solitude on a lake and miles of quiet forest trails to enjoy the outdoors. Those who are a bit on the wild and crazy side will love the antics of the Libby Polar Bear Club. Members take winter-time "swims" in frigid Libby Creek every Sunday from October to April. Plungers have ranged in age from 3 to 61. As long as the ice can be broken on the creek, if it has formed, the group will take their plunge, no matter the temperature.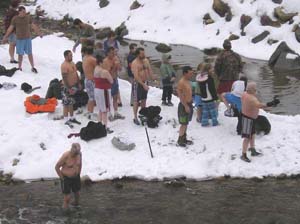 These people must be craaaazzzzzy!
Libby Polar Bear Club