News:
Grizzly bear captured near Libby (posted 10/8/15)
Montana Fish, Wildlife & Parks
On October 5, 2015, Montana Fish, Wildlife & Parks (FWP) captured a 500-pound, 6.5-year old male grizzly bear south of Libby off Snowshoe Road. The bear had gone through a non-functioning electric fence and consumed honey out of beehives. The electric fence was restored to working order, and the grizzly bear was radio collared and relocated to the head of Bear Creek in the Cabinet Mountains the evening of October 6th.

This bear was born in the Yaak in 2009. He was originally captured and GPS collared as a 2-year old in 2011 in Meadow Creek as part of the U.S. Fish & Wildlife Service (USFWS) grizzly bear monitoring program. The bears GPS collar dropped off in late 2012. Sometime between 2013 and 2015 this bear crossed from the Yaak area to the Cabinet Mountains. This is the first documented account of a native grizzly bear to make this crossing since the USFWS began their monitoring program here in the early 1990s.

The capture of this grizzly bear is the first grizzly bear to be captured for management reasons in the Cabinet-Yaak area in 2015.

For more information, contact Kim Annis, FWP Cabinet-Yaak Bear Management Specialist, at 406-293-4161 or 406-291-1320.

---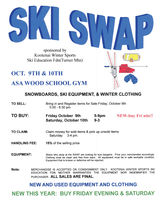 Ski Swap Oct. 9 & 10 in Libby

Ski and Snowboard Swap Oct. 9 & 10 (posted 10/7/15)
There will be a Ski & Snowboard Swap on Friday & Saturday, October 9th & 10th at Asa Wood Gym in Libby. Hours for the swap are Friday, October 9th from 5-9pm and Saturday, October 10th from 9:00am Ė 3:00pm. Register items for sale on Friday , October 9th from 5:00pm Ė 8:30pm. This event is sponsored by Kootenai Winter Sports Ski Education Foundation (Turner Mountain).

New and used equipment and clothing accepted on consignment only. Items are sold as is-where is and all sales are final. All equipment must be in safe workable condition and no broken or defective equipment will be accepted. There is a 15% selling price to KWS. Alpine Ski Wholesalers will be on hand with a large inventory of new and used alpine ski and snowboarding equipment, accessories and winter clothing. Even if youíre not a skier or boarder, the swap can be a great place to find winter jackets for the kids. Sellers can claim money for sold items and pick up unsold items on Saturday from 3-4PM.


---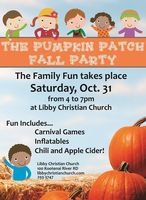 The Pumpkin Patch Fall Party Oct. 31st

Fall events at Libby Christian Church (posted 10/7/15)
Below are upcoming events at Libby Christian Church. For more information, call 307-293-3747. The Church is located at 100 Kootenai River Rd.

Thursday Night Pursuits! Deep Survival
A Sportsmanís Encounter with God. Explore Godís word, Adventures with Bill & Jim wildlife videos, activities for kids age 4-11 years with fun prizes including a .22 rifle, weekly gun give-a-ways for adults. Nursery available for children up to 3 years of age. These sessions will be on the following Thursdays: October 22, 29, Nov. 5, 12, 19, 2015:

October 31: The Pumpkin Patch Fall Party
From 4-7PM on Saturday. Fun includes carnival games, inflatables, chili and apple cider.

Related Links:
www.libbychristianchurch.com

---
Fall events in Eureka (posted 10/7/15)
Below are events offered through the Sunburst Community Foundation in Eureka. For more information about any of these programs contact Rita at Sunburst Community Service Foundation, 406-297-0197, mtsunburst@gmail.com.

October 10: Wylie and the Wild West! First concert in Sunburst's 17th annual Performing Arts Series in Eureka. Lincoln County High School Auditorium, 7pm.

November 2: Auditions for Missoula Children's Theater at the Lincoln County High School Auditorium in Eureka. Students in grades 1-12 are encouraged to try out for this year's play. 3:45pm.

November 6: Toast of the Town! Wine tasting, handcrafted cups, delicious food, silent auction and more. Four Corners Restaurant in Eureka from 5:30 - 8:00pm.

November 7: Missoula Children's Theater Two performances. 3pm and 5:30pm at the Lincoln County High School Auditorium in Eureka.

November 13: Scott Kirby ragtime piano 7pm at the Lincoln County High School Auditorium in Eureka..

November 24: Community Soup Night Sunburst staff and volunteers do Community Soup Night. Food and live music at the Tobacco Valley Senior Center.
---
Grizzly Bear Management update for Northwest Montana (posted 9/18/15)
Montana Fish, Wildlife & Parks
Montana Fish, Wildlife & Parks grizzly bear management biologists and wardens have seen an increase in grizzly bear activity and conflicts during the month of September. Both black and grizzly bears are looking for food that will provide them with the layer of fat they need in order to survive the winter in their dens. Female grizzly bears with young are especially in need of additional food because they have been nursing their cubs and need the extra calories.

The following is an overview of the grizzly bear management activities that MT FWP has been involved with in the Tobacco, Flathead, and Swan Valley areas during the month of September.

Near Eureka, at least one young grizzly bear has been observed feeding on apples and walking through yards. Traps were set for that bear, but it hasnít been captured yet.

West of Fortine, landowners buried a dead horse and noticed something had dug it up. They put up a trail camera and 3 different grizzly bears were photographed. One of the grizzly bears was wearing a radio collar that isnít functioning properly. In an attempt to capture that bear and change the collar, two culvert traps were set. The horse was reburied and an electric fence was installed around the site along with remote cameras. On September 6th, an unmarked, young adult male grizzly bear visited the site and was captured. This male was radio-collared and translocated into the Whitefish Range. The radio-collared grizzly we were attempting to capture did not return to the trap site and the traps were pulled.

During that same week, a grizzly bear was breaking branches on fruit trees west of Lake Blaine. A temporary electric fence was installed and a culvert trap was set. The male grizzly bear returned, but was not captured. The electric fence was effective in preventing any additional damage to the trees and the trap was removed.

Right after Labor Day, an adult male grizzly bear was captured near Coram after killing chickens and eating apples. The 473 pound, 12 to 14 year old adult male grizzly had never been captured before. He was radio-collared and translocated to the Puzzle Creek drainage south of Marias Pass. The electric fence on that chicken coop has been upgraded to be more effective in deterring bears.

On the 9th of September, a large male grizzly broke into a chicken coop near Ferndale. Electric fencing was put up to protect the remaining chickens. A culvert trap was set. The male grizzly returned, it did not kill any more chickens, but it didnít enter the culvert trap. Two days later, an unmarked, adult female grizzly with a cub of the year was captured. The cub was captured the next night and both bears were translocated to the Sullivan Creek drainage.

The trap was reset for the adult male, and the next night, a radio-collared female grizzly that has two cubs of the year was captured at the site. An attempt was made to capture both of the cubs, but was unsuccessful. To avoid separating the female and cubs, with the permission of the residents, the adult female was released onsite during the night of September 17th.

On September 16th, a photo was taken by a landowner of a female grizzly bear with 3 cubs of the year south of Ferndale. On the 17th, FWP bear managers contacted residents south of Ferndale about the family group. They have not caused any conflicts, but residents with fruit trees and poultry were advised to pick their fruit and make sure the electric fencing around their poultry was functioning properly.

In the North Fork of the Flathead, north of Polebridge, a female grizzly bear with a yearling killed some chickens and has gotten access to chicken feed and grain. Bear managers are working with local residents to secure attractants have installed electric fencing.

In the Swan Valley, a subadult female grizzly bear was hit and killed by a vehicle along the Swan Highway on September 12th, near the Condon Work Center. There had been reports of a grizzly bear feeding on road-killed deer just south of that area in previous weeks.

From mid-September until the grizzly bears den during November is typically a busy time for bear conflict specialists. Most of the berries have fallen off and the bears switch to other foods which sometimes brings them into areas with an abundance of fruit trees and other attractants.

While it seems like a lot of bears are causing conflicts, out of the estimated population of 1000 grizzly bears in northwest Montana, it is only 20 to 30 grizzly bears that are involved with conflicts throughout the whole area.

The best way to avoid conflicts with bears is through prevention. Take down your birdfeeders until bears have denned, donít leave garbage, pet food, or grain outside. Use electric fencing to protect your poultry, beehives, and fruit trees. Pick your fruit as soon as it is ripe. Contact Montana Fish, Wildlife & Parks if you have a bear conflict or need information or assistance on securing attractants. You can get more information at http://fwp.mt.gov/fishAndWildlife/livingWithWildlife/beBearAware/.

---
Libby lies in the northwest corner of Montana and is nestled in a valley carved by the Kootenai River on the flank of the majestic Cabinet Mountain Range and Wilderness Area. Today about 2,800 people live within Libby proper. The main industries are lumber and wood products, mining, tourism and recreation. The movies "The River Wild" and "Always" were filmed here. Contact the Libby Chamber of Commerce for brochures, info on lodging and events, general area information, and contact information for local businesses and services.
SUMMER
When the weather warms and the mountain snows melt away, the Kootenai National Forest comes alive with over 2.2 million acres of public land as a playground. Mountain trails and lakes open up, beautiful wildflowers come in bloom, and wildlife have their young. Libby is the basecamp for the Cabinet Mountains Wilderness Area, 90-mile long Lake Koocanusa, the Northwest Peaks Scenic Area, and the Ten Lakes Scenic Area. There is good access to most of the Forest and plenty of room to get away from it all!
WINTER
Winter in Montana means snow, and lots of it! For those who love to play in the deep powder, the Libby area offers tremendous winter fun. Turner Mountain Ski Area, located just 22 miles from Libby, offers challenging downhill skiing with a beautiful view. Their slogan is "steep, deep and cheap", and Turner definitely lives up to that. It's still fairly undiscovered, so you can escape the crowds and get the cheapest lift tickets around. For those who love snowmobiling, there are hundreds of miles of backcountry roads to sled on in the Kootenai National Forest. Cross-country skiers and ice fishermen also can find solitude on a lake and miles of quiet forest trails to enjoy the outdoors. Those who are a bit on the wild and crazy side will love the antics of the Libby Polar Bear Club. Members take winter-time "swims" in frigid Libby Creek every Sunday from October to April. Plungers have ranged in age from 3 to 61. As long as the ice can be broken on the creek, if it has formed, the group will take their plunge, no matter the temperature.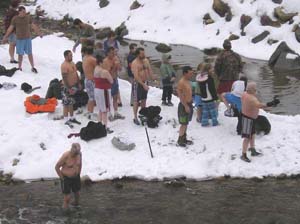 These people must be craaaazzzzzy!
Libby Polar Bear Club