News:
Sponsors sought for 'Shop With A Cop' Dec. 19th (posted 11/22/13)
Duane Williams, KLCB-KTNY Radio
The Lincoln County Sheriff's Office is currently making preparations for the First Annual Shop With A Cop Program Thursday, December 19 in Libby and Troy.

The Shop With A Cop Program involves law enforcement officers from all agencies in Lincoln County donating their time to take a group of children on a Christmas shopping spree. Children are selected by Libby and Troy Public Schools. Donated gift cards are provided to each child who then selects Christmas gifts for their family members while shopping at local businesses. Lunch will be served and gift wrapping done by volunteers. The program provides children an opportunity to experience the personal rewards of giving to others and quality time with local law enforcement.

In order to provide a successful program, Shop With A Cop needs sponsorship and are asking you consider making a donation to the Shop With A Cop Program to help Lincoln County Law Enforcement Officers make Christmas a little more enjoyable for these children and their families.

To help sponsor Shop with a Cop, please make checks payable to Lincoln County Sheriff's Reserves and mail to Deputy John Davis, Lincoln County Sheriff's Office, 512 California Avenue, Libby, MT 59923. For non-monetary donations or further information, contact Deputy Brad Dodson at 406-293- 4112, or email: bdodson@lcso.mt.gov.

For information regarding Shop with a Cop in Northern Lincoln County, please email Captain Bo Pitman: bpitman@lcso.mt.gov.
__________________________________

By Duane Williams, KLCB-KTNY Radio, e-mail: klcb@frontiernet.net, www.klcb-ktny.com.
---
Man hurt in accidental shooting (posted 11/19/13)
Duane Williams, KLCB-KTNY Radio
Saturday, November 16th about 11:04 am, Lincoln County Sheriff's Dispatch received a 911 call reporting a hunting accident in the Libby Creek area. The adult male caller said he accidentally shot another hunter he didn't know. He helped to apply a tourniquet above the wound and then ran and got his son, who was hunting with him, for help and a vehicle to transport with, drove the victim out of the Libby Creek drainage to the first house that had telephone service so that he could call for help, and keep driving toward town with the victim until met by the ambulance.

Libby Volunteer Ambulance and sheriff's deputies met the caller and victim in the area of Whiskey Hill, south of Libby. The victim then continued on to St. John's Hospital in the ambulance.

The caller/hunter was a 48-year-old Libby man. The gunshot victim was a 60-year-old male from Colorado. He was stabilized at St. John's Hospital with a substantial gunshot wound to the right thigh. Air ambulance was not available due to weather. The victim was later transported by ambulance to Kalispell Regional Medical Center. The victim at last report was listed in critical condition at KRMC.

Names have been withheld pending completion of an investigation by the Lincoln County Sheriff's Office, Montana Fish Wildlife and Parks, and the U.S. Forest Service.
________________________________________

By Duane Williams, KLCB-KTNY Radio, e-mail: klcb@frontiernet.net, www.klcb-ktny.com.

---
Fire damages Libby apartment (posted 11/13/13)
Mother and baby escape unharmed
Duane Williams, KLCB-KTNY Radio
Tuesday, at 6:45PM, November 12, Libby Volunteer Fire Department responded to a report of a structure fire with flames showing at Park Apartments.

The first engine with initial attack crew was on scene in three minutes.

The fire originated in a basement level apartment occupied by a young woman and her baby girl. Quick response by Lincoln County Sheriff's office, Libby Police units and residents initiated evacuation of all residents in the complex. The complex was equipped with single station smoke detectors throughout, but no sprinkler system was required in the structure at the time it was built and was not in place.

Two engines, one ladder truck, and 1 command unit responded to the scene. Firefighters conducted an offensive fire attack and contained the fire to the kitchen area of the unit.

The fire was an accidental fire caused by unattended cooking using cooking oil on a stove top.

Occupants in the unit attempted to utilize a portable extinguisher that was provided in the common corridor of the unit to extinguish the fire, but were unsuccessful in the attempt.

Libby Volunteer Ambulance responded to the scene to evaluate a couple of the occupants and did transport one patient to St. Johns hospital for treatment of smoke inhalation. All occupants were allowed back into their apartments, with the exception of the unit were the fire originated.

Damage to the structure is estimated to be around $15,000 to the single unit of the 17-unit complex.
___________________________________________

By Duane Williams, KLCB-KTNY Radio, e-mail: klcb@frontiernet.net, www.klcb-ktny.com.

---
Free Community Thanksgiving Day Dinner Nov. 28th
Sponsored by local area churches
Everyone is invited to the 4th Annual FREE Community Thanksgiving Day Dinner on Thursday, November 28 from 2:00 to 4:00 pm at the VFW in Libby. Delivery is available to the homebound. This event is sponsored by Libby United Methodist Church, Libby Ministerial Association, Libby Evangelical Association of Pastors, and other Lincoln County Churches.

Anyone wishing to contribute to the dinner or help in any way is greatly appreciated. For more information or to help, please contact Pastor Brent 406-293-4522 or 406-293-6301 or Rhea 406-293-7866.

---
Real Estate in Libby, Troy & the Yaak (posted 11/9/13)
Guest article by Alice L. Hayes, Loveless Realty
The figures of the Current Activity and the Past Activity show that we are moving forward—not at incredible speeds—but slowly moving forward. 2013 Residential sales to date are the highest number since the 144 sales for the entire year of 2007. 2013 Land sales to date are higher than the number for the entire year prior to 2008. 2013 Commercial/Multi-Family sales continue at a slow pace. Looks like we are on the "Up-Swing" in sales. We are looking forward to even better sales numbers throughout 2013.

January 1, 2013 – November 1, 2013 shows current Real Estate figures are:
SALES & PENDINGS
127 Residential SALES: 68 in Libby; 29 in Troy; 5 in Yaak; 24 in Sanders; 1 in Flathead
48 Land SALES: 18 in Libby; 16 in Troy; 3 in Yaak; 11 in Sanders
6 Commercial SALES: 2 in Libby; 3 in Troy; 1 in Sanders
27 Residential PENDING: 16 in Libby; 5 in Troy; 0 in Yaak; 6 in Sanders
10 Land PENDING: 8 in Libby; 1 in Troy; 0 in Yaak; 1 in Sanders
2 Commercial/M-Family PENDING: 1 in Libby; 1 in Sanders

ACTIVE LISTINGS
307 Residential ACTIVES: 140 - Libby; 66 - Troy; 15 - Yaak; 79 - Sanders; 7 - Flathead
373 Land ACTIVES: 120 - Libby; 100 - Troy; 30 -Yaak; 107 -Sanders; 16 –Flathead
36 Commercial ACTIVES: 19 in Libby; 8 in Troy; 2 Flathead; 7 in Sanders

2013 at a Glance—How Is Lincoln County Real Estate in 2013?
So how is our market actually doing? Let's compare:
January 1— December 31, 2012
120 Residential SOLDS
33 Land SOLDS
6 Commercial SOLDS
January 1— December 31, 2011
111 Residential SOLDS
37 Land SOLDS
7 Commercial SOLDS
January 1- December 31, 2010
93 Residential SOLDS
28 Land SOLDS
0 Commercial SOLDS
January 1– December 31, 2009
82 Residential SOLDS
33 Land SOLDS
6 Commercial SOLDS
January 1– December 31, 2008
98 Residential SOLDS
67 Land SOLDS
11 Commercial SOLDS

Interest Rates Remain at ALL Time LOWS—
Inventory Selection Offers Many Choices—
NOW Could be a Great Time to Buy!
As of November 1, 2013, Conforming & FHA Loans:
30- Year Fixed; Interest = 4.250%; APR= 4.421%
30- Year Fixed FHA; Interest = 4.125%; APR=5.640%
15- Year Fixed; Interest = 3.375%; APR=3.669%
_________________________________

Alice & Jim – Team Hayes Realtors, www.AliceHayes.com
406-293-8364 or 406-293-1926
Loveless Realty, 519 W. 9th - Libby, Montana
alice@alicehayes.com
jim@alicehayes.com
406-293-8364 or 406-293-1926
---
Festival of Trees Dec. 7th (posted 10/31/13)
Fundraiser for St. John's Lutheran Hospital
Duane Williams, KLCB-KTNY Radio
19TH annual Festival of Trees fundraising gala is almost here. The St. John's Lutheran Hospital Foundation Festival Gala is the Foundation's signature event, entertaining hundreds of people and raising thousands of dollars for St. John's Lutheran Hospital.

The Foundation Board has decided that since last year's event was so spectacular, we they are sticking to our Denim & Diamonds theme. The Festival of Trees will take place Saturday, December 7th, at the Libby Memorial Center. It is the perfect time to slip into your finery, or your denim, if that's what you prefer. Dance the night away to the music this year of Ron Miller while you take in the shimmering trees and excitement. Mouth-watering hors d'oeuvres, incredible music, and the enchanting ambiance make this the most anticipated evening of the season!

"Our communities really look forward to this holiday tradition, because there is something for everyone to enjoy, and now with our current theme, festival-goers are welcome to dress to the nines in their gowns and tuxes, or add a little sparkle to their denim and be comfortable for this fun filled evening," said Kate Stephens, Foundation Executive Director.

The doors open at 6:00pm, with dancing till midnight. Tickets go on sale November 1st and will not be available at the door, but through reservation only. Tickets are $40 each. Contact Kate Stephens at 406-283-7140 or rsvp@sjlh.com to reserve your tickets.
________________________________________

By Duane Williams, KLCB-KTNY Radio, e-mail: klcb@frontiernet.net, www.klcb-ktny.com.

Related Links:
www.sjlh.org St. John's Lutheran Hospital

---
Libby lies in the northwest corner of Montana and is nestled in a valley carved by the Kootenai River on the flank of the majestic Cabinet Mountain Range and Wilderness Area. Today about 2,800 people live within Libby proper. The main industries are lumber and wood products, mining, tourism and recreation. The movies "The River Wild" and "Always" were filmed here. Contact the Libby Chamber of Commerce for brochures, info on lodging and events, general area information, and contact information for local businesses and services.
SUMMER
When the weather warms and the mountain snows melt away, the Kootenai National Forest comes alive with over 2.2 million acres of public land as a playground. Mountain trails and lakes open up, beautiful wildflowers come in bloom, and wildlife have their young. Libby is the basecamp for the Cabinet Mountains Wilderness Area, 90-mile long Lake Koocanusa, the Northwest Peaks Scenic Area, and the Ten Lakes Scenic Area. There is good access to most of the Forest and plenty of room to get away from it all!
WINTER
Winter in Montana means snow, and lots of it! For those who love to play in the deep powder, the Libby area offers tremendous winter fun. Turner Mountain Ski Area, located just 22 miles from Libby, offers challenging downhill skiing with a beautiful view. Their slogan is "steep, deep and cheap", and Turner definitely lives up to that. It's still fairly undiscovered, so you can escape the crowds and get the cheapest lift tickets around. For those who love snowmobiling, there are hundreds of miles of backcountry roads to sled on in the Kootenai National Forest. Cross-country skiers and ice fishermen also can find solitude on a lake and miles of quiet forest trails to enjoy the outdoors. Those who are a bit on the wild and crazy side will love the antics of the Libby Polar Bear Club. Members take winter-time "swims" in frigid Libby Creek every Sunday from October to April. Plungers have ranged in age from 3 to 61. As long as the ice can be broken on the creek, if it has formed, the group will take their plunge, no matter the temperature.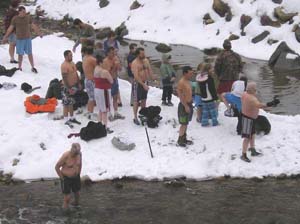 These people must be craaaazzzzzy!
Libby Polar Bear Club