News: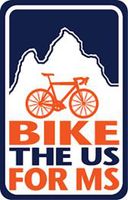 Bike the US for MS in Libby July 24

Bike the U.S. for MS in Libby July 24 (posted 7/22/19)
Faith Bible Church in Libby is hosting a group of bicyclist who will spend the night at the church on Wednesday, July 24th. This group is about 22 bikers who are participating in raising funds for Multiple Sclerosis (MS). They are doing the 'Northern Tier Ride' and are biking from Bar Harbor, Maine to Seattle, Washington. This is a 4,295 mile ride which they will do in 69 days. Wednesday they are biking from Whitefish to Libby via Hwy 37. They will start showing up in Libby mid to late afternoon.

The Church will feed them a great dinner of Hannah's famous 'Woodcutter Spaghetti', French bread and salad around 6 p.m. The public is invited to come by, say "Hi" and welcome them to Libby. They will head to Sand Point early Thursday morning.

For more information visit their website at: https://ride.biketheusforms.org/event/2019-northern-tier-ride
Faith Bible Church
PO Box 633
Libby MT 59923
(406) 293-7441
www.libbyfbc.org

---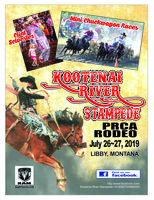 Kootenai River Stampede July 26 & 27, 2019 in Libby

Kootenai River Stampede July 26-27 in Libby (posted 7/22/19)
PRCA Rodeo
The Kootenai River Stampede is held each year on the last weekend of July at J. Neils Memorial Park in Libby.

This is an official Professional Rodeo Cowboys Association (PRCA) rodeo with seven events: women's barrel racing, bull riding, bareback bronc, saddle bronc, tie-down roping, team roping, and steer wrestling.

This year's event also features the Alberta Miniature Chuckwagon Races. In addition, the event includes activities for children, vendors, food booths, and live rodeo entertainment every night.

Rodeos start at 7:00PM each night. Gates open at 5:00PM.

Presale tickets are $12.00 for adults. Tickets at the gate are $16.
Seniors (age 60 and up), Veterans, and students age 7-15) are $8 presale and $10 at the gate.
Kids 6 and under are free.
Tickets are available online at rodeotickets.com or at these outlets: Libby Chamber of Commerce ~ Timberline Auto Sales
Printing Press ~ Homesteaders Feed & Supply
High Spirits Liquor Store ~ Silver Spur Restaurant – Troy

For more information find the Kootenai River Stampede on Facebook or contact krslibbymt@gmail.com.

---
Koocanusa Reservoir expected to remain low this summer (posted 7/7/19)
US Army Corps of Engineers
In one of the driest years recorded for the Kootenai River Basin, extremely low spring precipitation combined with well below average winter snowpack and runoff will keep Lake Koocanusa significantly lower than normal this summer.

Reservoir elevation is projected to peak between 2,432 to 2,437 feet - potentially as much as 22 feet below the typical targeted peak pool elevation of 2,454 feet - and expected to occur in the first two weeks of August rather than late July.

"It has been a dry year overall," said Logan Osgood-Zimmerman, U.S. Army Corps of Engineers' upper Columbia River senior water manager. "We kept the reservoir nearly five feet higher at the end of December than in most years and then have been operating on minimum flows for much of winter and spring to try and conserve water."

Currently, Lake Koocanusa is on track to have the fourth lowest inflow volume since 1960.

Water supply in the Kootenai basin has been very low all winter and spring:
Basin snowpack averaged about 70 percent of normal all winter
In February 2019, inflow into Lake Koocanusa was the lowest monthly inflow volume ever measured (between 1960-2019)
May precipitation was 36 percent of normal
June precipitation has been 45 percent of normal, thus far

The Corps' swim platform at Souse Gulch will likely not be available for use because of low lake levels and access to private docks and marinas may be impacted.

Libby Dam discharge gradually decreased from 20,000 cubic feet per second to 7,000 cfs from June 20-25 and is expected to remain at that level through August before reducing to 6,000 cfs in September.

---
Three additional deer suspected positive for Chronic Wasting Disease in Libby (posted 7/7/19)
Montana Fish, Wildlife & Parks
Samples from three additional white-tailed deer in the Libby area are suspected to be positive for chronic wasting disease.

Montana Fish, Wildlife & Parks was notified of the suspect samples on July 3. The Veterinary Diagnostic Lab at Colorado State University in Fort Collins, Colorado identified the samples to be suspected of CWD infection and will run second tests for confirmation.

The new results mark the latest detections of CWD in white-tailed deer in the Libby area. The initial detection, which occurred in late May inside city limits, marked the first time that CWD was detected west of the Continental Divide in the wild. The second positive detection was collected near the first sample site.

Of the three latest samples, one was a white-tailed buck that was road-killed and collected inside city limits; another was a symptomatic white-tailed doe collected inside city limits; and the third was a symptomatic white-tailed doe collected on Kootenai River Road near mile marker 1.

From late May through July 3, FWP has submitted 29 samples of white-tailed and mule deer for CWD testing. Two are confirmed positive and three are suspected to be positive. The positive detections have only involved white-tailed deer. CWD was not detected in 18 samples and results are pending for six. Sample results typically arrive within 10-14 days of submission.

---
Service announces Recovery Plan revisions for 42 Species (posted 7/1/19)
Plan includes White Sturgeon in the Kootenai River drainage
U.S. Fish & Wildlife Service
As part of an agency-wide effort to advance the recovery of our nation's most imperiled species, the U.S. Fish and Wildlife Service has made publicly available draft revisions for 29 Endangered Species Act (ESA) recovery plans that provide a recovery roadmap for 43 federally protected species. This is the third batch of revised recovery plans, and is part of the Department of the Interior's Agency Priority Performance Goals, which call for all ESA recovery plans to include quantitative criteria on what constitutes recovery by September 2019.

Recovery plans are non-regulatory guidance documents that identify, organize and prioritize recovery actions, set measurable recovery objectives, and include time and cost estimates. In total, the Service will revise up to 182 recovery plans covering some 305 species listed under the ESA.

The Service's success in preventing extinctions and recovering species is due to ESA-inspired partnerships with diverse stakeholders, such as state, federal, and tribal wildlife agencies, industry, conservation groups and citizens. Each species for which recovery criteria are being revised in this effort has undergone or is currently undergoing a status review that considers the best scientific and commercial data that have become available since the species' listing or most recent status review. This information includes: (1) the biology of the species, (2) habitat conditions, (3) conservation measures that have benefitted the species, (4) threat status and trends in relation to the five listing factors, and (5) other information, data, or corrections.

As such, these revisions reflect scientific and informational updates, which have been gained from years of collaborative work with our partners. Revisions benefit endangered and threatened species, our partners, and the public by sharing the best available information about what is really needed to achieve recovery.

Under guidance established in 2010, partial revisions, such as amendments, allow the Service to update recovery plans with the latest science and information without having to revise the entire plan, which can be a time- and resource-intensive undertaking.

There will be a 30-day comment period on the proposed revisions, ending on July 29, 2019. We are requesting submission of any information that may help achieve (1) the necessary understanding of species' biology, threats and recovery needs; (2) identification of implementation issues and concerns; and (3) facilitation of more effective implementation, associated with these draft revisions that update recovery criteria for these 43 species.

The plan revisions include White Sturgeon in the Kootenai River drainage.

Click on this link to read the Draft Revised Recovery Plan for the Kootenai River Distinct Population Segment of the White Sturgeon:
https://ecos.fws.gov/docs/recovery_plan/Kootenai_River_White_Sturgeon_Draft_Revised_RP_20181211a.pdf

Click on this link to read the plan for all 42 species: https://www.federalregister.gov/documents/2019/06/27/2019-13708/endangered-and-threatened-wildlife-and-plants-29-draft-recovery-plan-revisions-for-42-species-across

---
Montanore Draft SEIS available for public review (posted 6/24/19)
Kootenai National Forest
The Kootenai National Forest (KNF) has completed the Montanore Evaluation Project Draft Supplemental Environmental Impact Statement (Draft SEIS). A No Action Alternative, the Proposed Action, and two action alternatives (Alternatives 3 and 4) are analyzed in the Draft SEIS. During the Evaluation Project, Montanore Minerals Corporation, would use an existing evaluation adit on private land in upper Libby Creek to drill into and evaluate a copper and silver ore body; would conduct surface monitoring activities, including some in the Cabinet Mountains Wilderness; and, in Alternatives 3 and 4 only, would complete geotechnical and hydrologic studies on National Forest System lands between Little Cherry Creek and Poorman Creek. Alternative 3 is the KNF's preferred alternative. The Draft SEIS can be downloaded in digital formal (.pdf) on the Forest Service's website: http://www.fs.usda.gov/projects/kootenai/landmanagement/projects (click on "View/Download the Documents")

An open house will be held from 6:00-8:00 p.m., July 23rd 2019, at the KNF Supervisor's Office, 31374 US Highway 2, Libby, Montana. Reasonable accommodations to participate in the open house will be provided upon request for people with disabilities.

Please submit comments to Craig Towery, KNF, Supervisor's Office, 31374 US Highway 2, Libby, MT 59923-3022, or by email to: sm.fs.r1monteval@usda.gov. Please include "Montanore Evaluation Project" in the subject line. Comments can also be faxed to (406) 283-7709, hand-delivered to the KNF between the hours of 8:00 a.m. and 4:30 p.m., or given to a KNF staff member at the open house. Comments must be postmarked or received 45 days from the date the Notice of Availability (NOA) of the Draft SEIS is published in the Federal Register; the NOA was published on June 21st.

For further information on the project, to request a physical copy of the Draft SEIS (bound paper or compact disc), or to request reasonable accommodation, contact Craig Towery at (406) 293-6211 or craig.towery@usda.gov.
---
FWP proposes conservation easement to protect over 22,000 acres near Libby (posted 6/1/19)
FWP proposes conservation easement to protect over 22,000 acres near Libby
Montana Fish, Wildlife and Parks is seeking public comment on a proposal to purchase a conservation easement that would protect approximately 22,295 acres of highly productive timberland and important fisheries and wildlife habitat scattered around Libby in northwest Montana.

The property is owned by the Stimson Lumber Company, one of the oldest continuously operating integrated wood products companies in the U.S. This conservation project is a collaborative effort involving Stimson, The Trust for Public Land, and FWP.

The proposed conservation easement, which would be held by FWP, would allow Stimson to retain these timberlands and continue to manage them using sustainable forest practices while protecting the valuable fish and wildlife habitat found on the property. This easement would preclude development, protect key landscape connectivity, and provide permanent public access and associated recreational opportunities.

FWP has scheduled a public hearing for June 12, 2019 at 6 p.m. in Libby at the Libby City Hall, Ponderosa Room, 952 E. Spruce Street. This event will provide interested organizations and individuals an opportunity to ask questions about the proposed project and submit public comment.

The property, which shares 133 miles of border with the Kootenai National Forest, currently provides over 1,100 days of public hunting access. The property provides high quality winter range for moose, elk, white-tailed deer, and mule deer. It also provides habitat for 43 Species of Greatest Conservation Need as listed in Montana's 2015 State Wildlife Action Plan and includes federally designated critical habitat for three threatened species: Canada lynx, grizzly bear, and bull trout. Completion of this project would permanently secure free public access for hunting, hiking, fishing, snowmobiling, cross country skiing, and other outdoor activities.

In a 2007 study entitled "National Forests on the Edge," the U.S. Forest Service identified national forests throughout the country facing the most increased risks and alterations from escalating housing development on private rural lands along their boundaries. The Stimson project lands were identified as a moderate risk area.

FWP is seeking comment on a draft environmental assessment that describes the scope of the project. The primary objectives of this project are to:
• Conserve important fish and wildlife habitat
• Continue sustainable commercial forest management
• Maintain public recreation access into the future

Following completion of the draft EA and review of the public comments received, the FWP Region One Supervisor will issue a decision notice that makes a recommendation to the Fish and Wildlife Commission on a course of action. The Commission will make the final decision on which course of action to take.

A copy of the draft environmental assessment is available at the FWP Region 1 office, 490 N. Meridian Rd., Kalispell; Montana State Library, 1515 E 6th Ave., Helena; FWP State Headquarters, 1420 E 6th Ave., Helena; the FWP website at http://fwp.mt.gov/news/publicNotices/; and available for viewing at local libraries. FWP asks that comments on this draft environmental assessment be submitted to either of the following addresses by 5 p.m., June 29, 2019:

Kris Tempel or ktempel@mt.gov
Montana Fish, Wildlife & Parks
490 North Meridian Road
Kalispell, MT 59901

For more information about the project, contact Kris Tempel at the email address above or via phone, (406) 751-4573.

---
Public scoping underway for Montana fishing regulations (posted 5/9/19)
FWP biologists gathering input as part of regulation setting process
Montana Fish, Wildlife & Parks
Montana Fish, Wildlife & Parks is undergoing a public scoping process to review fishing regulations and identify potential issues with fisheries.

FWP fisheries staff is meeting with local and statewide groups, organizations and individual anglers for discussions on a broad range of topics, including season and possession limits and terminal tackle regulations. The public is encouraged to provide input to area biologists and managers during this initial scoping phase, which formally began in April and runs through May 31, 2019. Following the initial scoping period, FWP staff will formulate tentative proposals to present to the Montana Fish and Wildlife Commission in August before presenting the proposals to the public for input this fall.

The Montana Fish and Wildlife Commission has statutory authority to establish seasons, possession limits and season limits for any species of game fish, and terminal tackle regulations. It may also declare a closed season on any fish threatened with undue depletion for any cause. The Commission may set new regulations or modify existing ones at any time deemed necessary.

To view the current fishing regulations, visit http://fwp.mt.gov/fish/regulations

The normal regulation setting process is conducted on a four-year cycle with annual changes made in special circumstances. Every fourth year, FWP seeks input from the angling public and fisheries staff about ideas and concerns that might be addressed by regulation changes; this is known as the "scoping process."

When reviewing the fishing regulations, FWP staff work to identify any potential issues with a fishery or population that could require a regulation change. Biologists review evidence that confirms an issue does exist, and considers how a change in regulation could remedy the situation. Other questions to consider include, "Why is a new regulation or change in regulation the best way to 'fix' the issue?" and "Are there alternative measures that could be implemented other than changing the current regulations"?" Also, "What foreseeable, or potentially unforeseeable, impacts could be caused by this regulation change?" And, importantly, "Can this proposed regulation be enforced?"

Other questions can factor into the review process. FWP staff then uses the best information available to evaluate regulation requests and makes recommendations to the Commission. The Commission also evaluates regulation proposals and decides which proposals will be advanced for public review. The Commission makes a final decision based on input from the public and FWP staff. With the exception of emergency or time-sensitive changes, the regulations adopted by the Commission go into effect the following March 1. These changes are captured in the Fishing Regulation booklet for that year.

Members of the public can contact area biologists to provide input.

Region 1 Fisheries Contacts:
Mike Hensler, Region 1 Fisheries Manager
mhensler@mt.gov
(406) 751-4550

Kenneth Breidinger, Fisheries Biologist, Kalispell
KBreidinger@mt.gov
(406) 751-4543

Leo Rosenthal, Fisheries Biologist, Kalispell
LRosenthal@mt.gov
(406) 751-4548

Ryan Kreiner, Fisheries Biologist, Thompson Falls
RKreiner@mt.gov
(406) 382-3032

Brian Stephens, Fisheries Biologist, Libby
BStephens@mt.gov
(406) 293-4161

---
EPA deletes portion of Libby, Montana Superfund site from National Priorities List (posted 4/11/19)
Deletion reflects continued cleanup progress at site
US EPA
LIBBY, MONTANA - The U.S. Environmental Protection Agency (EPA) today (April 10, 2019) announced the deletion of a portion of the Libby Asbestos Superfund site in Libby, Montana from the National Priorities List (NPL). EPA and the Montana Department of Environmental Quality have determined that all required cleanup activities are complete in the Operable Unit 2 (OU2) area for deletion.

gThe deletion of these properties from the Superfund list reflects the progress EPA and our partners continue to make in cleaning up and restoring properties in Libby,h said EPA Acting Regional Administrator Deb Thomas.

The Libby Asbestos Superfund site was placed on the NPL in 2002 due to high levels of Libby Amphibole asbestos in and around the communities of Libby and Troy. The site is divided into eight Operable Units. Operable Unit 2 of the site includes areas impacted by asbestos contamination released from the former Screening Plant. These areas include the former plant, the Flyway property, the Highway 37 right]of]way next to the former Screening Plant and Rainy Creek Road and privately-owned properties, collectively totaling 45 acres. Components of the long-term remedy included the removal and containment of contaminants and institutional controls to prevent exposure. EPA completed these cleanup actions in 2012.

EPA is deleting OU2 based on a determination that no further remediation action is needed to protect human health and the environment. The area will continue to be subject to operation and maintenance activities, including regular reviews for protectiveness. EPA will continue to address contamination concerns at remaining Operable Units of the Libby Asbestos site, which includes the former mine site.

For more information about the Libby Superfund site, visit: https://www.epa.gov/superfund/libby-asbestos

---
How Is Libby, Troy, Yaak's Real Estate Market in 2019? (posted 4/11/19)
Guest article by Alice L. Hayes, Loveless Realty
1/1/2019 – 03/31/2019 Current Real Estate figures were:
SALES & PENDINGS:
22 Residential SALES: 14 in Libby; 8 in Troy; 0 in Yaak
14 Land SALES: 9 in Libby; 4 in Troy; 1 in Yaak
0 Commercial/Multi-Family SALES: 0 in Libby; 0 in Troy
20 Residential PENDING: 14 in Libby; 4 in Troy; 2 in Yaak
3 Land PENDING: 2 in Libby; 1 in Troy
0 Commercial/M-Family PENDING:

ACTIVE LISTINGS:
84 Residential ACTIVES: 30 in Libby; 48 in Troy; 6 Yaak
174 Land ACTIVES: 98 in Libby; 69 in Troy; 7 in Yaak
20 Comm/Multi-Fam ACTIVE: 15 in Libby; 3 in Troy; 2 in Yaak

2018 was a very busy year. We were able to help many people move to their new home, move out of their old home, sell their land, buy new land, or even move to a new town. But, there have been others who are still looking to sell their home or land or looking to buy that 'just right home' or 'perfect piece of land'. We trust 2019 will be their year.

Our Inventory of homes is in Short supply and we are looking for more options to offer buyers. If you've 'toyed' with the idea of selling –we would enjoy visiting with you about how we can help. What were the price ranges of SOLDS so far this spring?
10K - $150,000 = 17 Sales
151K - $250,000 = 2 Sales
251K - $500,000 = 3 Sales
501K - $800,000 = 0 Sales
801K - $1,500,000 = 0

Information obtained from Montana Regional MLS (MRMLS)

5 Sweet Tax Deductions When Selling a Home: Did You Take Them All?
1. Selling costs: Good news! These deductions are still allowed under the new tax law as long as they are directly tied to the sale of the home and a married couple—or a single taxpayer—lived in the home for at least two out of the five years preceding the sale. Another caveat: The home must be a principal residence and not an investment property. "You can deduct any costs associated with selling the home—including legal fees, escrow fees, advertising costs, and real estate agent commissions," says Joshua Zimmelman, president of Westwood Tax and Consulting in Rockville Center, NY. This could also include home staging fees, according to Thomas J. Williams, a tax accountant who operates Your Small Biz Accountant in Kissimmee, FL. Just remember that you can't deduct these costs in the same way as, say, mortgage interest. Instead, you subtract them from the sales price of your home, which in turn positively affects your capital gains tax.

2. Home improvements and repairs: Score again. The new tax law left this deduction as well. If you renovated a few rooms to make your home more marketable (and so you can fetch a higher sale price), now you can deduct those upgrade costs as well. This includes painting the house or repairing the roof or water heater. But there's a catch, and it all boils down to timing. "If you needed to make home improvements in order to sell your home, you can deduct those expenses as selling costs as long as they were made within 90 days of the closing," says Zimmelman.

3. Property taxes: This deduction is still allowed, but your total deductions are capped at $10,000, Zimmelman says. If you were dutifully paying your property taxes up to the point when you sold your home, you can deduct the amount you paid in property taxes this year up to $10,000.

4. Mortgage interest: As with property taxes, you can deduct the interest on your mortgage for the portion of the year you owned your home. However, the rules have changed slightly from last year. Just remember that under the new tax code, new homeowners (and home sellers) can deduct the interest on up to only $750,000 of mortgage debt, though homeowners who got their mortgage before Dec. 15, 2017, can continue deducting up to the original amount up to $1 million, according to Zimmelman.

Note that the mortgage interest and property taxes are itemized deductions. This means that for it to work in your favor, all of your itemized deductions need to be greater than the new standard deduction, which the Tax Cuts and Jobs Act nearly doubled to $12,200 for individuals, $18,350 for heads of household, and $24,400 for married couples filing jointly (for comparison, it used to be $12,700 for married couples filing jointly).

5. But what's up with capital gains tax for sellers? Lawmakers tried to change the capital gains rule, but it managed to survive—so it's still one home sellers can use. It isn't technically a deduction (it's an exclusion), but you're still going to like it.

As a reminder, capital gains are your profits from selling your home—whatever cash is left after paying off your expenses, plus any outstanding mortgage debt. And yes, these profits are taxed as income. But here's the good news: You can exclude up to $250,000 of the capital gains from the sale if you're single, and $500,000 if married. The only big catch is you must have lived in your home at least two of the past five years.

However, look for the rules of this exemption to possibly change in a future tax bill. Ralph DiBugnara, president of Home Qualified and vice president at Residential Home Funding, says lawmakers might push to change this so that homeowners would have to live in the property for five of the past eight years, instead of two out of five.
(Information obtained from Realtor.com)

Interest Rates are DOWN— NOW Could be a Great Time to Purchase
As of 03/31/2019 Conforming & FHA Loans:
30- Year Fixed; Interest = 4.29%; APR= 4.36%
15- Year Fixed; Interest = 3.75 %; APR= 3.87%

Cell #'s:
(Alice) 406-293-8364
(Jim) 406-293-1926
Texts:
(Alice) 406-293-8364
Emails:
alice@alicehayes.com
jim@alicehayes.com
Website:
www.alicehayes.com

---
2019 Fishing Regulations available (posted 2/25/19)
Montana Fish, Wildlife & Parks
The 2019 Fishing Regulations are available online here: http://fwp.mt.gov/fish/. Hard copies of the fishing regulations are available now at FWP offices and local license providers.

---
2019 Turkey Regulations and Applications available (posted 2/25/19)
Montana Fish, Wildlife & Parks
The 2019 Spring and Fall Turkey Regulations are available online here: http://fwp.mt.gov/hunting/regulations/. Hard copies of the hunting regulations will be on the shelf at FWP offices and local license providers in March.

Turkey applications are also available online here: http://fwp.mt.gov/hunting/licenses/buyApply/default.html

---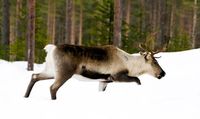 Stock photo courtesy Montana Fish, Wildlife & Parks

Rare Caribou sightings reported in Northwest Montana (posted 11/5/18)
Montana FWP working with wildlife biologists in British Columbia
Montana Fish, Wildlife & Parks
Montana Fish, Wildlife & Parks regional staff have received reports of a rare sight in northwest Montana.

Residents have recently documented sightings of woodland caribou near the U.S.-Canada border. The multiple sightings include the potential for a bull and a cow in separate locations.

Caribou, members of the deer family, are native to northwest Montana but have almost completely disappeared from the contiguous United States over the last half century.

Woodland caribou herds once stretched from central British Columbia to Idaho, Montana and Washington. The decline in population is largely attributed to high mortality linked to habitat fragmentation, alteration, loss of old growth forest, and subsequent predation impacts. Woodland caribou are now protected in the United States and British Columbia.

Caribou have been known to roam from the Selkirk and Purcell mountain ranges in southern B.C into Montana, Idaho and Washington but the occurrences have become increasingly rare.

Caribou are similar in size to mule deer but have different coloration, large round hooves and unique antlers. Even cow caribou can have visible small antlers.

"There are three weeks left of big-game hunting season in Montana. Hunters are reminded to be sure of their target and beyond," said Neil Anderson, FWP Region 1 wildlife manager.

After confirming reports of the recent sightings, Montana FWP contacted wildlife biologists in British Columbia and informed them of the sightings. FWP will continue to work closely with partners in British Columbia on the conservation of the species.

---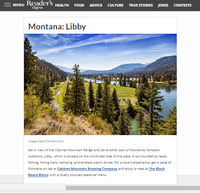 Charming Libby, Montana

Libby, Most Charming Small Town in Montana (posted 8/14/18)
According to Reader's Digest
Reader's Digest posted a story under the Travel section of their website on "The Most Charming Small Town in Every State." Libby was selected as the Most Charming Small Town for Montana. "You'll find the heart of America in these small-town gems lost in time. Add them to your must-visit list now," said author Lyn Mettler.

"Set in view of the Cabinet Mountain Range and yet another part of Montana's fantastic outdoors, Libby, which is located on the northwest side of the state, Libby is surrounded by lakes, fishing, hiking trails, camping, and endless scenic drives. For a local's experience, get a taste of Montana on tap at Cabinet Mountain Brewing Company and enjoy a meal at The Black Board Bistro with a locally-sourced seasonal menu."

Click on this link for their complete list of Most Charming Towns:
https://www.rd.com/advice/travel/most-charming-small-towns-in-every-state/

---
Libby lies in the northwest corner of Montana and is nestled in a valley carved by the Kootenai River on the flank of the majestic Cabinet Mountain Range and Wilderness Area. Today about 2,800 people live within Libby proper. The main industries are lumber and wood products, mining, tourism and recreation. The movies "The River Wild" and "Always" were filmed here. Contact the Libby Chamber of Commerce for brochures, info on lodging and events, general area information, and contact information for local businesses and services.
SUMMER
When the weather warms and the mountain snows melt away, the Kootenai National Forest comes alive with over 2.2 million acres of public land as a playground. Mountain trails and lakes open up, beautiful wildflowers come in bloom, and wildlife have their young. Libby is the basecamp for the Cabinet Mountains Wilderness Area, 90-mile long Lake Koocanusa, the Northwest Peaks Scenic Area, and the Ten Lakes Scenic Area. There is good access to most of the Forest and plenty of room to get away from it all!
WINTER
Winter in Montana means snow, and lots of it! For those who love to play in the deep powder, the Libby area offers tremendous winter fun. Turner Mountain Ski Area, located just 22 miles from Libby, offers challenging downhill skiing with a beautiful view. Their slogan is "steep, deep and cheap", and Turner definitely lives up to that. It's still fairly undiscovered, so you can escape the crowds and get the cheapest lift tickets around. For those who love snowmobiling, there are hundreds of miles of backcountry roads to sled on in the Kootenai National Forest. Cross-country skiers and ice fishermen also can find solitude on a lake and miles of quiet forest trails to enjoy the outdoors. Those who are a bit on the wild and crazy side will love the antics of the Libby Polar Bear Club. Members take winter-time "swims" in frigid Libby Creek every Sunday from October to April. Plungers have ranged in age from 3 to 61. As long as the ice can be broken on the creek, if it has formed, the group will take their plunge, no matter the temperature.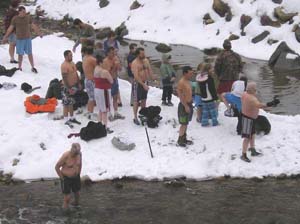 These people must be craaaazzzzzy!
Libby Polar Bear Club