News: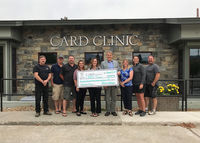 (L-R) LeRoy Thom, Jason Williams, Jon Roberts, Jamie Rosling, Donna Williams, Brad Black, Tracy McNew, Erica Hartley, and Joe Miller pose with the $24,381.94 check donated to the CARD Clinic by the CARD Foundation. The money was raised during this year's Big Sky Bash and it will be used to help fund the clinic's new parking lot. Photo courtesy CARD.

CARD Foundation donates over $24K to new parking lot (posted 8/12/19)
Center for Asbestos Related Disease
The Center for Asbestos Related Disease (CARD) Foundation, located in Libby, Montana, recently donated $24,381.94 to the CARD Clinic to help fund a much-needed new parking lot. According to Tracy McNew, Administrative Director at CARD, the clinic needs a new parking lot for safety's sake. The current parking lot is dangerously sloped causing a hazard for patients especially during the winter time with snow and ice. Also, it does not offer any accessible parking for those with disabilities, and it is too small to accommodate the number of patients seen at the clinic on a daily basis.

According to Donna Williams, President of the CARD Foundation board, "The CARD Foundation is very thankful for the public's support of our annual Big Sky Bash, and we are pleased to be able to give this large donation to the clinic for their parking lot." The CARD Foundation received grant money from the Lincoln County Community Foundation and donated an automatic door opener earlier this year to make the CARD Clinic more accessible for patients with disabilities. The new parking lot will further improve access for the disabled and fix basement flooding problems as well.

Dr. Brad Black started the CARD clinic way back in 2003. At first CARD operated with four staff members in a temporary trailer. They eventually bought a building, and later added on to update and accommodate growth. They bought the lot next door to their building about five year ago, and now, finally, after 16 years, they'll have a parking lot big enough to accommodate their growing patient population and 23 person staff.

"It's a relief to finally be able to put in a new parking lot that will make accessing CARD much easier and safer for our patients. We sincerely thank the Foundation volunteers for their efforts and support," said Dr. Black.

Although the parking lot project will cost over $210,000, this donation will help the nonprofit clinic significantly. The new parking lot will double the number of spaces, level the grade, include handicapped parking spots, and improve water drainage. Construction is anticipated to begin in October.

For more information about supporting the project please contact the CARD Foundation by email at foundation@libbyasbestos.org.
---
FWP proposes to improve fisheries habitat on Therriault Creek near Eureka (posted 8/12/19)
Comments accepted until Sept. 10, 2019
Montana Fish, Wildlife & Parks
Montana Fish, Wildlife & Parks is seeking public comment on a proposal to restore riparian vegetation and improve fisheries habitat on Therriault Creek near Eureka in Lincoln County.

The proposed work on private land along Therriault Creek is located approximately 1.75 miles upstream from the confluence with the Tobacco River. The project would continue previous work on Therriault Creek and would increase woody vegetation cover along the stream, increase fisheries habitat diversity, and reduce the risk of bank erosion. The proposed work would enhance vegetation along about 1,000 feet of the 9,100 feet of stream that was previously restored.

FWP proposes three bioengineering treatments that would support the development of riparian woody vegetation. These techniques include stripping dense non-native pasture grasses and replanting with willows, slightly lowering inside stream banks and replanting with willows, and the installation of woody debris and willow cuttings along the stream bank.

FWP would fund the completion of this project with funding received from Bonneville Power Administration (BPA). BPA previously completed an environmental impact statement that analyzed the effects of similar projects that can be found online at https://www.bpa.gov/efw/Analysis/NEPADocuments/Pages/Watershed-Management.aspx.

Comments will be accepted until 11:59 p.m., Sept. 10, 2019.

Public comments can be submitted to: Montana Fish, Wildlife & Parks, Attention: Jim Dunnigan, 385 Fish Hatchery Road, Libby, MT 59923, or e-mail to jdunnigan@mt.gov.

---
Libby Chronic Wasting Disease detection (posted 8/3/19)
Montana Fish, Wildlife & Parks
Incident Command Team Update
Aug. 2, 2019
Incident Summary
Through Aug. 1, samples from five white-tailed deer in the Libby area have tested positive for chronic wasting disease. The first detection, which occurred in late May inside city limits, marked the first time that CWD was found west of the Continental Divide in the wild.

As of Aug. 1, samples from 62 animals (57 white-tailed, four mule deer, one moose) in and around Libby have been submitted for CWD testing. Of those, 45 were collected from road-killed incidents. Results are pending for 28 samples.

Incident Response Plan
FWP has established the Libby CWD Management Zone, which encompasses roughly 10 miles around the detection sites. Within this Management Zone, the goal is to identify the prevalence and distribution of CWD. To do that, FWP is working closely with the City of Libby and Lincoln County to develop a CWD Response Plan, which will involve sampling deer in this area. Since the initial detection occurred, FWP has been working with the City of Libby, Lincoln County Sheriff's Office, Montana Department of Transportation and the Lincoln County Landfill to collect symptomatic deer or road-killed deer for sampling.

Following the guidelines in the Montana CWD Management Plan, FWP works to keep prevalence low where CWD exists and prevent its spread by increasing harvest where possible, targeted removal in areas around detections, and minimizing large groupings of deer.

On July 15, the Libby City Council approved a resolution authorizing Libby City Police, Lincoln County Sheriff's Office, and Montana FWP personnel to harvest and collect for sampling deer from public property for the purposes of testing for CWD. This testing will help FWP identify the prevalence and distribution of CWD in the area. FWP will begin collecting and sampling deer using clover traps this fall.

FWP is finalizing details of a Special CWD hunt in the Libby area this fall. FWP will sell 600 white-tailed deer antlerless B licenses in the Libby CWD Management Zone, which includes portions of Hunting Districts 100, 103, and 104. The hunt will occur at the same time as the archery and general hunting season and follow the same regulations for dates and weapon restrictions (i.e. you must use archery equipment during the archery season).

The Special CWD B licenses will go on sale at 8 a.m., Aug. 19, 2019. Additional details are forthcoming.

All deer, elk and moose harvested within the Libby CWD Management Zone, including any harvested with a general license and/or a Libby Special CWD Hunt B license, must be submitted for sampling. A map of the CWD Management Zone will be available online, at FWP Region 1 headquarters or by request (contact Dillon Tabish at 751-4564 or Dillon.Tabish@mt.gov).

During archery (Sept. 7-Oct. 20), youth, deer only (Oct. 17-18) and moose season (Sept. 15 until start of general deer and elk season), hunters who successfully harvest an animal are required to bring the head to the FWP Libby Office, 385 Fish Hatchery Rd. A collection site will be set up for hunters to self-report and submit the head for testing.

Starting Oct. 26 and remaining throughout general deer and elk season, all animals can be checked at the new FWP collection station (Montana Department of Transportation shop site on US Highway 2, mile marker 35). The collection station will be open seven days a week from 11 a.m. through one hour after sunset. Hunters who quarter or bone out their animal in the field must bring the head to the collection station. Samples from the head will be submitted for testing.

The Canoe Gulch game check station is only open on weekends during the general season. Hunters are only required to stop at the collection station if they successfully harvested an animal. All hunters, with or without game, must still stop at the Canoe Gulch check station if they encounter it.

Public Involvement
FWP, the Libby Police Department and Lincoln County Sheriff's Office are responding to reports of deer that appear sick and removing the animals for sampling. For people in the Libby area who see a deer that appears to be sick, please call (406) 291-6539 or Lincoln County Dispatch and leave a message with your name, number, the location of the animal and the time you saw it.

FWP held its latest public meeting in Libby on Aug. 2. The next information meeting is Aug. 16 at noon in the Ponderosa Room at Libby City Hall, 952 Spruce St. Additional meetings are being scheduled in Libby, Kalispell, Trout Creek, Eureka, and Polson.

Background
CWD is a progressive, fatal disease affecting the nervous system of mule deer, white-tailed deer, elk and moose. If left unmanaged so that a large percentage of a deer or elk herd becomes infected, CWD could cause significant population declines in the decades to come.

There is no known transmission of CWD to humans or other animals, including pets or livestock. The Centers for Disease Control and Prevention (CDC) recommends that hunters harvesting a deer, elk, or moose from an area where CWD is known to be present have their animal tested for CWD prior to consuming the meat, and to not consume the meat if the animal tests positive.

CWD has been in Montana since at least 2017. These prions are found throughout bodily tissues and secretions and are shed into the environment before and after death. When other animals encounter the prions, either from infected animals (contacting saliva/feces) or from contaminated environments (eating grass on infected soil), they can be infected. FWP has campaigned across the state informing residents to dump carcasses at proper landfills to avoid releasing CWD into the ground on public or private property.

For accurate, up-to-date information, please visit the FWP website (fwp.mt.gov/cwd) or FWP Region 1 Facebook page (facebook.com/MontanaFWP.R1). For more information, contact FWP Information Officer Dillon Tabish at (406) 751-4564 or email dillon.tabish@mt.gov

---
Two Grizzly Bears moved into Cabinet Mountains (posted 8/1/19)
To help recover population and improve genetic diversity
Montana Fish, Wildlife & Parks
Montana Fish, Wildlife & Parks and its partners moved two grizzly bears into the Cabinet-Yaak Ecosystem in Lincoln County as part of an augmentation program designed to recover the bear population and improve its genetic diversity.

FWP, in collaboration with the U.S. Fish and Wildlife Service, captured the bears in the Whitefish Range. The first bear, a sub-adult female weighing 94 pounds, was released July 13 in the Spar Lake area on the Kootenai National Forest south of Troy. The second bear, a sub-adult male weighing 194 pounds, was released July 16 in the same area.

The U.S. Fish and Wildlife Service leads the research and monitoring in the ecosystem in collaboration with FWP, Idaho Fish and Game, Kootenai Tribe of Idaho, Idaho Panhandle National Forest, Kootenai National Forest, and Lolo National Forest.

The Cabinet-Yaak Augmentation Program began in 1990 in an effort to save the population and boost genetic diversity. In 1988, biologists estimated fewer than 15 grizzly bears remained in the Cabinet-Yaak. The primary objectives of the program are to bolster reproduction through the addition of female bears, and overall genetic diversity through the addition of female and male bears. Twenty-two bears have now been added in the Cabinet Mountains since the program's inception.

All bears moved through the augmentation program have no history of conflicts with people and were moved in the summer to take advantage of developing food supplies in the form of huckleberries. Initial augmentation consisted of females but in recent years males have also been added.

The current population of grizzly bears in the Cabinet-Yaak is estimated at 55-60 individuals with approximately half of these in the Cabinet Mountains and half in the Yaak River area. The population is growing at approximately 1-2 percent per year.

The Cabinet-Yaak Ecosystem, one of six designated recovery zones for grizzly bears in the lower 48 states, is located in northwest Montana and northeast Idaho. Blocks of contiguous habitat extend into British Columbia, making this an international population. The recovery zone includes portions of the Kootenai, Idaho Panhandle, and Lolo National Forests (including one wilderness area). The Kootenai River bisects the ecosystem, with the Cabinet Mountains to the south and the Yaak River drainage to the north.

For FWP's latest grizzly bear management report on the Cabinet-Yaak Ecosystem, visit fwp.mt.gov/regions/r1 and select under "Region 1 Wildlife Information."

---
Koocanusa Reservoir expected to remain low this summer (posted 7/7/19)
US Army Corps of Engineers
In one of the driest years recorded for the Kootenai River Basin, extremely low spring precipitation combined with well below average winter snowpack and runoff will keep Lake Koocanusa significantly lower than normal this summer.

Reservoir elevation is projected to peak between 2,432 to 2,437 feet - potentially as much as 22 feet below the typical targeted peak pool elevation of 2,454 feet - and expected to occur in the first two weeks of August rather than late July.

"It has been a dry year overall," said Logan Osgood-Zimmerman, U.S. Army Corps of Engineers' upper Columbia River senior water manager. "We kept the reservoir nearly five feet higher at the end of December than in most years and then have been operating on minimum flows for much of winter and spring to try and conserve water."

Currently, Lake Koocanusa is on track to have the fourth lowest inflow volume since 1960.

Water supply in the Kootenai basin has been very low all winter and spring:
Basin snowpack averaged about 70 percent of normal all winter
In February 2019, inflow into Lake Koocanusa was the lowest monthly inflow volume ever measured (between 1960-2019)
May precipitation was 36 percent of normal
June precipitation has been 45 percent of normal, thus far

The Corps' swim platform at Souse Gulch will likely not be available for use because of low lake levels and access to private docks and marinas may be impacted.

Libby Dam discharge gradually decreased from 20,000 cubic feet per second to 7,000 cfs from June 20-25 and is expected to remain at that level through August before reducing to 6,000 cfs in September.

---
Three additional deer suspected positive for Chronic Wasting Disease in Libby (posted 7/7/19)
Montana Fish, Wildlife & Parks
Samples from three additional white-tailed deer in the Libby area are suspected to be positive for chronic wasting disease.

Montana Fish, Wildlife & Parks was notified of the suspect samples on July 3. The Veterinary Diagnostic Lab at Colorado State University in Fort Collins, Colorado identified the samples to be suspected of CWD infection and will run second tests for confirmation.

The new results mark the latest detections of CWD in white-tailed deer in the Libby area. The initial detection, which occurred in late May inside city limits, marked the first time that CWD was detected west of the Continental Divide in the wild. The second positive detection was collected near the first sample site.

Of the three latest samples, one was a white-tailed buck that was road-killed and collected inside city limits; another was a symptomatic white-tailed doe collected inside city limits; and the third was a symptomatic white-tailed doe collected on Kootenai River Road near mile marker 1.

From late May through July 3, FWP has submitted 29 samples of white-tailed and mule deer for CWD testing. Two are confirmed positive and three are suspected to be positive. The positive detections have only involved white-tailed deer. CWD was not detected in 18 samples and results are pending for six. Sample results typically arrive within 10-14 days of submission.

---
How Is Libby, Troy, Yaak's Real Estate Market in 2019? (posted 4/11/19)
Guest article by Alice L. Hayes, Loveless Realty
1/1/2019 – 03/31/2019 Current Real Estate figures were:
SALES & PENDINGS:
22 Residential SALES: 14 in Libby; 8 in Troy; 0 in Yaak
14 Land SALES: 9 in Libby; 4 in Troy; 1 in Yaak
0 Commercial/Multi-Family SALES: 0 in Libby; 0 in Troy
20 Residential PENDING: 14 in Libby; 4 in Troy; 2 in Yaak
3 Land PENDING: 2 in Libby; 1 in Troy
0 Commercial/M-Family PENDING:

ACTIVE LISTINGS:
84 Residential ACTIVES: 30 in Libby; 48 in Troy; 6 Yaak
174 Land ACTIVES: 98 in Libby; 69 in Troy; 7 in Yaak
20 Comm/Multi-Fam ACTIVE: 15 in Libby; 3 in Troy; 2 in Yaak

2018 was a very busy year. We were able to help many people move to their new home, move out of their old home, sell their land, buy new land, or even move to a new town. But, there have been others who are still looking to sell their home or land or looking to buy that 'just right home' or 'perfect piece of land'. We trust 2019 will be their year.

Our Inventory of homes is in Short supply and we are looking for more options to offer buyers. If you've 'toyed' with the idea of selling –we would enjoy visiting with you about how we can help. What were the price ranges of SOLDS so far this spring?
10K - $150,000 = 17 Sales
151K - $250,000 = 2 Sales
251K - $500,000 = 3 Sales
501K - $800,000 = 0 Sales
801K - $1,500,000 = 0

Information obtained from Montana Regional MLS (MRMLS)

5 Sweet Tax Deductions When Selling a Home: Did You Take Them All?
1. Selling costs: Good news! These deductions are still allowed under the new tax law as long as they are directly tied to the sale of the home and a married couple—or a single taxpayer—lived in the home for at least two out of the five years preceding the sale. Another caveat: The home must be a principal residence and not an investment property. "You can deduct any costs associated with selling the home—including legal fees, escrow fees, advertising costs, and real estate agent commissions," says Joshua Zimmelman, president of Westwood Tax and Consulting in Rockville Center, NY. This could also include home staging fees, according to Thomas J. Williams, a tax accountant who operates Your Small Biz Accountant in Kissimmee, FL. Just remember that you can't deduct these costs in the same way as, say, mortgage interest. Instead, you subtract them from the sales price of your home, which in turn positively affects your capital gains tax.

2. Home improvements and repairs: Score again. The new tax law left this deduction as well. If you renovated a few rooms to make your home more marketable (and so you can fetch a higher sale price), now you can deduct those upgrade costs as well. This includes painting the house or repairing the roof or water heater. But there's a catch, and it all boils down to timing. "If you needed to make home improvements in order to sell your home, you can deduct those expenses as selling costs as long as they were made within 90 days of the closing," says Zimmelman.

3. Property taxes: This deduction is still allowed, but your total deductions are capped at $10,000, Zimmelman says. If you were dutifully paying your property taxes up to the point when you sold your home, you can deduct the amount you paid in property taxes this year up to $10,000.

4. Mortgage interest: As with property taxes, you can deduct the interest on your mortgage for the portion of the year you owned your home. However, the rules have changed slightly from last year. Just remember that under the new tax code, new homeowners (and home sellers) can deduct the interest on up to only $750,000 of mortgage debt, though homeowners who got their mortgage before Dec. 15, 2017, can continue deducting up to the original amount up to $1 million, according to Zimmelman.

Note that the mortgage interest and property taxes are itemized deductions. This means that for it to work in your favor, all of your itemized deductions need to be greater than the new standard deduction, which the Tax Cuts and Jobs Act nearly doubled to $12,200 for individuals, $18,350 for heads of household, and $24,400 for married couples filing jointly (for comparison, it used to be $12,700 for married couples filing jointly).

5. But what's up with capital gains tax for sellers? Lawmakers tried to change the capital gains rule, but it managed to survive—so it's still one home sellers can use. It isn't technically a deduction (it's an exclusion), but you're still going to like it.

As a reminder, capital gains are your profits from selling your home—whatever cash is left after paying off your expenses, plus any outstanding mortgage debt. And yes, these profits are taxed as income. But here's the good news: You can exclude up to $250,000 of the capital gains from the sale if you're single, and $500,000 if married. The only big catch is you must have lived in your home at least two of the past five years.

However, look for the rules of this exemption to possibly change in a future tax bill. Ralph DiBugnara, president of Home Qualified and vice president at Residential Home Funding, says lawmakers might push to change this so that homeowners would have to live in the property for five of the past eight years, instead of two out of five.
(Information obtained from Realtor.com)

Interest Rates are DOWN— NOW Could be a Great Time to Purchase
As of 03/31/2019 Conforming & FHA Loans:
30- Year Fixed; Interest = 4.29%; APR= 4.36%
15- Year Fixed; Interest = 3.75 %; APR= 3.87%

Cell #'s:
(Alice) 406-293-8364
(Jim) 406-293-1926
Texts:
(Alice) 406-293-8364
Emails:
alice@alicehayes.com
jim@alicehayes.com
Website:
www.alicehayes.com

---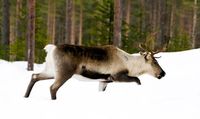 Stock photo courtesy Montana Fish, Wildlife & Parks

Rare Caribou sightings reported in Northwest Montana (posted 11/5/18)
Montana FWP working with wildlife biologists in British Columbia
Montana Fish, Wildlife & Parks
Montana Fish, Wildlife & Parks regional staff have received reports of a rare sight in northwest Montana.

Residents have recently documented sightings of woodland caribou near the U.S.-Canada border. The multiple sightings include the potential for a bull and a cow in separate locations.

Caribou, members of the deer family, are native to northwest Montana but have almost completely disappeared from the contiguous United States over the last half century.

Woodland caribou herds once stretched from central British Columbia to Idaho, Montana and Washington. The decline in population is largely attributed to high mortality linked to habitat fragmentation, alteration, loss of old growth forest, and subsequent predation impacts. Woodland caribou are now protected in the United States and British Columbia.

Caribou have been known to roam from the Selkirk and Purcell mountain ranges in southern B.C into Montana, Idaho and Washington but the occurrences have become increasingly rare.

Caribou are similar in size to mule deer but have different coloration, large round hooves and unique antlers. Even cow caribou can have visible small antlers.

"There are three weeks left of big-game hunting season in Montana. Hunters are reminded to be sure of their target and beyond," said Neil Anderson, FWP Region 1 wildlife manager.

After confirming reports of the recent sightings, Montana FWP contacted wildlife biologists in British Columbia and informed them of the sightings. FWP will continue to work closely with partners in British Columbia on the conservation of the species.

---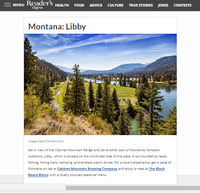 Charming Libby, Montana

Libby, Most Charming Small Town in Montana (posted 8/14/18)
According to Reader's Digest
Reader's Digest posted a story under the Travel section of their website on "The Most Charming Small Town in Every State." Libby was selected as the Most Charming Small Town for Montana. "You'll find the heart of America in these small-town gems lost in time. Add them to your must-visit list now," said author Lyn Mettler.

"Set in view of the Cabinet Mountain Range and yet another part of Montana's fantastic outdoors, Libby, which is located on the northwest side of the state, Libby is surrounded by lakes, fishing, hiking trails, camping, and endless scenic drives. For a local's experience, get a taste of Montana on tap at Cabinet Mountain Brewing Company and enjoy a meal at The Black Board Bistro with a locally-sourced seasonal menu."

Click on this link for their complete list of Most Charming Towns:
https://www.rd.com/advice/travel/most-charming-small-towns-in-every-state/

---
Libby lies in the northwest corner of Montana and is nestled in a valley carved by the Kootenai River on the flank of the majestic Cabinet Mountain Range and Wilderness Area. Today about 2,800 people live within Libby proper. The main industries are lumber and wood products, mining, tourism and recreation. The movies "The River Wild" and "Always" were filmed here. Contact the Libby Chamber of Commerce for brochures, info on lodging and events, general area information, and contact information for local businesses and services.
SUMMER
When the weather warms and the mountain snows melt away, the Kootenai National Forest comes alive with over 2.2 million acres of public land as a playground. Mountain trails and lakes open up, beautiful wildflowers come in bloom, and wildlife have their young. Libby is the basecamp for the Cabinet Mountains Wilderness Area, 90-mile long Lake Koocanusa, the Northwest Peaks Scenic Area, and the Ten Lakes Scenic Area. There is good access to most of the Forest and plenty of room to get away from it all!
WINTER
Winter in Montana means snow, and lots of it! For those who love to play in the deep powder, the Libby area offers tremendous winter fun. Turner Mountain Ski Area, located just 22 miles from Libby, offers challenging downhill skiing with a beautiful view. Their slogan is "steep, deep and cheap", and Turner definitely lives up to that. It's still fairly undiscovered, so you can escape the crowds and get the cheapest lift tickets around. For those who love snowmobiling, there are hundreds of miles of backcountry roads to sled on in the Kootenai National Forest. Cross-country skiers and ice fishermen also can find solitude on a lake and miles of quiet forest trails to enjoy the outdoors. Those who are a bit on the wild and crazy side will love the antics of the Libby Polar Bear Club. Members take winter-time "swims" in frigid Libby Creek every Sunday from October to April. Plungers have ranged in age from 3 to 61. As long as the ice can be broken on the creek, if it has formed, the group will take their plunge, no matter the temperature.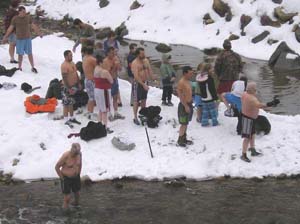 These people must be craaaazzzzzy!
Libby Polar Bear Club