News:
Yaak WINGS benefit May 5th (posted 4/15/18)
The Yaak Community is hosting their annual WINGS Benefit at the Yaak River Tavern on Saturday, May 5, 2018. 100% of the proceeds will go to Lincoln County WINGS, a not-for-profit organization that offers individuals and families in Lincoln County financial assistance during cancer treatment. A silent auction and bucket raffle will start at 2:00PM under the big white tent next to the Tavern. A Mexican themed dinner will be available starting at 5PM for $10 per person. The live auction featuring local artisans, craftsman, and regional products will begin at 6:30PM.

---
Hunter, Bowhunter Education courses offered across Northwest Montana (posted 3/9/18)
Sign up online for free courses this spring
Montana Fish, Wildlife & Parks
Free hunter and bowhunter education classes are available across northwest Montana.

Registration is open for hunter education courses in several communities, including Kalispell, Bigfork, Arlee, Hot Springs, Kila, Olney, Troy, Kila and Plains. Bowhunter education courses are open to registration in Kalispell, Whitefish, Columbia Falls, Plains and Somers.

Courses are open to registration online at fwp.mt.gov/education/hunter.

To purchase a Montana hunting license, any person born after January 1, 1985, must show a certificate of completing a hunter education course. Additional courses will be held later in the year.

A student must be at least 10 years old to register for a hunter education class. There is no maximum age. A student must be at least 11 years old to register for a bowhunter education course. Courses are open to anyone interested in learning outdoor safety, hunting ethics and firearm safety. Parents are welcome to accompany their child.

Online hunter and bowhunter education courses are available for those who are 18 years or older. Adults must still attend a field course to become certified.

"Apprentice hunters" between the ages of 10 and 17 are allowed to hunt without hunter education certification as long as they are accompanied by someone who is 21 years or older and has an Apprentice Hunter Mentor Form in his/her possession. Applicable licenses are still required.

Online Registration for Troy is open now. Classes will be April 9.10,11,12,16 from 6-8PM at Troy High School. The Field Course will be held on April 13th. To register call Jim Jones, 406-295-4520.

For a complete list of available courses and more information about hunter education, visit fwp.mt.gov/education/hunter.

---
How was Libby,Troy,Yaak Real Estate in 2017? (posted 1/16/18)
Market Statistics
Guest article by Alice L. Hayes, Loveless Realty
2017 was a very busy year. We were able to help many people move to their new home, move out of their old home, sell their land, or even move to a new town. But, there have been others who are still looking to sell their home or land or looking to buy that 'just right home' or 'perfect piece of land'. We trust 2018 will be their year.

And Inventory – oh my – that is in Short supply. We are looking for properties to offer to buyers. If you've 'toyed' with the idea of selling – please let us know – and we will be happy to visit with you about what we can do for you.

1/1/2017—12/31/2017 Current RE Figures were:

SALES & PENDINGS:
202 Residential SALES:
150 in Libby
44 in Troy
8 in Yaak

67 Land SALES:
48 in Libby
19 in Troy
5 in Yaak

7 Commercial SALES:
4 in Libby
2 in Troy
1 in Yaak

6 Residential PENDING:
2 in Libby
3 in Troy
1 in Yaak

5 Land PENDING:
3 in Libby
2 in Troy

0 Commercial/M-Family PENDING

ACTIVE LISTINGS:
89 Residential ACTIVES:
39 in Libby
42 in Troy
8 Yaak

195 Land ACTIVES:
106 in Libby
78 in Troy
11 in Yaak

24 Commercial ACTIVE:
21 in Libby
3 in Troy
0 Yaak

What Were the Price Ranges of SOLDS in 2017??
10K - $150,000 = 62 Sales
150K - $250,000 = 20 Sales
250K - $500,000 = 22 Sales
500K - $800,000 = 4 Sales
800K - $1,500,000 = 5

Interest Rates Remain LOW—NOW Could be a Great Time to Purchase
As of 12/31/2017 Conforming & FHA Loans:
30-Year Fixed; Interest = 3.375%; APR = 3.537%
15-Year Fixed; Interest = 2.625%; APR = 2.913%

Information obtained through Montana Regional MLS (MR MLS)

What to Do in the Winter?
Have you checked out the painting classes being offered in Libby? These small fun classes are held at a variety of locations. A couple hours of fun results in your own art work.
For people wanting to walk in a safe environment this winter, the Libby Elementary School offers 'hall walkers' Monday through Friday during the hours of 4:30pm to 6:30pm.
Troy has a new ice skating pond with bonfire and fun for all. Located at Roosevelt Park.
Our own ski hill has some pretty amazing conditions – check it out and enjoy a day on Turner. www.skiturner.com
Ice Fishing Derby season begins the week of January 20th.

Alice & Jim - Team Hayes Realtors
Loveless Realty - 519 W. 9th - Libby, MT 59923
Cell #'s:
(Alice) 406-293-8364
(Jim) 406-293-1926
Texts:
(Alice) 406-293-8364
Emails:
alice@alicehayes.com
jim@alicehayes.com
Website:
www.alicehayes.com

---
Libby lies in the northwest corner of Montana and is nestled in a valley carved by the Kootenai River on the flank of the majestic Cabinet Mountain Range and Wilderness Area. Today about 2,800 people live within Libby proper. The main industries are lumber and wood products, mining, tourism and recreation. The movies "The River Wild" and "Always" were filmed here. Contact the Libby Chamber of Commerce for brochures, info on lodging and events, general area information, and contact information for local businesses and services.
SUMMER
When the weather warms and the mountain snows melt away, the Kootenai National Forest comes alive with over 2.2 million acres of public land as a playground. Mountain trails and lakes open up, beautiful wildflowers come in bloom, and wildlife have their young. Libby is the basecamp for the Cabinet Mountains Wilderness Area, 90-mile long Lake Koocanusa, the Northwest Peaks Scenic Area, and the Ten Lakes Scenic Area. There is good access to most of the Forest and plenty of room to get away from it all!
WINTER
Winter in Montana means snow, and lots of it! For those who love to play in the deep powder, the Libby area offers tremendous winter fun. Turner Mountain Ski Area, located just 22 miles from Libby, offers challenging downhill skiing with a beautiful view. Their slogan is "steep, deep and cheap", and Turner definitely lives up to that. It's still fairly undiscovered, so you can escape the crowds and get the cheapest lift tickets around. For those who love snowmobiling, there are hundreds of miles of backcountry roads to sled on in the Kootenai National Forest. Cross-country skiers and ice fishermen also can find solitude on a lake and miles of quiet forest trails to enjoy the outdoors. Those who are a bit on the wild and crazy side will love the antics of the Libby Polar Bear Club. Members take winter-time "swims" in frigid Libby Creek every Sunday from October to April. Plungers have ranged in age from 3 to 61. As long as the ice can be broken on the creek, if it has formed, the group will take their plunge, no matter the temperature.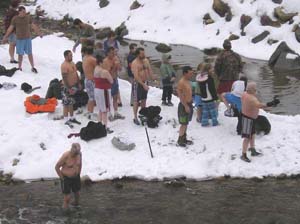 These people must be craaaazzzzzy!
Libby Polar Bear Club