News:
'A Visit with Teddy Roosevelt' program June 1st at the Heritage Museum (posted 5/18/13)
Heritage Museum
The Libby Heritage Museum will host Humanities Montana Speakers Bureau program, "A Visit with Teddy Roosevelt" with Arch Ellwein on Saturday, June 1, the museum's 2013 opening day. The program will be in the Beebe Room of the Heritage Museum, 34067 US Highway 2, Libby, at 1:00 PM. The presentation is free and open to the public. Partial funding for the Speakers Bureau program is provided by a legislative grant from Montana's Cultural Trust and from the National Endowment for the Humanities.

Meet the vibrant 26th president of the United States, Theodore Roosevelt. Even Roosevelt's critics admired the man who took on the corporate trusts, charged up San Juan Hill, defied the party "bosses," built the Panama Canal, defined conservation and won a Nobel Peace Prize. Hear his views on conservation, agriculture, and democracy, all shaped by his Western experience. Portrayed by Arch Ellwein, President Roosevelt talks of his experiences in Montana as a rancher and sportsman. Following his "press conference" the actor/ historian will come out of character for further discussion.

Acclaimed performer and historian Arch Ellwein, of Sydney, Montana, has toured a dozen states portraying Theodore Roosevelt. A Montana native, Ellwein was a well-known radio broadcaster in northeastern Montana and North Dakota before retiring.

The museum will open at 10:00 AM on June 1, and programs, demonstrations and activities will start soon after. The cookhouse will be serving burgers, cold drinks, pie and more. A complete schedule of events and times will be available on the website: www.libbyheritagemuseum.org.

For more information, please call The Heritage Museum at 406-293-7521.

---
Libby Christian Church's Vacation Bible School June 10-14 (posted 5/18/13)
Libby Christian Church is offering Vacation Bible School "Kingdom Rock" Monday – Friday, June 10-14. The Vacation Bible School is for children four-years old through 8th grade. Libby Christian Church, 100 Kootenai River Road. For questions call 406-293-3747. To pre-register visit: www.libbychristianchurch.com.

---
Mountain lion sighted on Kootenai River Road (posted 5/18/13)
Duane Williams, KLCB-KTNY Radio
About 7pm Tuesday evening (May 14) a resident on Kootenai River Road reported his housecat had been killed and he had found a dead whitetail deer. There were large cat tracks around the remains of both the housecat and the deer.

Montana Fish, Wildlife and Parks (FWP) Warden Tami Laverdure, says an investigation found a young mountain lion had dragged and buried a road kill deer in the area. Due to safety concerns of attempting to shoot the cat close to a residential area, FWP has elected to remove the deer carcass from the area hoping without its catch the mountain lion will move on.
______________________________________________

By Duane Williams, KLCB-KTNY Radio, e-mail: klcb@frontiernet.net, www.klcb-ktny.com.

---
Community workshop on Scenic Byways June 12 (posted 5/14/13)
Kootenai National Forest
The second set of community workshops for the Lake Koocanusa Montana Scenic-Historic and National Forest Scenic Byway will be held in Eureka and Libby in June.

A scenic byway corridor management plan is being developed with community and agency partners. The public is invited to attend a workshop to identify the community's vision and goals for this scenic driving experience.

Workshop dates:
• Tuesday, June 11 ~ Glacier Bank, Eureka, MT, 6:00-8:00 pm
• Wednesday, June 12 ~ Venture Inn, Libby, MT, 6:00-8:00 pm

The workshop will include discussions to identify interpretive themes, safety concerns, and implementation priorities.

For more information contact Timory Peel, USDA Forest Service Recreation Solutions, 406-295-7467, tpeel@fs.fed.us.

Related Links:
Federal Highway Administrations Scenic Byway Program
Montana's Historic-Scenic Byway Program
---
School concerts planned (posted 5/14/13)
Duane Williams, KLCB-KTNY Radio
Libby High school concert will be on Tuesday, May 21 at 7:00 pm in the Memorial Center. It will feature both the Symphonic band and Jazz band and showcase the band seniors and the groups that performed at State Music festival. A reception will follow.

6th through 8th grade bands and the middle school Jazz Band will have their concert on Thursday, May 23 at 7:00 pm in the Libby Elementary School gym.
_________________________________________

By Duane Williams, KLCB-KTNY Radio, e-mail: klcb@frontiernet.net, www.klcb-ktny.com.

---
Hepatitis C screenings offered in May (posted 5/14/13)
Duane Williams, KLCB-KTNY Radio
May is National Hepatitis Awareness month. The Lincoln County Public Health Department is offering Hepatitis C screenings free of charge to anyone who would like to be tested. The CDC suggests that those born 1945 through 1965 be screened one time due to possible exposures from medical or dental procedures that occurred before testing for the virus began in 1992. Anyone that has ever had exposure to blood or participates in high risk behaviors such as IV drug use should be screened. For more information on the TDAP clinic or Hepatitis C screenings call 406-293-4121.
_________________________________________

By Duane Williams, KLCB-KTNY Radio, e-mail: klcb@frontiernet.net, www.klcb-ktny.com.

---
Three students diagnosed with pertussis (posted 5/14/13)
Duane Williams, KLCB-KTNY Radio
Three students in Lincoln County have been diagnosed with pertussis, a bacterial infection known as "whooping cough". Pertussis is usually spread by coughing or sneezing in close contact with others.

It starts like a common cold with running nose, congestion, and maybe a mild fever and light cough and worsens over the next couple weeks, being more severe at night.

Lincoln County Public Health is following the Center for Disease Control guidelines for pertussis follow-up in schools.

Lincoln County Public Health has scheduled a walk-in TDAP clinic at 418 Main Avenue, May 16th, Thursday, from 1pm to 4:30p for 11 years and older and adults needing boosters. Even if your child is fully immunized, it is important to know the vaccine is 100% effective in everyone.
___________________________________________

By Duane Williams, KLCB-KTNY Radio, e-mail: klcb@frontiernet.net, www.klcb-ktny.com.

---
Libby Dam operations meeting in Bonners Ferry May 30 (posted 5/13/13)
Duane Williams, KLCB-KTNY Radio
The U.S. Army Corps of Engineers is hosting a combined Columbia River Treaty and Libby Dam annual operations public information meeting in Bonners Ferry, Idaho, May 30.

Representatives from the Corps will discuss water supply forecasts, Libby Dam operations, and Corps flood assistance and permitting. The U.S. Fish and Wildlife Service will discuss Kootenai River white sturgeon recovery.

The open house meeting will include a portion dedicated to review of the Columbia River Treaty. Corps staff will be present to discuss the potential future of the Treaty and efforts underway to understand what change could mean to the region.
______________________________________________

By Duane Williams, KLCB-KTNY Radio, e-mail: klcb@frontiernet.net, www.klcb-ktny.com.

---
CARD Foundation's 3rd Annual Big Sky Bash July 13th (posted 5/13/13)
Duane Williams, KLCB-KTNY Radio
Tickets are on sale for the CARD Foundation's 3rd Annual BIG SKY BASH. The fundraising concert, which benefits the Center for Asbestos Related Disease (CARD) in Libby, Montana, has an expanded line up this year, featuring not two but three bands. The Internationally known rock and roll super group, Night Ranger, will headline this year's event, along opening bands, Kip Winger and Copper Mountain Band. All three groups will be performing in Libby on Saturday, July 13th, 2013, at J. Neils Park, with gates opening at 4:00PM, and the first act beginning at 6:00PM.

Tickets can be purchased online at www.donatecardfoundation.org, or at the following locations: Libby's Closet, Mac's Market, Montana Machine and Fabrication, Rivermist/Frost Creek Boutique, Rocky Mountain Music, and The Western News. Cost will be $25.00 advance purchase and $30.00 at the gate.

All proceeds from this event will go to the CARD Foundation, the fundraising arm of CARD, to support CARD in its ongoing efforts to provide healthcare, research and outreach to benefit all people impacted by exposure to Libby Amphibole Asbestos.
____________________________________________

By Duane Williams, KLCB-KTNY Radio, e-mail: klcb@frontiernet.net, www.klcb-ktny.com.

---
Kootenai Highland Gathering July 19-20 (posted 5/13/13)
3rd weekend in July at The River Bend
Maggie Craig, LibbyMT.com
Do you have any Celtic heritage? Scottish, Irish, Welsh? Whether you do or not, you won't want to miss the first annual Kootenai Highland Gathering, sponsored by the newly-formed Kootenai Highlanders organization. Angie McLaury of McLaury Apiaries, along with some dedicated volunteers, has organized Libby's first-ever Celtic Highland Games, a tradition that dates back centuries.

Celtic nations include Ireland, Scotland, Wales, Brittany, Cornwall and the Isle of Man. A wealth of information exists regarding the history of the Celts, and the McLaury family has extensively investigated their heritage. This led to the participation by the McLaury boys, Dan, Jon and Drew, in their first highland games last year in Boise and Hamilton.

Traditionally, gatherings and games were held as a means of allowing clans to come together to celebrate their kinship, and to practice the art of warfare. As with any social gathering, there would also be food, music, trading, and competitions. Today, highland games are held throughout the world as a way of celebrating Celtic culture and heritage, and certain traditions have come to be expected at the games, such as bagpipes, kilts, and heavy games like the caber toss and stone throw.

While these highland games will celebrate Celtic heritage, it's also an opportunity to bring a fun-filled, family-friendly event to Libby. The hope for organizers is that the event will become an attraction that will grow every year, and show the positive face of Libby and this beautiful area to the outside world.

The event will be held at the Riverbend on July 19-20 and is sanctioned by the Scottish American Athletic Association (SAAA), which will provide members to set up, run and judge the games.

Games include:
Caber Toss
Braemer Stone
Weight over Bar
Light Weight for Distance
Heavy Weight for Distance
Open Stone
Sheaf Toss
Light Scottish Hammer
Heavy Scottish Hammer
Weight Throw

Competition is open to men, women and children, and other special activities are planned for kids.

In addition to the games, there will be pipers, dancers, music, vendors, and of course, food. Saturday's admission is $8/general, $5/seniors and military personnel, and kids 10 and under are free. For entry forms or more information, call Angie McLaury at (406)293-3022. In the meantime, mark your calendars for a unique, fun event July 19-20 at Libby's first annual Kootenai Highland Gathering.

---
Lincoln County Real Estate in 2013 (posted 5/13/13)
Alice L. Hayes, Broker, Loveless Realty
1/1/2013 - 05/01/2013 Shows Current RE Figures are:
SALES & PENDINGS
36 Residential SALES:
17 in Libby; 8 in Troy; 1 in Yaak; 9 in Sanders; 1 in Flathead

16 Land SALES:
7 in Libby; 2 in Troy; 2 in Yaak; 5 in Sanders

4 Commercial SALES:
1 in Libby; 2 in Troy; 1 in Sanders

23 Residential PENDING:
12 in Libby; 5 in Troy; 6 in Sanders

8 Land PENDING:
4 in Libby; 3 in Troy; 1 in Sanders

0 Commercial/Multi-Family PENDING:

ACTIVE LISTINGS
274 Residential ACTIVES:
125 - Libby; 68 - Troy;
13 - Yaak; 66 - Sanders;
2 - Flathead

331 Land ACTIVES:
115 - Libby; 104 - Troy;
27 -Yaak; 76 -Sanders;
9 –Flathead

35 Commercial ACTIVES:
17 in Libby; 7 in Troy;
0 in Yaak; 11 in Sanders

The figures of the Current Activity and the Past Activity show that we are moving forward—not at in-credible speeds—but slowly moving forward. 2012 Residential sales are the highest number since 2008.
2012 Land sales are the same as 2009, and a little below 2011.
2012 Commercial/Multi-Family sales are the same as 2009, better than 2010, and 1 less than 2011.
Looks like we are on the "up-swing" in sales—We are looking forward to even better sales numbers throughout 2013.

So how is our market actually doing? Let's compare
January 1—December 31, 2012
120 Residential SOLDS
33 Land SOLDS
6 Commercial SOLDS

January 1—December 31, 2011
111 Residential SOLDS
37 Land SOLDS
7 Commercial SOLDS

January 1—December 31, 2010
93 Residential SOLDS
28 Land SOLDS
0 Commercial SOLDS

January 1—December 31, 2009
82 Residential SOLDS
33 Land SOLDS
6 Commercial SOLDS

January 1—December 31, 2008
98 Residential SOLDS
67 Land SOLDS
11 Commercial SOLDS

Information obtained from Lincoln County MLS.
___________________________________________

Alice L. Hayes, Broker, LLC, ABR, CRS, GRI
James W. Hayes, Sales, "Properties A Specialty"
Phone: 406-293-8364; 406-293-1926
alice@alicehayes.com
jim@alicehayes.com
http://www.alicehayes.com
Loveless Realty - 519 W. 9th - Libby, Montana

---
Libby Dam begins Sturgeon flow augmentation (posted 5/13/13)
U.S. Army Corps of Engineers - Libby Dam
Water managers at the U.S. Army Corps of Engineers, along with federal and state fish biologists, determined forecasted inflows are sufficient to provide flow augmentation at Libby Dam, Mont., for endangered Kootenai River white sturgeon downstream in Idaho.

While this year's augmentation flows do not include spilling additional volume through the dam's spillway gates, plans include increasing flows to full powerhouse capacity for about a week, on two separate occasions, in an effort to provide river conditions that may foster sturgeon spawning.

Sturgeon flow augmentation is set to begin Saturday (May 11) at noon when local Kootenai River tributaries below Libby Dam are forecasted to peak, the trigger for initiating releases from the dam in support of sturgeon recruitment. Flows will be increased to full to powerhouse capacity, approximately 26,500 cubic feet per second, and will remain at that level for about one week before decreasing to 18,000 cfs.

A second pulse of powerhouse capacity flows will be timed to coincide near peak inflows above the dam later this month or in early June.

The flow augmentation operation is part of a collaborative, ongoing effort by regional biologists to enhance spawning and migration conditions for sturgeon in the Kootenai River near Bonners Ferry, Idaho. Increased flows are intended to provide river conditions that may foster sturgeon spawning, successful egg hatching, and survival of larval sturgeon in the reach of river upstream of Bonners Ferry, where sturgeon do not currently spawn successfully. While hatchery reproduction has increased the number of young sturgeon in the river, federal, state, and tribal partners hope to improve habitat conditions for adult sturgeon to successfully reproduce on their own.

The U.S. Army Corps of Engineers' primary consideration in operating Libby Dam is to minimize risk to human life, health, and safety, while meeting the dam's multiple purposes and responsibilities. The Corps will closely monitor Kootenai River elevation in Bonners Ferry during the sturgeon flow augmentation and will adjust operations with the aim of staying below 1,764 feet, the local flood stage.

Libby Dam is a multi-purpose water resource developed for flood risk management, hydropower, fish and wildlife, and recreation.

---
Two Rivers Rendezvous July 19, 20 & 21, 2013 (posted 5/9/13)
Kootenai Muzzleloaders will host their annual Two Rivers Rendezvous Friday through Sunday, July 19, 20 & 21, 2013. The event is an annual gathering of modern-day mountain men in the beautiful remote mountains of northwest Montana, east of Libby. It celebrates the early fur-trade and trapping history of the area, prior to settlement, in the late 1700s to mid-1800s when American and British government and business interests sought to claim the land and resources of the unsettled North American continent. The rendezvous was a summer-time annual gathering to exchange fur pelts with supplies, and reconnect with friends and business interests.

Time-period authentic clothing and equipment (pre-1840) required for participants. Activities include black powder rifle and pistol trails, hawk/knife trails, fun shoots, mountain man run, peewee and junior activities, primitive archery trail shoots and more. Camping available. Modern day visitors are welcome.
Two Rivers Rendezvous is held at Fawn Creek Campground near Libby, Montana. From Libby, travel north on Highway 37 for 14 miles. Just after crossing the Fisher /Kootenai River bridge, take a right and continue for another eight miles to the Fawn Creek Campground, which is on the right. Enter the gate and "follow your nose".

For those who wish to camp out, there are separate Primitive and Modern Camps.
NO OPEN FIRES WILL BE ALLOWED, so bring your propane stoves for cooking. This is a dry camp with no potable water, so bring your own drinking water. Non-potable (non-drinkable) water is available. Fire bucket and shovel required for each camp. There will be a food vendor on-site.

The camp opens on Thursday, July 18th. Events will be held on Friday and Saturday for Rifle, Pistol, Smoothbore, Hawk & Knife, Primitive Archery trails. The awards and raffle drawings will be on Sunday, July 21st. Shooting competitions are black powder. Load from the pouch with a patched round ball using open iron sights. Single shot pistols only. Participants get points for period dress. NO SMOKING OR ALCOHOL ANYWHERE ON ANY TRAIL. Participants should be prepared to shoot early in the day due to fire restrictions.

FEES FOR 2013:
ALL CAMPS will pay a $15.00 fee.
$5.00 per shooter plus blanket prize for each shooter.
Traders: voluntary donations accepted

For more information, contact:
Kootenai Muzzleloaders
P.O. Box 460, Libby MT 59923
Dave Windom, 406-283-1916, dwindom@rocketmail.com
Mark Morain, 406-293-8239, mmorain@frontiernet.net
Gary Beal, 406 295 5271, go.ex@hotmail.com

Related Links:
Two Rivers Rendezvous
2012 Two Rivers Rendezvous By Maggie Craig, LibbyMT.com, July 22, 2012 (10 photos)
2009 Two Rivers Rendezvous By Maggie Craig, LibbyMT.com, July 19, 2009 (23 photos)

---
School District levy fails (posted 5/9/13)
Duane Williams, KLCB-KTNY Radio
Libby school district Number 4 defeated a requested $350,000 levy proposal Tuesday, May 7th. The levy failed 55% against, 44% for.

In a relatively close election, Les Nelson, (1283) and John Carlson (1112) were elected to seats on the school board. Sarah Crace (895) finished third by only 217 votes behind Carlson.
_______________________________________

By Duane Williams, KLCB-KTNY Radio, e-mail: klcb@frontiernet.net, www.klcb-ktny.com.

---
Flathead Electric Co-op elects new officers (posted 4/26/13)
Duane Williams, KLCB-KTNY Radio
The Flathead Electric Co-op Board of Trustees met for their regular session on Wednesday, April 24th and elected their new officers for the coming year. Earl Messick, of Libby, who represents District #9, was elected to serve as President. Reelected for another term as Vice President was Doug Grob, representing District #4. Emery Smith, District #2, was elected Secretary/Treasurer.

Flathead Electric Cooperative is democracy in action. The member/owners run the cooperative through their elected representatives on the Board of Trustees. Flathead Electric includes nine districts, each with a representative on the Board of Trustees, which acts as the governing body of the Cooperative. State and federal law, as well as the articles of incorporation and bylaws of the Cooperative, govern the actions of the board.
____________________________________________

By Duane Williams, KLCB-KTNY Radio, e-mail: klcb@frontiernet.net, www.klcb-ktny.com.

---
Libby man suffers burns after throwing gas on fire (posted 4/19/13)
Duane Williams, KLCB-KTNY Radio
17-year old Zack Browning, of Libby, is reportedly fighting for his life at Harborview (Harborview Medical Center, University of Washington, Seattle, Washington). Over 75% of his body was burned, including his throat and lungs after breathing fire from a gas can that exploded in his hand.

The incident occurred about 8:20pm Wednesday (April 17, 2013). Browning and his girlfriend reportedly were watching a fire at 755 Farm to Market Road, when Browning decided to throw gasoline on the fire. He was airlifted by fixed wing Alert to Seattle Wednesday evening sometime after 10pm.

Duane Williams with KLCB-KTNY Radio has been in contact with a family member for an update on Zack: He is stable and on a ventilator until his first surgery (Friday, April 19) this morning. Hope to take the tube out then if things go well. The surgery is for getting the dead and burned skin off his body. He is coping well with the times the meds wear off. His family and Mom, Carrie, want to thank everyone for the thoughts and prayers for Zack, and really appreciate all the support from everyone. It means the world. They are trying to relate all the "Hi"s and prayers from everyone to him as much as they can but he is still very fuzzy thinking right now.

"Thank the community for us that is sending prayers and thoughts our way and all the generosity that has been given since we have been gone... I have only heard of things that people are doing for our family but I still want every single person to know that we are very grateful for all... thank you very much, Jimmy and Carrie."
_________________________________________

By Duane Williams, KLCB-KTNY Radio, e-mail: klcb@frontiernet.net, www.klcb-ktny.com.

---
Libby lies in the northwest corner of Montana and is nestled in a valley carved by the Kootenai River on the flank of the majestic Cabinet Mountain Range and Wilderness Area. Today about 2,800 people live within Libby proper. The main industries are lumber and wood products, mining, tourism and recreation. The movies "The River Wild" and "Always" were filmed here. Contact the Libby Chamber of Commerce for brochures, info on lodging and events, general area information, and contact information for local businesses and services.
SUMMER
When the weather warms and the mountain snows melt away, the Kootenai National Forest comes alive with over 2.2 million acres of public land as a playground. Mountain trails and lakes open up, beautiful wildflowers come in bloom, and wildlife have their young. Libby is the basecamp for the Cabinet Mountains Wilderness Area, 90-mile long Lake Koocanusa, the Northwest Peaks Scenic Area, and the Ten Lakes Scenic Area. There is good access to most of the Forest and plenty of room to get away from it all!
WINTER
Winter in Montana means snow, and lots of it! For those who love to play in the deep powder, the Libby area offers tremendous winter fun. Turner Mountain Ski Area, located just 22 miles from Libby, offers challenging downhill skiing with a beautiful view. Their slogan is "steep, deep and cheap", and Turner definitely lives up to that. It's still fairly undiscovered, so you can escape the crowds and get the cheapest lift tickets around. For those who love snowmobiling, there are hundreds of miles of backcountry roads to sled on in the Kootenai National Forest. Cross-country skiers and ice fishermen also can find solitude on a lake and miles of quiet forest trails to enjoy the outdoors. Those who are a bit on the wild and crazy side will love the antics of the Libby Polar Bear Club. Members take winter-time "swims" in frigid Libby Creek every Sunday from October to April. Plungers have ranged in age from 3 to 61. As long as the ice can be broken on the creek, if it has formed, the group will take their plunge, no matter the temperature.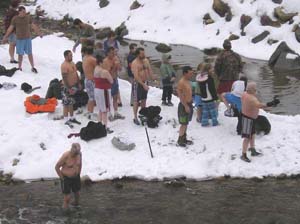 These people must be craaaazzzzzy!
Libby Polar Bear Club