News: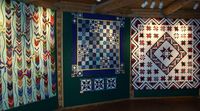 Quilt display in the Tower Gallery at The Heritage Museum in Libby. Opening day is Saturday, June 2nd.

The Heritage Museum celebrates 40 years (posted 5/29/18)
Opening Day June 2, 2018
The Heritage Museum
This year, The Heritage Museum celebrates its 40th anniversary on Saturday, June 2. Beginning at 10:00 AM and ending at 3:00 PM, there will be living history presentations, equipment demonstrations in the yard, speakers and entertainment in the Beebe Room, and music in the outdoor pavilion. In the cookhouse, delicious burgers and homemade pies will be served. All are invited to enjoy a piece of anniversary cake when it is cut at 10:00 AM.

Everyone is encouraged to come and visit with others, many who remember watching, or perhaps were part of, the museum's construction. John Davidson, who was the Building Chairman at that time, will be a guest of honor.

A "Living History" presentation will commence in the yard at 10:00 as school children are summoned to class by their teacher. Thus begins a short glimpse into the day in a 1901 one-room schoolhouse. This event will be repeated at 12:30.

At 10:30 AM, Montana Conversations program, "Hand-Raised: The Historic Barns of Montana" with Chere Jiusto, will be presented in the Beebe Room. Historic barns of Montana are a threatened part of our heritage. To capture their history and encourage their preservation, Chere Jiusto, Christine Brown and photographer Tom Ferris collaborated on the award-winning book Hand Raised: Historic Barns of Montana. Montana Preservation Alliance (MPA) championed this decade-long project, which traces the agricultural history of Big Sky Country and celebrates the craftsmanship that went into building these icons of rural life. This conversation includes an overview of Montana's barn-building history, stunning photographs of barns from across the state, and the stories attached to some of Montana's most memorable, photogenic, and historic barns.

Another "Living History" presentation, "Alcohol, Corsets, and the Vote: A Conversation with Mary Long Alderson" with Anne Foster, follows at 11:30. Join suffragette, temperance worker, dress reformer, and journalist Mary Long Alderson for a conversation. This first person presentation invites the audience into a 1914 Montana parlor to discourse on the issues of the day. Chairwoman of the Montana Floral Emblem campaign, president of the Montana Christian Temperance Union, and a leader in the Montana Woman Suffrage Association, Mrs. Alderson is an eloquent and passionate presenter. Drawing from her own editorials and other writings, Mary will explain the benefits of votes for women as well as the evils of drink and tight lacing. From rough and tumble territorial beginnings, Montana's pioneer women helped the grand state of Montana build community and gain statehood, now it is time for the Montana sisterhood to join together once again to prepare her for this wondrous new century.

Following the first person interpretation, scholar Anne Foster will step into the present to detail her research and answer questions with a modern view. Anne Foster is an archivist and living historian who has worn a corded petticoat while baking biscuits in 1864 Arizona, a hoop while spinning wool in 1865 Montana, a bustle to travel by narrow gauge train through 1876 Colorado, and an s-curve corset to pan for gold in 1905 Alaska.

Funding for these Montana Conversations programs is provided by Humanities Montana through grants from the National Endowment for the Humanities, Montana's Cultural Trust, and private donations.

At 1:00 PM, Libby's own Old Town Opera House Theater will perform a portion of this year's play "A Day in the Life of Hoodoo Joe" followed by a bit of their old-time vaudeville.

The Kootenai Muzzleloaders tent will be set up in the yard to display early American arms, accoutrements, and artifacts. As a special attraction, a cannon will blast at various times throughout the day, shooting candy into the air for spectators to enjoy.

The band, For God and Country, will perform in the pavilion at 11:00 AM.

The Kootenai Valley Quilt Guild is displaying their quilts in the Tower Gallery though June 29th. Be sure to have a look at their beautiful work! Carlene Erlandson will demonstrate sewing on a treadle sewing machine from 2:00-3:00 PM.

The Lincoln County Amateur Radio Group will be set up in the yard, ready to answer questions, explain their equipment or demonstrate the sending of messages.

The Museum will be open for the season through September 15th, Monday-Saturday, 10:00-5:00 and Sunday, 1:00-5:00. A donation for your admission is always appreciated. The Heritage Museum is a 501(c)(3) non-profit corporation and relies on donations to continue its mission to collect, preserve, protect and interpret the history of Lincoln County for education, research, cultural enrichment and recreation for local residents and visitors of all ages.

Related Links:
www.libbyheritagemuseum.org The Heritage Museum

---
Troy Kids' Fishing Day June 2 (posted 5/29/18)
Family-friendly event open to kids of all ages
Montana Fish, Wildlife & Parks, the U.S. Forest Service and the U.S. Army Corps of Engineers are sponsoring the annual Troy Kids' Fishing Day on June 2 from 9 a.m. to noon.

The free event will occur at the Troy Community Pond at Roosevelt Park and is open to kids of all ages.

This event is always great fun for the whole family. Prizes will be available for all participating kids.

For more information, contact Jim Dunnigan at (406) 293-4161 ext. 200.

---
Vacation Bible School June 11-14 in Libby (posted 5/29/18)
Libby Christian Church will host Vacation Bible School Monday through Thursday, June 11-14 from 9AM to Noon. This is for children who are 4 & 5 years old (pre-K) and for those who have completed K-3rd grade. Older children who have completed 4th-7th grade can do rafting, target shooting and more. Cost for the older program is $10 for the week. Breakfast will be available from 8:30AM to 9AM and lunch from noon to 12:30PM free of charge.

---
Libby lies in the northwest corner of Montana and is nestled in a valley carved by the Kootenai River on the flank of the majestic Cabinet Mountain Range and Wilderness Area. Today about 2,800 people live within Libby proper. The main industries are lumber and wood products, mining, tourism and recreation. The movies "The River Wild" and "Always" were filmed here. Contact the Libby Chamber of Commerce for brochures, info on lodging and events, general area information, and contact information for local businesses and services.
SUMMER
When the weather warms and the mountain snows melt away, the Kootenai National Forest comes alive with over 2.2 million acres of public land as a playground. Mountain trails and lakes open up, beautiful wildflowers come in bloom, and wildlife have their young. Libby is the basecamp for the Cabinet Mountains Wilderness Area, 90-mile long Lake Koocanusa, the Northwest Peaks Scenic Area, and the Ten Lakes Scenic Area. There is good access to most of the Forest and plenty of room to get away from it all!
WINTER
Winter in Montana means snow, and lots of it! For those who love to play in the deep powder, the Libby area offers tremendous winter fun. Turner Mountain Ski Area, located just 22 miles from Libby, offers challenging downhill skiing with a beautiful view. Their slogan is "steep, deep and cheap", and Turner definitely lives up to that. It's still fairly undiscovered, so you can escape the crowds and get the cheapest lift tickets around. For those who love snowmobiling, there are hundreds of miles of backcountry roads to sled on in the Kootenai National Forest. Cross-country skiers and ice fishermen also can find solitude on a lake and miles of quiet forest trails to enjoy the outdoors. Those who are a bit on the wild and crazy side will love the antics of the Libby Polar Bear Club. Members take winter-time "swims" in frigid Libby Creek every Sunday from October to April. Plungers have ranged in age from 3 to 61. As long as the ice can be broken on the creek, if it has formed, the group will take their plunge, no matter the temperature.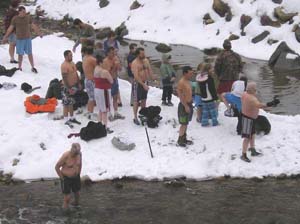 These people must be craaaazzzzzy!
Libby Polar Bear Club