News:
Stage 1 Fire Restrictions go into effect on Kootenai National Forest (posted 6/30/15)
Conditions are right for wildland fires
U.S. Forest Service
As a precaution, Stage 1 fire restrictions will go into effect in Flathead, Lake, Lincoln, and Sanders Counties at 0001 a.m. on Friday the 3rd of July 2015. This includes all private, state, and federally (Flathead National Forest, Kootenai National Forest, and Glacier National Park) managed lands in these counties. Fire Restrictions also go into effect on the Bob Marshall Wilderness lands within the Flathead National Forest. Completely contained wood stoves with a fire screen or spark arrester are allowed ONLY in the Bob Marshall Wilderness Complex, instead of campfires.

Under Stage 1, fires are prohibited except within developed recreation sites (contact your local agency for a list of sites), and smoking is allowed only in areas cleared of flammable materials. Exemptions include fires fueled solely by liquid petroleum or LPG, or other activities for which there is a permit or written authorization.

An exemption does not absolve an individual or organization from liability or responsibility for any fire started by the exempted activity.

The 80 acre Glacier Rim fire on the Flathead National Forest started on Saturday, June 27th. This was a human-caused fire and is under investigation. "We have unseasonably dry conditions and a high potential for rapid fire growth with any type of fire start" said Jeff Stevenson, Kootenai National Forest Assistant Fire Management Officer. "The implementation of Stage I fire restrictions is for public awareness and safety. We don't want someone to unintentionally start a wildfire, which could easily happen with the dry conditions were experiencing"

Please take extra caution when working and recreating outdoors to prevent wildland fire starts. Anyone who causes a wildland fire intentionally or through negligence will be held accountable for damage and suppression costs.

The smallest spark has the potential to cause significant damage, so always crush smokes dead out; never leave a campfire unattended; ensure that your vehicle has a properly installed spark arrester that is operational; stop and park only in areas clear of vegetation; and observe all fire restrictions. Take precautions, but always be prepared: carry a shovel, bucket and fire extinguisher. Also remember that cross country travel is not allowed on most federal and state lands.

No fireworks are allowed on National Forest lands, State lands, or classified forested lands. Many counties have banned fireworks this year. Please check with your local fire department about fireworks.
---
Lemonade on the Lawn begins at Lincoln County Library in Libby July 8th (posted 6/26/15)
First program is 'War in the Woods"' with author Lt. John Nores
Wednesday, July 8 will kick off the 2015 Lemonade on the Lawn series at the Lincoln County Library in Libby. A program at noon on the second and fourth Wednesdays of July and August will be hosted by Libby Friends of the Library. A lunch will be offered for purchase or you are welcome to bring your own and just enjoy the program. An author, two musicians and a rousing interactive word game are scheduled throughout the summer.

The first guest will be John Nores Jr., a California Department of Fish and Wildlife Patrol Lieutenant and author of "War in the Woods: Combating the Marijuana Cartels on America's Public Lands," who has been a game warden for 23 years. Lt. Nores has been investigating environmental crime and wildlife loss cases related to water pollution, stream alteration, habitat destruction, commercial black market wildlife sales, and all other aspects of wildlife resource crimes. "War in the Woods" has been optioned for a film, the script written and it is in production development now.

He and his team specialize in suspect apprehension, marijuana eradication, environmental restoration, marijuana public safety outreach training, in addition to handling all other high risk tactical challenges faced by game wardens today. Lt. Nores is also featured in the National Geographic channel's game warden reality television series, "Wild Justice," now aired through three seasons, with seasons four and five filming beginning in late 2015.

On the menu for July 8 will be a pulled pork sandwich and fruit for $5.00. As always, Friends of the Library will provide free lemonade and a cookie.

Sandy Matheny Fennessy will be performing July 22. We'll have some fun with word games on August 12 with emcee Jim Shadle a la Puzzlemaster Will Shortz. The final guest performance will be August 26 by Neal Lewing "Singing the Westward Legacy," made possible through Humanities Montana Speakers Bureau and Hometown Humanities. Partial funding for the Speakers Bureau program is provided by a legislative grant from Montana's Cultural Trust and the National Endowment for the Humanities. All programs are free and open to the public.
---
FVCC Launches Montana's First Brewing Science and Brewery Operations Program (posted 6/18/15)
This fall, Flathead Valley Community College will introduce Montana's first brewing science and brewery operations program to prepare individuals for entry-level careers in the rapidly-growing craft beer industry. With only a handful of these programs taught in the nation, FVCC's program was developed with the input of many local craft brewing businesses to meet the workforce needs at the local and national levels.

According to the Craft Brewers Association, the craft beer industry is growing at a rate of 17 percent annually, currently representing 20 percent of the market share in national beer sales. It is estimated that a new craft brewery opens every 16 hours in the United States and over 115,000 craft brewing industry jobs were created across the nation in 2014. Montana ranks among the top five states in craft breweries per capita.

Students who successfully complete the two-year Associate of Applied Science degree program will have gained practical experience in brewing through coursework and internships at Montana breweries. Graduates will have the skills to demonstrate the fundamental techniques of brewing beer and the understanding of the microbiology and biochemistry concepts involved in beer fermentation. The program also will focus on the production, selection and analysis of brewing materials, including malt and hops; evaluation of beer quality; classification of beer style and characteristics; brewery operations safety; packaging and handling technologies; practical aspects of the brewing process; and business principles, including compliance and licensing.

For more information, contact FVCC Agriculture Program Director Heather Estrada, Ph.D., at (406) 756-4182 or hestrada@fvcc.edu or visit www.fvcc.edu/brewing.
---
Real Estate in Libby and Troy – June 2015 (posted 6/18/15)
Team Hayes Realtors—Alice & Jim Hayes
The figures of the Current Activity and Past Activity show we are moving forward. Our amazing warm and sunny weather puts sellers and buyers in the mood to think about selling and/or think about buying real estate.

2014 showed one (1) more residential sale than 2013. 2014 showed land sales were three (3) less than 2013. 2014 showed one (1) more commercial sale than 2013. We are looking forward to keeping the sales momentum moving throughout 2015.

2015—How is Lincoln County Real Estate Progressing in the New Year?

ACTIVE LISTINGS
298 Residential ACTIVES:
120 in Libby
79 in Troy
11 in Yaak
16 in Flathead
72 in Sanders

380 Land ACTIVES:
125 in Libby
106 in Troy
18 in Yaak
32 in Flathead
99 in Sanders

40 Commercial ACTIVE:
21 in Libby
4 in Troy
3 in Yaak
2 in Flathead
10 in Sanders

January 1, 2015—June 1, 2015 Current Real Estate Figures:
SALES & PENDINGS
47 Residential SALES:
28 in Libby
8 in Troy
10 in Sanders
1 in Flathead

18 Land SALES:
7 in Libby
6 in Troy
3 in Yaak
1 in Flathead
1 in Sanders

4 Commercial SALES:
4 in Libby

36 Residential PENDING:
18 in Libby
6 in Troy
1 in Yaak
3 in Flathead
8 in Sanders

16 Land PENDING:
7 in Libby
5 in Troy
2 in Flathead
2 in Sanders

1 Commercial/M-Family PENDING:
1 in Flathead

Information obtained from Lincoln County MLS.

Interest rates remain at ALL Time LOWS.
Inventory selections are growing.
NOW could be a Great Time to buy or sell!
As of 6/01/2015 Conforming & FHA Loans:
30-Year Fixed; Interest = 4.11%; APR= 4.18%
15-Year Fixed; Interest = 3.31%; APR= 3.44%

So How Did Our Market Actually Do? Let's Compare

January 1—December 31, 2014
157 Residential SOLDS
53 Land SOLDS
8 Commercial SOLDS

January 1—December 31, 2013
156 Residential SOLDS
56 Land SOLDS
7 Commercial SOLDS

January 1—December 31, 2012
120 Residential SOLDS
33 Land SOLDS
6 Commercial SOLDS

January 1—December 31, 2011
111 Residential SOLDS
37 Land SOLDS
7 Commercial SOLDS

January 1—December 31, 2010
93 Residential SOLDS
28 Land SOLDS
0 Commercial SOLDS

January 1—December 31, 2009
82 Residential SOLDS
33 Land SOLDS
6 Commercial SOLDS

Information obtained from Lincoln County MLS.

Team Hayes Real Estate
Alice and Jim Hayes
406-293-8364
406-293-1926
alice@alicehayes.com
jim@alicehayes.com
www.alicehayes.com

---
Libby lies in the northwest corner of Montana and is nestled in a valley carved by the Kootenai River on the flank of the majestic Cabinet Mountain Range and Wilderness Area. Today about 2,800 people live within Libby proper. The main industries are lumber and wood products, mining, tourism and recreation. The movies "The River Wild" and "Always" were filmed here. Contact the Libby Chamber of Commerce for brochures, info on lodging and events, general area information, and contact information for local businesses and services.
SUMMER
When the weather warms and the mountain snows melt away, the Kootenai National Forest comes alive with over 2.2 million acres of public land as a playground. Mountain trails and lakes open up, beautiful wildflowers come in bloom, and wildlife have their young. Libby is the basecamp for the Cabinet Mountains Wilderness Area, 90-mile long Lake Koocanusa, the Northwest Peaks Scenic Area, and the Ten Lakes Scenic Area. There is good access to most of the Forest and plenty of room to get away from it all!
WINTER
Winter in Montana means snow, and lots of it! For those who love to play in the deep powder, the Libby area offers tremendous winter fun. Turner Mountain Ski Area, located just 22 miles from Libby, offers challenging downhill skiing with a beautiful view. Their slogan is "steep, deep and cheap", and Turner definitely lives up to that. It's still fairly undiscovered, so you can escape the crowds and get the cheapest lift tickets around. For those who love snowmobiling, there are hundreds of miles of backcountry roads to sled on in the Kootenai National Forest. Cross-country skiers and ice fishermen also can find solitude on a lake and miles of quiet forest trails to enjoy the outdoors. Those who are a bit on the wild and crazy side will love the antics of the Libby Polar Bear Club. Members take winter-time "swims" in frigid Libby Creek every Sunday from October to April. Plungers have ranged in age from 3 to 61. As long as the ice can be broken on the creek, if it has formed, the group will take their plunge, no matter the temperature.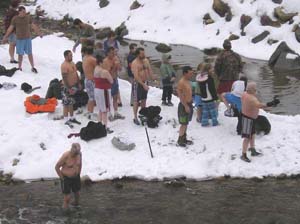 These people must be craaaazzzzzy!
Libby Polar Bear Club