News:
Public comment sought for Thompson Chain of Lakes Forestry Project (posted 10/10/19)
Deadline for public comment is Nov. 9, 2019
Montana State Parks
Montana State Parks is seeking public comment on a draft Environmental Assessment (EA) for a proposed Forest Management Project at Thompson Chain of Lakes State Park and Logan State Park near Libby, Montana.

Comments will be accepted through Saturday, November 9, 2019 at 5pm.

The proposed project would address forest health issues and hazard trees in developed areas within the complex. In addition to improving the forest health, the forest management project would increase public safety, reduce hazardous fuels in case of wildfires, and enhance wildlife habitat.

For more proposal details, a full copy of the Thompson Chain of Lakes Forest Management Project draft environmental assessment is available at stateparks.mt.gov and click "Public Comments & Notices".

Or by direct link here: http://stateparks.mt.gov/news/publicNotices/environmental-assessments/pn_0098.html

A public comment period will be open for 30 days and comments will be accepted through Saturday, November 9, 2019 at 5pm. To comment visit stateparks.mt.gov and click "Public Comments & Notices" or email to dbennetts@mt.gov.

The public may also send written comments to:
FWP Region One
Attn: Thompson Chain of Lakes Forest Management Project – Parks Division
1409 North Meridian Road
Kalispell, MT 59901

For questions about the draft EA and/or the public comment process, contact Dave Bennetts, Park Manager, at (406) 751-4590 or dbennetts@mt.gov.

---
18th Annual Bow Wow Bash Oct. 19 (posted 10/8/19)
Fundraiser for Kootenai Pets for Life
The 18th Annual Bow Wow Bash will be held on Saturday, October 19th at the Libby VFW. The event is a fundraiser for Kootenai Pets for Life (KPFL). Many local area businesses and individuals have made generous donations giving a wide variety of items to bid on for this year's Bash.

Doors open at 5:30 p.m. for everyone to come in and browse the auction items and place bids on silent auction items. Dinner will be served at 6:30 p.m. with the live auction to follow. The cost is $20 for one or $35 for two people. Tickets are available from KPFL volunteers or call 406-293-6801 for tickets. Please purchase tickets by October 14 so the caterers have the correct number for those attending. You must have a ticket to enjoy the meal which will be catered by Raeanne Canavan this year.

Kootenai Pets for Life is a non-profit, all volunteer organization providing shelter, assisting the community with spay and neuter, foster care, veterinary assistance and education. 100% of money raised or donated goes to the care and feeding of the animals and maintaining the shelter. Every animal that comes in to the shelter is spayed or neutered and is up-to-date on vaccinations before being released for adoption. Kootenai Pets for Life was started in 2001 by a group of concerned citizens to provide a humane, no-kill shelter for the stray and abandoned pet population of the Libby/Troy area. The organization IRS Employer Identification Number is 81-0543796.

KPFL has adopted out over 3,600 pets and facilitated the spaying or neutering 8,250 pets. Microchipping was started in 2012 and every pet leaving the shelter is microchipped for easy identification. The spay or neuter of feral cats was started in July of 2011 and over 750 feral cats have been spayed or neutered.

As an all-volunteer organization, KPFL is always looking for volunteers. Anyone that loves animals is welcome to come visit the shelter and find out what Kootenai Pets for Life does and learn how they can join in and help. The shelter is at 125 County Shop Road in Libby. Shelter hours are from 10:00 A.M. - 12:30 on Monday, Wednesday, Friday and Saturday when volunteers are at the shelter doing their work. The shelter is closed to visitors on Tuesday and Thursday. Sundays hours are from 11 A.M. - 2 P.M. Other hours are available by appointment by calling 406-293-KPFL(5735).

---
Halloween Party at Libby Christian Church Oct. 31 (posted 10/8/19)
Everyone is invited to bring the family to the Libby Christian Church, 100 Kootenai River Road, on Thursday, October 31st for Halloween fun. They will be having a Fall Party from 5:00 to 6:30PM and Pursuits for Kids from 7:00 to 8:00PM. There will be candy, games and prizes for the kids. A chili dinner will be available. Special giveaway prizes include two hunting backpacks filled with supplies, two kayaks, and two Cricket 22LR.

---
FWP approves habitat improvement projects in Northwest Montana (posted 10/8/19)
Riparian restoration project to improve fisheries habitat near Eureka
Montana Fish, Wildlife & Parks
Montana Fish, Wildlife & Parks is moving forward with two habitat improvement projects in northwest Montana.

For the first project, FWP will lease, for a period of one-year, approximately 50 acres of the Ray Kuhns Wildlife Management Area (WMA) between Kalispell and Whitefish for wheat production. This action is part of FWP's ongoing effort to control weeds, improve soil health, and evaluate agricultural suitability of areas previously farmed under a life-tenancy bequest.

The proposed lease area was spring tilled and summer fallowed and prepared for planting. Under the lease agreement, the lessee will plant winter wheat, control weeds, amend the crop as necessary, and retain the harvest for their personal use and sale. This is a no-cost action that ultimately improves FWP's management options by demonstrating the agricultural suitability of a historically challenging piece of farm land. By demonstrating the site's agricultural potential, FWP may better be able to attract interested growers for a multi-year lease and negotiate terms that would benefit wildlife and the long-term management of the property.

The proposed project was released for a 20-day public comment period in August. FWP did not receive any input. More information, including the decision notice, is available online under http://fwp.mt.gov/news/publicNotices/decisionNotices.

A second and separate project involves FWP continuing the restoration of riparian habitat at the Therriault Creek Restoration Project site near Eureka to promote further ecological function and fisheries habitat. The project originated in 2005 when FWP partnered with the Kootenai River Network (KRN), the US Fish and Wildlife Service Partners for Fish and Wildlife Program and a local landowner to reconstruct 9,100 feet of entirely new stream channel that restored the stream channel, and approximately doubled the stream length by increasing meander frequency. Since 2005, FWP has implemented three phases of revegetation efforts to increase woody vegetation cover. Previous revegetation efforts have been successful, but woody vegetation is slowly and naturally expanding into untreated areas of the project.

FWP will now build on previously successful techniques to continue the restoration of riparian restoration at the Therriault Creek Restoration Project site. The project includes implementing three types of treatments to increase woody vegetation cover and improve overall riparian/floodplain function.

The proposed project was released for public comment in August and FWP did not receive any input. More information is available online under http://fwp.mt.gov/news/publicNotices/decisionNotices

---
Data and findings released from Kootenai River sampling effort (posted 10/8/19)
Water quality and fish tissue results show elevated levels of selenium and nitrates associated with upstream sources
U.S. Environmental Protection Agency
On Sept. 23, 2019, the U.S. Environmental Protection Agency (EPA), in cooperation with the U.S. Geological Survey (USGS), released the results of a water quality study indicating elevated levels of selenium in water and fish, and elevated nitrates in water, in the Kootenai River associated with upstream sources in Canada's Elk Valley and Lake Koocanusa.

The study, part of a collaborative effort between federal, state and tribal agencies to assess the Kootenai River watershed, is based on water chemistry and fish tissue samples taken on the river in Montana and Idaho from immediately below Libby Dam to the Canadian border. Data contributing to the study were collected by USGS, the states of Idaho and Montana, and the Kootenai Tribe of Idaho.

"These data indicate upstream activities may be affecting water quality and aquatic resources in Montana and Idaho," said EPA Regional Administrator Gregory Sopkin. "The results, particularly selenium impacts to fish, underscore the need for a more detailed understanding of water quality and continued collaboration to protect Lake Koocanusa and the Kootenai River."

EPA has long been engaged in efforts to address water quality impacts to Lake Koocanusa, which straddles the border of British Columbia, Canada and the state of Montana. Selenium and nitrate concentrations entering the lake from British Columbia's Elk River have been increasing since data collection began several decades ago. EPA initiated this study in 2018 to address questions posed by state and tribal partners and to better understand the presence, sources and movement of selenium and nutrients in the Kootenai River watershed downstream of Libby Dam. USGS led the EPA funded study, in collaboration with EPA, state and tribal partners. EPA conducted the fish tissue analysis.

Results
The sampling results released today show elevated selenium levels in some of the 142 fish evaluated in the study, with levels in some mountain whitefish eggs exceeding EPA's recommended criterion of 15.1 ug/L, the level at which fish reproduction may be harmed. Six of eight mountain whitefish exceeded the EPA criterion. In addition, one redside shiner exceeded EPA's whole-body criterion for selenium.

Selenium concentrations in water were elevated above background levels but did not exceed EPA recommended criteria for selenium in flowing waters. Selenium was not detected in water samples from Kootenai River tributaries unaffected by discharge from Lake Koocanusa, indicating that the source is the discharge of mine-related constituents from the lake. Nitrate was detected in water immediately below Libby Dam at nearly three times the concentrations observed in previous samples collected from 2000-2004, and significantly higher than those found on the tributaries. Previous studies show that most of the selenium and nitrate in Lake Koocanusa originates from coal mining in the Elk Valley.

Communities and tribes in Montana and Idaho depend upon good water quality and healthy fisheries. EPA's study indicates that the Kootenai River is being impacted by upstream mining in British Columbia and points to the need for continued monitoring to assess Kootenai River health and to track future trends. EPA is sharing the results of this study with our state, tribal and international partners, and will continue to support the development of information and measures to protect water quality.

Fish tissue samples were also analyzed for mercury, which can be harmful to people who consume fish. Mercury concentrations were generally below EPA fish tissue criteria for methyl mercury except for three northern pikeminnow. Tribes and state agencies will consider whether fish advisories are appropriate.

Background
EPA issued revised national criteria recommendations in 2016 for selenium in water and fish. The Montana Department of Environmental Quality (MDEQ) is currently working with the British Columbia Ministry of Environment and Climate Change Strategies and other parties, including EPA, to develop site-specific water quality criteria for selenium in Lake Koocanusa. MDEQ expects to submit revised selenium criteria to EPA for review next year. Montana also plans to adopt EPA-recommended selenium criteria for the Kootenai River below Libby Dam. Idaho has water quality standards for selenium in the Kootenai River that are consistent with EPA's 2016 recommendations.

For more information, visit: https://doi.org/10.5066/P9YYVV7R
---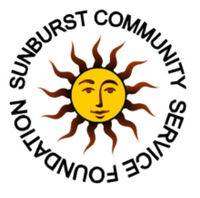 Sunburst Community Foundation 2019-2020 series

Sunburst's 21st Annual Performing Art Series for 2019-2020 season in Eureka (posted 9/11/19)
The 2019-20 series will feature five concerts offering a spectrum of sounds from country to Creole to a wild group from London.

Tickets are $15/adult, or get 5 for $60 by purchasing a season pass. Season passes may be purchased at the door or at the Sunburst office in Eureka Tues-Thurs from 10-3 pm.

All performances are held at the Lincoln County High School Auditorium in Eureka and begin at 7:00 PM. Students 18 years and younger & individuals 90 or over enjoy free admission. We encourage the whole family to attend this special concert series.

September 17, 2019: Sunburst volunteers do Community Soup Night at the Senior Center All are welcome to come enjoy delicious homemade food and live music. 4-7pm

September 26, 2019: Jessica Lynne
A powerfully authentic performer, capable of engaging a diverse range of audiences. This is country music for the people who say they "don't usually like country!" i Internationally touring, Nashville recording artist Jessica Lynne moved to the U.S. from Denmark in 2010 and immediately took the Pacific Northwest by storm. Compared to luminaries like Dolly Parton and Miranda Lambert, she has already played legendary stages such as the Gorge Amphitheater, the Oregon Jamboree, and the Triple Door, in addition to taking top honors as the Washington State Winner of the Texaco Country Showdown. With her latest Nashville recording "Catch Me If You Can," which is supported by national distribution, it is clear we can expect big things from Jessica Lynne.

October 21-26, 2019: Missoula Children's Theatre presents 'Johnny Appleseed!'
The Missoula Children's Theatre (MCT), the nation's largest touring children's theatre, has been touring extensively for more than 40 years now from Montana to Japan, and will visit nearly 1,200 communities this year with up to 44 teams of Tour Actor/Directors. A tour team arrives in a given town with a set, lights, costumes, props and make-up, everything it takes to put on a play...except the cast. The team holds an open audition and casts 50-60 local students to perform in the production. The show is rehearsed throughout the week and two public performances are presented on Saturday. All MCT shows are original adaptations of classic children's stories and fairytales . . . a twist on the classic stories that you know and love. Also included in the residency are three enrichment workshops presented by the Tour Actor/Directors. Creativity, social skills, goal achievement, communication skills and self-esteem are all characteristics that are attained through the participation in this unique, educational project. MCT's mission is the development of lifeskills in children through participation in the performing arts.

October 31, 2019: Dennis Stroughmatt and l'Esprit Creole
Returning to Eureka! If you heard them a few years back, you know how hot these guys are. Bringing funky Creole music to the LCHS stage on Halloween. What better way to celebrate! There will also be a prize for the best costume in the audience!

November 8, 2019: Toast of the Town!
Sunburst hosts one of its most-beloved annual fundraisers at Four Corners restaurant with an evening that includes mouth-watering hors-d'oeuvres, wine-tasting, excellent conversation, and a silent auction full of surprising treasures. Best of all, each year a local potter makes cups just for the event! Each attendee receives a handmade ceramic cup to keep, and a complimentary drink to make your toasts with. If you'd like to donate an item for our silent auction, we are gratefully accepting these at this time. 5:30-9 pm

November 16, 2019: Mari Black and Ensemble
The best fiddle band both sides of the Atlantic! Winner of Scotland's Glenfiddich Fiddle Champion, two time winner of the Maritime Fiddle Champion and US Scottish Fiddle Champion - Mari Black is truly astounding. Don't miss this awesome concert or the fiddle workshops Mari will be giving in Eureka.

February 28, 2020: Naomi Moon Siegel
Naomi brought her jazz trombone to Montana to try some country living, and the mountain air made her sound even better. Fusing melodies with fantastical soundscapes and tight grooves, Naomi plays an indie-folk/pop/jazz that transcends genre. Tickets are $15/adult, or get 5 for $60 by purchasing a season pass!

April 10, 2020: Stringfever!
"Classy musicianship, comedy timing, and a contemporary sound" describe this wild and crazy bunch of musicians from London who travel all over the world entertaining audiences with their talented electric string quartet. This is a fantastic, fun show you have to see to believe - a great way to finish up our 21st Performing Arts Series

Related Links:
Sunburst Community Foundation Facebook page

---
Additional white-tailed deer suspected positive for CWD in Libby area (posted 9/11/19)
Hunters reminded about carcass restrictions, sampling requirements in Libby CWD Management Zone
Montana Fish, Wildlife & Parks
Two additional white-tailed deer in the Libby area are suspected to be positive of chronic wasting disease.

Montana Fish, Wildlife & Parks collected samples from the white-tailed bucks as part of a game damage hunt on private property on the west side of Libby near the Kootenai River. The Veterinary Diagnostic Lab at Colorado State University in Fort Collins, Colorado tested the samples and identified them to be suspected of CWD infection and will run second tests for confirmation.

If confirmed, the new results mark nine detections of CWD out of 123 samples submitted for testing in the Libby area this year. The positive detections have all involved white-tailed deer.

In response to the CWD detections, FWP has established the Libby CWD Management Zone, which encompasses roughly 10 miles around the detection sites.

All deer, elk and moose harvested within the Libby CWD Management Zone must be checked and sampled within 3 days of harvest. Hunters who quarter or bone out their animal in the field must bring the head for sampling. This fall FWP will pay for sampling for hunters who collect their own samples and send them to the FWP lab in Bozeman. For more info on how to submit samples, visit fwp.mt.gov/cwd.

Before Oct. 26, hunters who successfully harvest an animal in the Libby CWD Management Zone are required to bring the head to the FWP Libby Office, 385 Fish Hatchery Rd. A collection site will be set up for hunters to self-report and submit the head for testing.

During general big game season (Oct. 26 to Dec. 1), the Libby Special CWD Hunt Sampling Station (Montana Department of Transportation shop on US Hwy 2, mile marker 35) will be open every day from 11 a.m. – 1½ hours after sunset. Hunters are only required to stop at the Sampling Station if they harvested an animal in the Libby CWD Management Zone. The Canoe Gulch Check Station will be open weekends from 11 a.m. – 1½ hours after sunset during the general season and all hunters, with or without game, passing the check station must stop.

Hunters will be required to document the exact location of the kill inside the Libby CWD Management Zone. Animals will be tagged with a unique identification number. Hunters can use that identification number to look up test results on the FWP website at fwp.mt.gov/CWD. Test results are usually available within three weeks. Hunters who harvest an animal that tests positive for CWD may receive a replacement 2019 license.

To reduce the spread of CWD, whole carcasses, whole heads or spinal columns cannot be taken out of the Libby CWD Management Zone unless the animal has tested negative for CWD. Hunters are strongly encouraged to dispose of hides, bones and trimmings at approved landfills such as the Lincoln County Landfill. The spinal column may be left at the kill site but require landowner permission if on private land. If the carcass is processed within the CWD Management Zone, any brain and spinal parts must be discarded in the Lincoln County Landfill.

Following the guidelines of Montana's CWD Management Plan, FWP is scheduling a Special CWD Hunt in the Libby area this fall. FWP sold 600 white-tailed deer antlerless B licenses that can only be used in the Libby CWD Management Zone, which includes portions of Hunting Districts 100, 103, and 104. The hunt will occur at the same time as the archery and general hunting season and follow the same regulations for dates, weapon restrictions, and access.

CWD is a progressive, fatal disease affecting the nervous system of mule deer, white-tailed deer, elk and moose. There is no known transmission of CWD to humans or other animals, including pets or livestock. The Centers for Disease Control and Prevention (CDC) recommends that hunters harvesting a deer, elk, or moose from an area where CWD is known to be present have their animal tested for CWD prior to consuming the meat, and to not consume the meat if the animal tests positive.

---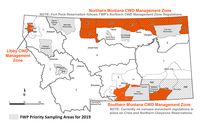 Montana CWD Management areas. Graphic courtesy Montana Fish, Wildlife & Parks.

FWP to pay for CWD testing statewide (posted 9/11/19)
Chronic Wasting Disease
Montana Fish, Wildlife & Parks
In 2019, Montana Fish, Wildlife & Parks will continue chronic wasting disease surveillance in high-priority areas in parts of northern, western and southern Montana, primarily from hunter-harvested animals. Hunters who harvest a deer, elk or moose in these areas should stop at a local CWD-sampling check station to have the animal sampled. FWP staff will collect samples and submit them for testing.

There will be Special CWD Hunts occurring during the general hunting season around Libby and in the southeast portion of hunting district 400. All animals taken in these Special CWD Hunt areas must be sampled. Visit FWP.mt.gov for details.

In other areas across the state, FWP will pay for sampling for hunters who collect their own samples and send them to the FWP lab in Bozeman. Here are the steps:
• Remove the retropharyngeal lymph nodes, located in the animal's throat area. A video is available on the FWP website that demonstrates the process.
• Fill out a Hunter Harvest Submission Form, which is available on the FWP website, and include a phone number and email address so FWP can send a unique CWD number. This CWD number is what hunters will use to look up test results online at fwp.mt.gov/CWD. Be sure to record the location of harvest as accurately as possible. Samples without location information will not be tested.
• Put the lymph nodes in resealable bag, double bag the sample, and wrap the bag in a paper towel.
• Put the filled-out submission form in a separate resealable bag so it doesn't get wet and include it with the sample. If you are sending samples from more than one animal fill out a separate submission form for each animal and make sure that each form is with the correct sample in a sealed bag.
• Place the bagged samples, an ice pack, and the bagged submission form(s) in a small box or shipping envelope and send via your choice of postal carrier. FWP recommends using a carrier that offers tracking and can deliver samples within 24-48 hours to prevent the samples from rotting. Please try to ship samples on Monday, Tuesday or Wednesday of each week, and avoid shipping on holidays, to prevent the samples from sitting over the weekend.
• Send to:
o Montana Fish, Wildlife & Parks
o ATTN: Wildlife Health Lab (CWD)
o 1400 S. 19th Avenue
o Bozeman, MT 59718
• Test results will be posted online within three weeks.

Archery season
Check stations will not be set up during archery season, which began Sept. 7. For animals harvested during the archery season in one of our 2019 Priority Sampling Areas:
• Hunters can remove their own samples and bring them to a regional office for collection/submission
• If within the Northern Zone they can bring their carcass to Havre or Glasgow. If within the Southern Zone, carcasses can be brought to Billings for sampling.
• Head collection barrels and a submission kiosk will be set up at the FWP Office in Libby during the archery season

For more information, visit fwp.mt.gov/cwd.

---
Two new replacement TV stations go online for Libby (posted 8/20/19)
Two of Libby Video Club's volunteers, Jim and Randy spent Saturday, August 10th, at the site on Sheldon Mountain replacing the last two stations that the Club reported were going away. Due to their efforts they have two new stations, COZJ (2.1) and AMG (6.1) which replaced KREM and KHQ.

They got off the mountain before the thunder and lightning storm. Unfortunately, there was a power outage in Libby on Sunday which made channel 6.1 go offline. It will take another trip up the mountain to bring it back online. This will be done as soon as their volunteer's time allows. The Club appreciates everyone's patience and support.

Channel 6.1 is AMGTV which is an American family-oriented television network featuring television programming consisting of drama, sports, movies, entertainment, how-to, hunting and fishing, children's shows, and other features, much of it repackaged from off-network and first-run syndication. The network is owned by the American company Access Media Group. AMGTV provides programming to television stations in the United States. AMGTV also syndicates several movie packages and music specials to stations outside their affiliate base.

Channel 2.1 is COZI TV which is NBC's national multicast network that delivers a 24-hour line-up of TV's all-time best shows and pop culture favorites, featuring a prime-time block of recent comedy hits. COZI TV's iconic sitcoms include The Office, Frasier, Will & Grace and The Nanny. Among the network's many beloved dramas and action series are Columbo, Murder, She Wrote, Little House on the Prairie and many more.

Please visit the Libby Video Club booth at Nordicfest September 13-15, 2019. There will be a door prize drawing for a TV antenna.

Related Links:
www.libbyvideoclub.comLibby Video Club
---
Two Grizzly Bears moved into Cabinet Mountains (posted 8/1/19)
To help recover population and improve genetic diversity
Montana Fish, Wildlife & Parks
Montana Fish, Wildlife & Parks and its partners moved two grizzly bears into the Cabinet-Yaak Ecosystem in Lincoln County as part of an augmentation program designed to recover the bear population and improve its genetic diversity.

FWP, in collaboration with the U.S. Fish and Wildlife Service, captured the bears in the Whitefish Range. The first bear, a sub-adult female weighing 94 pounds, was released July 13 in the Spar Lake area on the Kootenai National Forest south of Troy. The second bear, a sub-adult male weighing 194 pounds, was released July 16 in the same area.

The U.S. Fish and Wildlife Service leads the research and monitoring in the ecosystem in collaboration with FWP, Idaho Fish and Game, Kootenai Tribe of Idaho, Idaho Panhandle National Forest, Kootenai National Forest, and Lolo National Forest.

The Cabinet-Yaak Augmentation Program began in 1990 in an effort to save the population and boost genetic diversity. In 1988, biologists estimated fewer than 15 grizzly bears remained in the Cabinet-Yaak. The primary objectives of the program are to bolster reproduction through the addition of female bears, and overall genetic diversity through the addition of female and male bears. Twenty-two bears have now been added in the Cabinet Mountains since the program's inception.

All bears moved through the augmentation program have no history of conflicts with people and were moved in the summer to take advantage of developing food supplies in the form of huckleberries. Initial augmentation consisted of females but in recent years males have also been added.

The current population of grizzly bears in the Cabinet-Yaak is estimated at 55-60 individuals with approximately half of these in the Cabinet Mountains and half in the Yaak River area. The population is growing at approximately 1-2 percent per year.

The Cabinet-Yaak Ecosystem, one of six designated recovery zones for grizzly bears in the lower 48 states, is located in northwest Montana and northeast Idaho. Blocks of contiguous habitat extend into British Columbia, making this an international population. The recovery zone includes portions of the Kootenai, Idaho Panhandle, and Lolo National Forests (including one wilderness area). The Kootenai River bisects the ecosystem, with the Cabinet Mountains to the south and the Yaak River drainage to the north.

For FWP's latest grizzly bear management report on the Cabinet-Yaak Ecosystem, visit fwp.mt.gov/regions/r1 and select under "Region 1 Wildlife Information."

---
How Is Libby, Troy, Yaak's Real Estate Market in 2019? (posted 4/11/19)
Guest article by Alice L. Hayes, Loveless Realty
1/1/2019 – 03/31/2019 Current Real Estate figures were:
SALES & PENDINGS:
22 Residential SALES: 14 in Libby; 8 in Troy; 0 in Yaak
14 Land SALES: 9 in Libby; 4 in Troy; 1 in Yaak
0 Commercial/Multi-Family SALES: 0 in Libby; 0 in Troy
20 Residential PENDING: 14 in Libby; 4 in Troy; 2 in Yaak
3 Land PENDING: 2 in Libby; 1 in Troy
0 Commercial/M-Family PENDING:

ACTIVE LISTINGS:
84 Residential ACTIVES: 30 in Libby; 48 in Troy; 6 Yaak
174 Land ACTIVES: 98 in Libby; 69 in Troy; 7 in Yaak
20 Comm/Multi-Fam ACTIVE: 15 in Libby; 3 in Troy; 2 in Yaak

2018 was a very busy year. We were able to help many people move to their new home, move out of their old home, sell their land, buy new land, or even move to a new town. But, there have been others who are still looking to sell their home or land or looking to buy that 'just right home' or 'perfect piece of land'. We trust 2019 will be their year.

Our Inventory of homes is in Short supply and we are looking for more options to offer buyers. If you've 'toyed' with the idea of selling –we would enjoy visiting with you about how we can help. What were the price ranges of SOLDS so far this spring?
10K - $150,000 = 17 Sales
151K - $250,000 = 2 Sales
251K - $500,000 = 3 Sales
501K - $800,000 = 0 Sales
801K - $1,500,000 = 0

Information obtained from Montana Regional MLS (MRMLS)

5 Sweet Tax Deductions When Selling a Home: Did You Take Them All?
1. Selling costs: Good news! These deductions are still allowed under the new tax law as long as they are directly tied to the sale of the home and a married couple—or a single taxpayer—lived in the home for at least two out of the five years preceding the sale. Another caveat: The home must be a principal residence and not an investment property. "You can deduct any costs associated with selling the home—including legal fees, escrow fees, advertising costs, and real estate agent commissions," says Joshua Zimmelman, president of Westwood Tax and Consulting in Rockville Center, NY. This could also include home staging fees, according to Thomas J. Williams, a tax accountant who operates Your Small Biz Accountant in Kissimmee, FL. Just remember that you can't deduct these costs in the same way as, say, mortgage interest. Instead, you subtract them from the sales price of your home, which in turn positively affects your capital gains tax.

2. Home improvements and repairs: Score again. The new tax law left this deduction as well. If you renovated a few rooms to make your home more marketable (and so you can fetch a higher sale price), now you can deduct those upgrade costs as well. This includes painting the house or repairing the roof or water heater. But there's a catch, and it all boils down to timing. "If you needed to make home improvements in order to sell your home, you can deduct those expenses as selling costs as long as they were made within 90 days of the closing," says Zimmelman.

3. Property taxes: This deduction is still allowed, but your total deductions are capped at $10,000, Zimmelman says. If you were dutifully paying your property taxes up to the point when you sold your home, you can deduct the amount you paid in property taxes this year up to $10,000.

4. Mortgage interest: As with property taxes, you can deduct the interest on your mortgage for the portion of the year you owned your home. However, the rules have changed slightly from last year. Just remember that under the new tax code, new homeowners (and home sellers) can deduct the interest on up to only $750,000 of mortgage debt, though homeowners who got their mortgage before Dec. 15, 2017, can continue deducting up to the original amount up to $1 million, according to Zimmelman.

Note that the mortgage interest and property taxes are itemized deductions. This means that for it to work in your favor, all of your itemized deductions need to be greater than the new standard deduction, which the Tax Cuts and Jobs Act nearly doubled to $12,200 for individuals, $18,350 for heads of household, and $24,400 for married couples filing jointly (for comparison, it used to be $12,700 for married couples filing jointly).

5. But what's up with capital gains tax for sellers? Lawmakers tried to change the capital gains rule, but it managed to survive—so it's still one home sellers can use. It isn't technically a deduction (it's an exclusion), but you're still going to like it.

As a reminder, capital gains are your profits from selling your home—whatever cash is left after paying off your expenses, plus any outstanding mortgage debt. And yes, these profits are taxed as income. But here's the good news: You can exclude up to $250,000 of the capital gains from the sale if you're single, and $500,000 if married. The only big catch is you must have lived in your home at least two of the past five years.

However, look for the rules of this exemption to possibly change in a future tax bill. Ralph DiBugnara, president of Home Qualified and vice president at Residential Home Funding, says lawmakers might push to change this so that homeowners would have to live in the property for five of the past eight years, instead of two out of five.
(Information obtained from Realtor.com)

Interest Rates are DOWN— NOW Could be a Great Time to Purchase
As of 03/31/2019 Conforming & FHA Loans:
30- Year Fixed; Interest = 4.29%; APR= 4.36%
15- Year Fixed; Interest = 3.75 %; APR= 3.87%

Cell #'s:
(Alice) 406-293-8364
(Jim) 406-293-1926
Texts:
(Alice) 406-293-8364
Emails:
alice@alicehayes.com
jim@alicehayes.com
Website:
www.alicehayes.com

---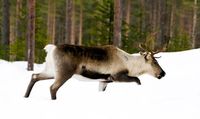 Stock photo courtesy Montana Fish, Wildlife & Parks

Rare Caribou sightings reported in Northwest Montana (posted 11/5/18)
Montana FWP working with wildlife biologists in British Columbia
Montana Fish, Wildlife & Parks
Montana Fish, Wildlife & Parks regional staff have received reports of a rare sight in northwest Montana.

Residents have recently documented sightings of woodland caribou near the U.S.-Canada border. The multiple sightings include the potential for a bull and a cow in separate locations.

Caribou, members of the deer family, are native to northwest Montana but have almost completely disappeared from the contiguous United States over the last half century.

Woodland caribou herds once stretched from central British Columbia to Idaho, Montana and Washington. The decline in population is largely attributed to high mortality linked to habitat fragmentation, alteration, loss of old growth forest, and subsequent predation impacts. Woodland caribou are now protected in the United States and British Columbia.

Caribou have been known to roam from the Selkirk and Purcell mountain ranges in southern B.C into Montana, Idaho and Washington but the occurrences have become increasingly rare.

Caribou are similar in size to mule deer but have different coloration, large round hooves and unique antlers. Even cow caribou can have visible small antlers.

"There are three weeks left of big-game hunting season in Montana. Hunters are reminded to be sure of their target and beyond," said Neil Anderson, FWP Region 1 wildlife manager.

After confirming reports of the recent sightings, Montana FWP contacted wildlife biologists in British Columbia and informed them of the sightings. FWP will continue to work closely with partners in British Columbia on the conservation of the species.

---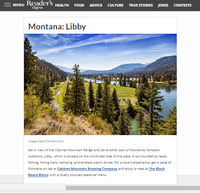 Charming Libby, Montana

Libby, Most Charming Small Town in Montana (posted 8/14/18)
According to Reader's Digest
Reader's Digest posted a story under the Travel section of their website on "The Most Charming Small Town in Every State." Libby was selected as the Most Charming Small Town for Montana. "You'll find the heart of America in these small-town gems lost in time. Add them to your must-visit list now," said author Lyn Mettler.

"Set in view of the Cabinet Mountain Range and yet another part of Montana's fantastic outdoors, Libby, which is located on the northwest side of the state, Libby is surrounded by lakes, fishing, hiking trails, camping, and endless scenic drives. For a local's experience, get a taste of Montana on tap at Cabinet Mountain Brewing Company and enjoy a meal at The Black Board Bistro with a locally-sourced seasonal menu."

Click on this link for their complete list of Most Charming Towns:
https://www.rd.com/advice/travel/most-charming-small-towns-in-every-state/

---
Libby lies in the northwest corner of Montana and is nestled in a valley carved by the Kootenai River on the flank of the majestic Cabinet Mountain Range and Wilderness Area. Today about 2,800 people live within Libby proper. The main industries are lumber and wood products, mining, tourism and recreation. The movies "The River Wild" and "Always" were filmed here. Contact the Libby Chamber of Commerce for brochures, info on lodging and events, general area information, and contact information for local businesses and services.
SUMMER
When the weather warms and the mountain snows melt away, the Kootenai National Forest comes alive with over 2.2 million acres of public land as a playground. Mountain trails and lakes open up, beautiful wildflowers come in bloom, and wildlife have their young. Libby is the basecamp for the Cabinet Mountains Wilderness Area, 90-mile long Lake Koocanusa, the Northwest Peaks Scenic Area, and the Ten Lakes Scenic Area. There is good access to most of the Forest and plenty of room to get away from it all!
WINTER
Winter in Montana means snow, and lots of it! For those who love to play in the deep powder, the Libby area offers tremendous winter fun. Turner Mountain Ski Area, located just 22 miles from Libby, offers challenging downhill skiing with a beautiful view. Their slogan is "steep, deep and cheap", and Turner definitely lives up to that. It's still fairly undiscovered, so you can escape the crowds and get the cheapest lift tickets around. For those who love snowmobiling, there are hundreds of miles of backcountry roads to sled on in the Kootenai National Forest. Cross-country skiers and ice fishermen also can find solitude on a lake and miles of quiet forest trails to enjoy the outdoors. Those who are a bit on the wild and crazy side will love the antics of the Libby Polar Bear Club. Members take winter-time "swims" in frigid Libby Creek every Sunday from October to April. Plungers have ranged in age from 3 to 61. As long as the ice can be broken on the creek, if it has formed, the group will take their plunge, no matter the temperature.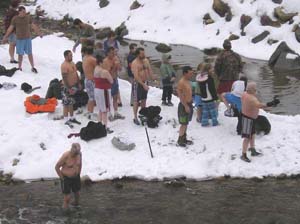 These people must be craaaazzzzzy!
Libby Polar Bear Club