News:
Crash victim identified (posted 3/3/14)
Vernon Thomen, of Troy
Duane Williams, KLCB-KTNY Radio
The Montana Highway Patrol has released the name of the victim of a December vehicle accident. The accident was discovered at 2:445pm Thursday, February 27th on Highway 56, the Bull Lake Road.

Montana DOT workers discovered a crashed car and reported the incident to Troy Dispatch. The sole occupant of the crashed vehicle was the registered owner, Vernon Thomen, age 76. He had received fatal injuries from a collision with a large tree after his vehicle went off the roadway. He was not wearing a seatbelt at the time of the collision.

Thomen, of Troy, had left his home on Bull Lake Road December 16th and had not been seen since. He was reported missing December 19, 2013 to Lincoln County Sheriff Department but was not found until February 27, 2014.

It was reported that he had a sister in Flathead County and that he might have gone there. Information later came in that Thomen might be in the Tri-Cities area.

A state highway worker reported he had found a vehicle off the road on Hwy 56 around mile marker 26, and an adult male inside was unresponsive. Bull Lake Volunteer Ambulance and Advanced Life Support personnel responded, along with officers from Montana Highway Patrol and Lincoln County Sheriff's Office. Thomen was pronounced dead on scene.

The vehicle was about 60 feet off the edge of the highway, buried in trees and barely noticeable. DOT workers discovered the crash while moving slowly, filling potholes.
______________________________________________

By Duane Williams, KLCB-KTNY Radio, e-mail: klcb@frontiernet.net, www.klcb-ktny.com.

---
Free Martial Arts class for kids starts March 4th (posted 2/27/14)
Kootenai Taekwondo Academy of Libby is offering a free four-week Taekwondo self-defense class for kids ages 7 to 10. Students will be given an introduction to Traditional Martial Arts and learn Basic Self-Defense Skills and Danger Awareness & Avoidance. Students who complete the 4-week, 8-class course will receive a certificate of completion.

Class starts Tuesday, March 4th at 4:00 pm

The class meets every Tuesday and Thursday from 4:00 to 4:50 PM (after school) for 4 weeks (until the end of March). To sign up, stop by The Joy of Books used book store or Kootenai Taekwondo Academy when class is in session (4:00 to 7:30 PM, Tuesdays and Thursdays). You can also sign up the first day of class. Participants should wear sweat pants (no shorts) and t-shirts.

Kootenai Taekwondo Academy, 521 Mineral Avenue (entrance around the corner of Mineral and 6th, facing the police & fire stations) Call 406-293-4853 for information.

---
Lemonade on the Lawn is at Risk (posted 2/27/14)
For the past 19 years, the Lincoln County Library in Libby and the Libby Friends of the Library have sponsored Lemonade on the Lawn. Each summer for 4-8 weeks on Wednesdays at noon, a program or entertainment was provided on the library lawn. The public was invited to come and listen or take part, bring a sack lunch or buy lunch from a non-profit organization on site, and enjoy a glass of free lemonade. Attendance over the past few years has dropped significantly, causing the Friends of the Library to wonder if the community still wants this event to continue. Knowing the reasons why it is no longer drawing a crowd will help the Friends of the Library decide if Lemonade on the Lawn should be saved or perhaps replaced with another event. Please help decide the future of Lemonade on the Lawn by taking a short online survey at https://www.surveymonkey.com/s/BSGPWVX by March 25th.

If you are unable to take the survey online, please ask for a survey at the Lincoln County Library, 220 West 6th St., Libby. If you have questions, please contact Libby Friends of the Library at LOLLibby@hotmail.com.


---
Final Draft Biological Opinions issued for Montanore (posted 2/27/14)
Duane Williams, KLCB-KTNY Radio
The U.S. Fish and Wildlife Service (USFWS) has issued Final Draft Biological Opinions (BO) for the Montanore Silver-Copper Project, a critical step in the overall permitting process. In the Final Draft the USFWS made a preliminary determination that a non-jeopardy decision can be made under the terms and conditions spelled out in the aquatics and terrestrial BO's.

In addition, the USFWS has issued a letter to Congressman Steve Daines and Congressman Doc Hastings (Chairman of the House Natural Resource Committee) indicating that the agency is targeting March 31, 2014 to issue the Final BO for the project.

With the pending completion of the BO process, the few steps remaining include issuance of the Final Environmental Impact Study (EIS) and issuance of a Draft Record of Decision (ROD). Following issuance of the Draft ROD, completion of the Final ROD involves an objection and resolution process newly adopted by the U.S. Forest Service (USFS) for projects on public lands that has regulatory time controls, and may be limited to 120 days at which point, the Company will be fully authorized to advance the project as approved by the agencies.

Upon issuance of the Final ROD, and upon arrangement of funding, Mines Management plans to initiate preparations for an underground infill drilling program. Results from the infill drilling program are intended to support the final analysis and detailed engineering as part of the final feasibility study.
________________________________________

By Duane Williams, KLCB-KTNY Radio, e-mail: klcb@frontiernet.net, www.klcb-ktny.com.

---
Ski Turner (posted 2/27/14)
Steep, Deep and Cheap!
Turner Mountain Ski Area is located 22 miles from Libby on the Kootenai National Forest in northwest Montana. It is open Friday, Saturday and Sunday during the winter season. It has one double-chair lift which carries skiers from the base at 3842 feet elevation to the summit at 5952 feet elevation, offering a vertical drop of over 2,000 feet geared towards experienced, thrill-seeking skiers and snowboarders. There are 22 named runs, 60 percent of which are rated Black Diamond and 30 percent are More Difficult. Only 10% of the trails are for beginners. Facilities include a base lodge with full-service snack bar. As of the date of this article, the ski area has 60 inches of snow at the summit and 45 inches at the base.

Event: Saturday, March 29, 2014: Turner Top to Dog Race
1st Leg: Climb from midway to top of Turner Mountain. Climbers may use skins or snowshoes.
2nd Leg: Ski from top of Turner to parking lot, including short Slalom course.
3rd Leg: Run from Turner parking lot to East Fork Pipe Creek Road (3.2miles).
4th Leg: Bike from East Fork Pipe Creek Road to Red Dog (mountain bikes only). (12 miles).

The race begins at 2:00PM at Turner Mountain. The race will occur even if Turner Mountain is closed.
Race tee shirts for all participants
$40.00 entry fee each team if registered by March 17th. $60.00 after March 17th.
Please sign-up and pay fees at Turner Mountain Snack-Shop.

For more information, call Tom at 406-293-3571 or view the Top to Dog Informational Flyer (pdf):
http://www.skiturner.com/docs/Top-Dog/Top%20to%20Red%20Dog%202014%20Flyer.pdf

Learn to Ski/Snowboard at Turner Mountain
Turner offers Learn to Ski/Snowboard School on Saturdays from 10am and 1pm. Cost is $20 for two hour lesson. Instructor: Chad Munro. (NOTE: The Ski and Snowboard school will not be operating Saturday, March 1st.)

Learn to Ski-in-3 package:
It's as easy as 1-2-3.
3 – Day Lift Tickets
3 – Daily Equipment Rentals
3 – Two-Hour Lessons
Cost is $90 for all ages. Participant may use any Saturdays this season as their choice. The school slots are non-transferable and for beginners only. Heidi Tauber Learn to Ski/Snowboard Program.

Lift Ticket prices for the 2013/2014 Season
Children 0-6 years are free.
Children age 7-12 (Juniors): Day $20, Half Day $15, Season $260, 5-Day Voucher $80
Teens age 13-18: Day $25, Half Day $10, Season $325, 5-Day Voucher $100
Adults: Day $37, Half Day $32, Season $480, 5-Day Voucher $150
Senior 62 years, College Student w/ID & Active Duty Military w/ID: Day $30, Half Day $25, Season $390, 5-Day Voucher $120
Family Season (4 persons: 2 adults/2 children, $100 each additional child): $1250

Certificates, 5-Day vouchers, and season passes are available at
The office of Bruce Zwang, CPA, 519 California Ave, Libby
Libby Sports Center, 204 West 9th Street

Directions to Turner Mountain Ski Area:
Turner Mountain Ski Area is located 22 miles north of Libby, Montana on Pipe Creek Road. Libby is serviced by Amtrak and commercial flights are available into Kalispell/Whitefish, Montana, and Spokane, Washington.

Distances to Turner:
Libby, MT: 22 miles
Spokane, WA: 181 miles
Coeur d'Alene, ID: 150 miles
Missoula, MT: 213 miles
Kalispell, MT: 110 miles
Whitefish, MT: 126 miles
Eureka, MT: 89 miles

For more information call the Turner Mountain Snow Phone: (406) 293-2468 or email contact@skiturner.com.

---
Northwest Montana Hunter/Bowhunter Education Instructors honored (posted 2/27/14)
Montana Fish, Wildlife & Parks
Hunter and Bowhunter Education Instructors will receive service awards from Montana Fish, Wildlife & Parks at the annual Region 1 Instructor Workshop to be held Saturday, March 1 at Flathead Valley Community College in Kalispell. A total of 34 Instructors will receive service awards ranging from 5 to 40 years of service. All service award recipients receive a plaque; additional awards include: 10 year: engraved knife; 20 year: FWP belt buckle. A number of other awards will also be presented.

Highlights for Service Awards this year include:

40-year Hunter Education Award: Frank Sichting, Libby
25- year Hunter Education Award: Ron Nail, Whitefish
20-year Hunter Education Awards: Jon Cuthbertson, Kalispell (teaches in Bigfork); Tim Darr, Bigfork, Dale Sommerfield, Kalispell; Larry Rattray, Thompson Falls; Patrick Flanary, Eureka; Timothy Thier, Eureka
15-year Hunter Education Awards: Daniel Bothwell and Bob Friedman, Kalispell; Tom Horelick, Libby; James Jones and Rud Knudsen, Polson; Tony Santorno, Charlo; Wayne Crismore, Plains; Ned Winebrenner, Hot Springs; Sam Tomas, Thompson Falls; Joseph Rocheleau, Thompson Falls (Joseph passed away but a fellow instructor will accept his award)
10-year Hunter Education Awards: Emily Baer, Kalispell; Michael Corkish, Kalispell; Thomas Dutcher, Kalispell; Clyde and Patti Baker, and Jay Stuckey, Thompson Falls
5-year Hunter Education Awards: Ben and Mary Beth Chappelow, Eureka; Jenny Draband, Leland Fabel, Zach Kriskovich, Jaimee White, Nathan Somers, Kalispell; Kristi McKessick, Neva Joy Lundy, Columbia Falls; Jonathan North, Trout Creek; Douglas Padden, Thompson Falls; Brenda Thomas, Libby; Jim Jones, Troy; Nick Larsson, St. Ignatius; Daniel McClure, Ronan.

25 Bowhunter Education Award: Danny Place, Libby
20-year Bowhunter Education Award: Richard Anderson, Ron Nail, Whitefish; Matthew Riley, Robert Howard, Kalispell; Larry Rattray, Proctor
15-year Bowhunter Education Award: Peter Drowne, Bigfork; Dan Atkinson, Jerry Smith, Roger Smith, Kalispell
10-year Bowhunter Education Award: Lee Abernathy, Monty Long, Kalispell; Alan Kelly, Libby
5-year Bowhunter Education Award: Scott Emmerich, Columbia Falls; Ben Chappelow, Eureka; Daniel McClure, Ronan; Benjamin Valentine, Troy.

All Hunter and Bowhunter Education Instructors are volunteers for FWP. They provide safety, ethics, and firearms and archery equipment handling training to young students across Montana. In Region 1 (northwest Montana) more than 300 instructors train about 2,000 students each year.

---
CodeMontana encourages high school students to learn computer programming (posted 2/27/14)
Self-paced online program to gain skills for higher-paying jobs
CodeMontana offers a statewide program that encourages Montana high school students to learn computer programming. Founders of the program say there are many high-tech jobs in Montana that go unfilled because there aren't enough people with the skills to fill those jobs, so they are trying to create a groundswell of statewide momentum to prepare Montana young people to obtain the skills to be able to move into those kinds of high-paying technical jobs.

The CodeMontana.org founders launched a statewide program in September 2013 with its one year goal of 1,000 students. In just five months they had 1,050 students already participating. CodeMontana has set a new and more ambitious goal of 5,000 Montana high school students participating in CodeMontana.org by the spring of 2015.

CodeMontana is a free program for all Montana high school students. Participants access a self-paced online curriculum developed by two Stanford computer science graduates that teaches them the basics of software development. Montana Programmers (www.montanaprogrammers.org) and the Montana Web Developers and Designers (http://www.mtwda.org) volunteer their time to coach CodeMontana participants. They have graded over 30,000 assignments completed so far by students. These organizations consist of hundreds of computer programmers and web developers statewide that make their living doing software development. The students compete for $10,000 of prizes while learning how to program.

High school teachers and administrators across the state have encouraged their students to participate in CodeMontana.org and in some cases incorporated the curriculum into their classrooms. In Eureka, CodeMontana.org was introduced to about 450 middle school and high school students via a general assembly.

Interested students who want more information or to sign up can go to the www.CodeMontana.org web site. Each student will have unlimited access to the on-line curriculum for 90 days after sign-up. Prizes will be awarded monthly based on progress with the curriculum.

---
Bowhunter education courses offered in March in Libby (posted 2/11/14)
Bowhunter education classes have been scheduled in March in Libby. The classes will be held in the Lincoln County Shooting Complex. All students must register online (Register online at fwp.mt.gov, click education) for the courses. When registering, students will note specific information and guidelines for the course included in the online posting. All first-time bowhunters, regardless of age, must complete the Bowhunter Education Course to purchase an archery stamp in Montana. The course is free of charge. See the online posting for details of the course list.

Libby Bowhunter Education Course will be held:
March 5 (5-6 p.m.)
March 10, 11, 12, 13 (6-9 p.m.)

---
Open Water Fishing Contests approved for 2014 (posted 2/11/14)
Koocanusa Resort & Marina Trout/Salmon derby May 17-18
Montana Fish, Wildlife & Parks
Montana Fish, Wildlife & Parks has approved the following open water fishing contests for 2014. Participants must comply with state fishing regulations, including daily and possession limits. Most contests require catch-and-release fishing and participants in these contests may not keep any fish.

Here are the locations and dates of contests approved for 2014.

Northwestern Montana, Region 1
ABA West; April 19-20
ABA West; June 7-8
ABA West; July 26-27
B.A.S.S. Nation Western Divisional; May 21-23
Fall Mack Days; Sept. 27 – Nov. 17
Father's Day Family Fishing Festival; June 14-15
Great MT MacAttack/Whitefish Jigfest; Aug. 23-24
Koocanusa Resort & Marina Trout/Salmon; May 17-18
MT BASS Fed Nation Qualifier; Aug. 16-17
MT BASS Fed Nation Qualifier; Sept. 13-14
Spring Mack Days; March 29–May 19
TBF Invitational; May 3-4
Tri-State Bass Tournament; July 26-27

West-central Montana, Region 2
Mister Pike Classic; June 7-8

Southwestern Montana, Region 3
Livingston Firefighters Kids Fish Derby; June 15

North-central Montana, Region 4
Broadwater Rod & Gun Walleye Derby; July 12
Camp-Make-A-Dream Walleye Benefit; Aug. 2
Canyon Ferry Carp Safari; June 7
Canyon Ferry Walleye Festival; June 28-29
Father's Day Fish Derby; White Sulphur June 15
Fort Benton Spring Classic; May 16-18
John Arnold Fish Derby; Aug. 9
MRF Carp Rodeo; Aug. 9
Tiber Walleye Tournament; July 26-27

South-central Montana, Region 5
ABA Yellowtail Barry's Landing; July 12-13
ABA Yellowtail Ok-A-Beh #1; June 21-22
ABA Yellowtail Ok-A-Beh #2; Aug. 9-10
Bighorn River Alliance Carp Festival; June 27
Catfish Challenge; May 1
Palace Classic Walleye Tournament; Oct. 4-5
TBF Invitational; May 31

Northeastern Montana, Region 6
Fall Classic Walleye Tournament; Aug. 9-10
Fishin' For The Cure; Aug. 16
Fort Peck – Hell Creek; May 31–June 1
Fresno Challenge; June 14-15
Hell Creek Ladies' Fishing Tournament; June 28
Hell Creek Men's Tournament; July 26-27
Milk River Catfish Classic; June 7
MT Governor's Cup Walleye Tournament; July 10-12
Pikemasters Public Tournament; June 21-22
Rock Creek Walleye Tournament; June 7-8
TBF Invitational; Sept. 27-28
Tough Guy Tournament; April 19
Women's Walleye Tournament; Aug. 2

Southeastern Montana, Region 7
Northeast MT Monster Catfish Roundup; July 19
Savage Volunteer Fire Dept Catfish Tournament; June 14
Tongue River Marina Cabin Fever Festival; April 26-27
Tongue River Reservoir Bass Tournament; April 12-13
Whisker Wrangler Catfish Derby; June 21
Yellowstone River Rats Jig n Crank Fest; Oct. 11

For contact information on each contests, visit FWP's Fishing Contests webpage. http://fwp.mt.gov/fishing/guide/contests/

---
Libby lies in the northwest corner of Montana and is nestled in a valley carved by the Kootenai River on the flank of the majestic Cabinet Mountain Range and Wilderness Area. Today about 2,800 people live within Libby proper. The main industries are lumber and wood products, mining, tourism and recreation. The movies "The River Wild" and "Always" were filmed here. Contact the Libby Chamber of Commerce for brochures, info on lodging and events, general area information, and contact information for local businesses and services.
SUMMER
When the weather warms and the mountain snows melt away, the Kootenai National Forest comes alive with over 2.2 million acres of public land as a playground. Mountain trails and lakes open up, beautiful wildflowers come in bloom, and wildlife have their young. Libby is the basecamp for the Cabinet Mountains Wilderness Area, 90-mile long Lake Koocanusa, the Northwest Peaks Scenic Area, and the Ten Lakes Scenic Area. There is good access to most of the Forest and plenty of room to get away from it all!
WINTER
Winter in Montana means snow, and lots of it! For those who love to play in the deep powder, the Libby area offers tremendous winter fun. Turner Mountain Ski Area, located just 22 miles from Libby, offers challenging downhill skiing with a beautiful view. Their slogan is "steep, deep and cheap", and Turner definitely lives up to that. It's still fairly undiscovered, so you can escape the crowds and get the cheapest lift tickets around. For those who love snowmobiling, there are hundreds of miles of backcountry roads to sled on in the Kootenai National Forest. Cross-country skiers and ice fishermen also can find solitude on a lake and miles of quiet forest trails to enjoy the outdoors. Those who are a bit on the wild and crazy side will love the antics of the Libby Polar Bear Club. Members take winter-time "swims" in frigid Libby Creek every Sunday from October to April. Plungers have ranged in age from 3 to 61. As long as the ice can be broken on the creek, if it has formed, the group will take their plunge, no matter the temperature.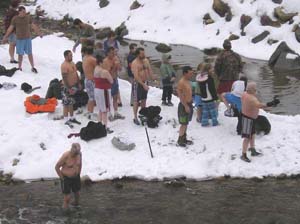 These people must be craaaazzzzzy!
Libby Polar Bear Club