News:
Montucky Clear CUT Feb. 11-14 at Turner Ski Area (posted 2/10/19)
Snowboarding event
The Montucky Clear CUT will take place Monday through Thursday, February 11-14 at Turner Ski Area near Libby. This an Alpine snowboard carving event being done to promote the sport of Alpine carving and as a fundraiser for Turner Mountain Ski Area. Carvers of all ability are invited – friends and family of carvers also welcome. The entire ski area is being rented for this carver exclusive event.

100% of the registration dollars will go directly to Turner Mountain, which is an all-volunteer managed and operated ski hill. Registration for this year's event closed on February 8th, but if it is popular enough, organizers hope to make it an annual event.

For more information go to www.skiturner.com.

---
DNRC hiring seasonal firefighters (posted 2/10/19)
MISSOULA, MONTANA – The Montana Department of Natural Resources and Conservation (DNRC) is now accepting applications for more than 160 seasonal firefighting jobs across the state.

With hourly wages ranging from $12.80 to $15.77 per hour, the positions include firefighter, engine boss, helicopter crew member, aerial observer, fuel truck driver, initial attack dispatcher, and forest improvement technician.

"Applications will be accepted through June 1, 2019, however we strongly encourage people to apply early." said Mike DeGrosky, Chief of DNRC's Fire and Protection Bureau. "We'll begin screening submitted applications on March 1, 2019."

Applicants must be 18 years of age at the time of their hiring and must have a valid driver's license. All persons performing firefighting duties are required to pass a physical fitness test within three weeks of being hired. DeGrosky said DNRC utilizes the Pack Test as its required physical fitness test.

Job descriptions, online applications and more details are available at http://statecareers.mt.gov/

---
Cabinet Back Country Horsemen to meet Feb. 12th in Libby (posted 2/7/19)
The Cabinet Back Country Horsemen will meet on Tuesday, February 12th at 7:00 pm in the Libby First National Bank upstairs meeting room. Topics will include finalizing work projects for 2019, the Pacific Northwest Trail proposed re-route, and an update on the Libby Area Trails Group. Everyone welcome to attend. No horse needed to join, but you might have a pack horse along to pack your gear and lunch for trail clearing projects. The group's goal is to perpetuate sustainable use of horses in the back country,. They also assist government agencies with trail and facility maintenance so all users continue to have access to the back country.

---
Beware scam phone calls (posted 1/27/19)
Caller ID spoofing can fool you into thinking the call is legitimate
Dawn Ballou, LibbyMT.com
We recently received a report from a Libby resident warning of receiving phone calls from two different 877 numbers claiming to be from the Social Security Administration saying their account had been suspended. When they looked up the number showing on the Caller ID, it was the SSA's number. The resident did some investigation and realized this was a scam going around. The troubling part was the Caller ID faking that made the call appear to be legitimate.

We want to reprint an article we wrote some time ago alerting people to these scams that fake the Caller ID number on the phone. This is called Caller ID spoofing. There are devices readily available that allow people to input a different phone number to appear as the number showing up on the receiver's Caller ID display. Scammers use these to pretend to be your local bank, the police department, government agencies and other places in order to obtain personal information to do identity theft and obtain passwords for financial accounts. As of this time, Caller ID spoofing is legal. The only circumstances in which caller ID spoofing is illegal is if it has the intention to cause harm in some form. If no harm is intended or caused, spoofing is legal. Of course, scammers intend harm, but there is no real way to catch them when they can't be tracked. So the only remedy for the public is to be aware these kinds of fraud phone calls are possible and to not give out any personal information over the phone to these callers, no matter how legitimate they appear to be or how threatening or insistent the caller is trying to persuade you they are legitimate.

Here is a link to our earlier article: Caller ID Spoofing

Caller ID Spoofing
Caller faking phone numbers for spam phone calls
by Dawn Ballou, Editor, LibbyMT.com
Earlier this week we received an angry phone call from a woman who said she was tired of receiving phone calls two or three times a day from "Libby" and what she claimed was our business phone number. The calls were spam for credit card offers and other things. She insisted we stop calling her.

The problem for both of us is that we aren't the ones calling her.

Most everyone gets these kinds of recorded and live sales pitches every day. The puzzling part of this one is that the called insisted our phone number and business name were what was displayed in the Caller ID.

Since we aren't making these calls, we want to make our readers aware that there are companies and devices that allow people to mask or change their Caller ID number that comes up on the recipient's phone display. It's called "Caller ID Spoofing," and can have serious consequences for anyone not aware this is possible and is tricked into giving out personal information over the phone to a scammer.

Spoofing the Caller ID number is not illegal in the United States, except for in cases where fraud occurs. Federal Communications Commission (FCC) rules prohibit telemarketers from blocking Caller ID information and require them to pass accurate caller ID numbers. However, for calls done for pranks, amusement, or revenge, it is perfectly legal to alter the Caller ID number.

A quick Google search will reveal a host of companies that offer special phone cards to do this service with them, for a fee. Their websites explaining the service give a number of flimsy, but plausible, excuses why someone might want to hide their real phone number: to get their teenager to answer the phone from their parent; professionals wanting to call patients but don't want their real cell phone number to get out; pranksters wanting to pull one over on a friend; law enforcement uses. The process is as easy as punching in three phone numbers: your own number, the number you wish to call, and the number you want to show up on the phone Caller ID display when the call is made. Any 10 digit number can be used. Not only will the number show up, but also the name registered for that number would automatically appear. Voices can be altered to male or female during the call. Spoofcards can be purchased online and are relatively cheap for 60 minutes and up to 8-hours worth of spoof calling time for under $100. For those using voice over IP, faking Caller ID is as easy as editing a configuration file on the computer.

There may be some people who need this service for legitimate purposes, but clearly this technology is being used be crooks wanting to mask unsolicited sales calls and get around the Do Not Call legislation and the fines for unsolicited sales calls.

Unsuspecting victims who rely on the Caller ID number to screen their calls will answer a recognized number and potentially fall for the pitch of a slick salesperson or con artist to give out confidential information. More sinister uses include stalking and a whole host of identify theft purposes.

A big concern is people being tricked by calls appearing to come from their bank, credit card company or a government agency and persuading victims to give up their personal identity and financial information that a thief can use to empty their bank account, open a new account, apply for loans or obtain credit cards. Imagine a phone call with the Caller ID showing up as your local bank or credit union in Libby and the representative says they are verifying account information and just need you to answer a few quick questions (social security number, mother's maiden name, account pin number…) Minutes later your account is cleaned out.

An online article on the topic of Caller ID spoofing tells of another variation where a victim receives a phone call claiming they missed jury duty and asks for their Social Security number. The call seems legitimate because the Caller ID displays the number for the local courthouse.

Imagine a call coming in appearing to be from the Lincoln County Sheriff's Office and a kind "detective" claiming to be working on a fraud protection incident they've uncovered with you as the possible target and they just want to verify your social security number and bank accounts "for your protection"…

At the federal level, the Truth in Caller ID Act of 2009 offers some protections for traditional telephone and voice over internet protocol (VOIP), but does make exceptions for use for certain law-enforcement purposes. Callers are also still allowed to preserve their anonymity by choosing to block all outgoing caller ID information on their phone lines. A number of states have also begun to pass their own laws under deceptive trade practices and consumer fraud acts. These laws still only prohibit Caller ID spoofing for fraud purposes. Uses by individuals for amusement or revenge is still legal.

If you have caller ID and receive a call from a telemarketer without the required caller ID information, and you suspect that Caller ID information has been falsified, or you think the rules for protecting the privacy of your telephone number have been violated, you can file a complaint with the Federal Communications Commission (FCC). You can file your complaint electronically using the on-line complaint Form 1088 found on the FCC Web site at www.fcc.gov/cgb/complaints.html. You can also file your complaint by e-mailing fccinfo@fcc.gov; calling 1-888-CALL-FCC (1-888-225-5322) voice or 1-888-TELL-FCC (1-888-835-5322) TTY; faxing 1-866-418-0232; or writing to:
Federal Communications Commission
Consumer & Governmental Affairs Bureau
Consumer Inquiries and Complaints Division
445 12th Street, SW
Washington, D.C. 20554

How to protect yourself:
1. Never give out personal information such as your Social Security Number, driver's license number, credit card account information or bank account information over the phone. Banks, credit card companies and government offices typically do not call over the phone to confirm this information. They do this via mail.

2. If you think the call is legitimate, call the organization back yourself using a phone number you obtain from an independent source you get yourself. Don't use the number they give you as their contact number, ask that could reroute you to an accomplice in the scheme. Look the phone number up in the phone book or get it off your official paperwork from that company and call back to verify the person and request for your confidential information.

3. Report suspicious phone calls to local law enforcement and any local organization that appears to have their number being used for fraudulent purposes. While there is little that law enforcement and the individual business can do to stop the calls, they can at least alert citizens and customers that the scam is happening and to be wary of suspicious phone calls.
________________________________

For those wanting to research more on this topic, the following keywords provide links to a lot of good articles and reports: Caller-ID spoofing, Caller-ID Fraud, Caller-ID masking, Identity Spoofing, Neighbor Spoofing, Anti-Spoofing Legislation.

Related Links:
Caller ID Spoofing - (Wikipedia)
Caller ID and Spoofing - Federal Communications Commission (FCC)
A New Kind of Phone Scam: Neighbor Spoofing Better Business Bureau
---
Ice fishing safety tips (posted 1/22/19)
Montana Fish, Wildlife & Parks
Ice fishing is a great winter activity that the entire family can enjoy. Montana Fish, Wildlife and Parks reminds anglers that safety should be the number one concern during a day out on the ice.

Anglers should be familiar with the water body they plan to fish. The safest ice anglers are those who pay as much attention to the changing conditions of the ice as they do to the fishing conditions.

When on the ice, remember:
- If you have even the slightest doubt about the safety of the ice—stay off it. No fish is ever worth a fall into frigid water.
- Blue ice is usually hard. Watch out for opaque, gray, dark or porous spots in the ice that could be weak, soft areas. Ice also tends to thin more quickly at the shorelines.
- Watch for pressure ridges. These are areas of open water or thin ice where the ice has cracked and heaved due to expansion from freezing.
- Test the ice ahead of you with an ice spud bar or an auger.
- Don't leave children unsupervised on the ice.
- Lakes and ponds do not freeze at the same thickness all over.
- Moving water—rivers, streams and springs—weaken ice by wearing it away from underneath.
- Avoid ice on rivers and streams, or where a river or stream enters a lake, pond or reservoir.
- The least safe ice usually occurs early and late in the season, when the weather is warmer.

The following are MINIMUMS needed with ice thickness:
4 inches: 1 person with gear5 inches: small group spread out
6 inches: snowmobile or ATV
9 inches: small automobile*
12 inches: pickup truck or SUV*
*not recommended, but if you must, proceed at your own risk!

Some other common ice-safety reminders to keep in mind include:
- Dress warm and waterproof to help prevent frostbite and hypothermia.
- Consider changes in the weather (and ice conditions) during the prior 24 hours.
- It's OK to wear a life jacket (PFD) or carry a throwable floatation device while out on the ice — safe ice-anglers do it all the time.

Before you head from home, tell someone where you plan to fish and when you plan to return.
Carry a pair of ice picks (long spikes on a heavy string around your neck). If you break through the ice, you can use the spikes to grip the ice and pull yourself out of the water.

---
Libby Video Club Channel Update (posted 1/17/19)
Libby Video Club
Due to Satellite & program changes beyond our control, we had to make some channel changes. The five channels listed carry new programs. You may have to rescan your TV to update the channels. We hope you enjoy these new stations.

3.1 Justice
5.1 Buzzr
10.1 Autom
12.1 Laff
14.1 Escape

With the changes that are occurring you may see some pixilating from time to time. We work hard to correct these issues as they arise.

There will be more changes this spring when KREM, KHQ and KAYU become unavailable. These are network channels out of Spokane. We hope to replace these channels with new programing.

We want to take the time to thank all of our current supporters and new supporters for your generosity which is keeping us on your air. Libby Video Club is a 501(c)3 non-profit organization and as we upgrade your broadcasting, your donations are vital. Donations can be mailed to Libby Video Club, PO Box 977, Libby MT., 59923 or can be dropped off at 1st Montana Bank, Glacier Bank or Lincoln County Credit Union in Libby.

If you have any questions, please email LibbyVideoClub@outlook.com.

Thank you for your support,
Jim Nelson – President, 406-293-1393

---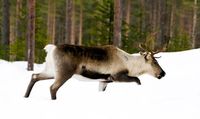 Stock photo courtesy Montana Fish, Wildlife & Parks

Rare Caribou sightings reported in Northwest Montana (posted 11/5/18)
Montana FWP working with wildlife biologists in British Columbia
Montana Fish, Wildlife & Parks
Montana Fish, Wildlife & Parks regional staff have received reports of a rare sight in northwest Montana.

Residents have recently documented sightings of woodland caribou near the U.S.-Canada border. The multiple sightings include the potential for a bull and a cow in separate locations.

Caribou, members of the deer family, are native to northwest Montana but have almost completely disappeared from the contiguous United States over the last half century.

Woodland caribou herds once stretched from central British Columbia to Idaho, Montana and Washington. The decline in population is largely attributed to high mortality linked to habitat fragmentation, alteration, loss of old growth forest, and subsequent predation impacts. Woodland caribou are now protected in the United States and British Columbia.

Caribou have been known to roam from the Selkirk and Purcell mountain ranges in southern B.C into Montana, Idaho and Washington but the occurrences have become increasingly rare.

Caribou are similar in size to mule deer but have different coloration, large round hooves and unique antlers. Even cow caribou can have visible small antlers.

"There are three weeks left of big-game hunting season in Montana. Hunters are reminded to be sure of their target and beyond," said Neil Anderson, FWP Region 1 wildlife manager.

After confirming reports of the recent sightings, Montana FWP contacted wildlife biologists in British Columbia and informed them of the sightings. FWP will continue to work closely with partners in British Columbia on the conservation of the species.

---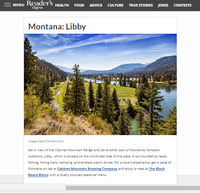 Charming Libby, Montana

Libby, Most Charming Small Town in Montana (posted 8/14/18)
According to Reader's Digest
Reader's Digest posted a story under the Travel section of their website on "The Most Charming Small Town in Every State." Libby was selected as the Most Charming Small Town for Montana. "You'll find the heart of America in these small-town gems lost in time. Add them to your must-visit list now," said author Lyn Mettler.

"Set in view of the Cabinet Mountain Range and yet another part of Montana's fantastic outdoors, Libby, which is located on the northwest side of the state, Libby is surrounded by lakes, fishing, hiking trails, camping, and endless scenic drives. For a local's experience, get a taste of Montana on tap at Cabinet Mountain Brewing Company and enjoy a meal at The Black Board Bistro with a locally-sourced seasonal menu."

Click on this link for their complete list of Most Charming Towns:
https://www.rd.com/advice/travel/most-charming-small-towns-in-every-state/

---
Libby lies in the northwest corner of Montana and is nestled in a valley carved by the Kootenai River on the flank of the majestic Cabinet Mountain Range and Wilderness Area. Today about 2,800 people live within Libby proper. The main industries are lumber and wood products, mining, tourism and recreation. The movies "The River Wild" and "Always" were filmed here. Contact the Libby Chamber of Commerce for brochures, info on lodging and events, general area information, and contact information for local businesses and services.
SUMMER
When the weather warms and the mountain snows melt away, the Kootenai National Forest comes alive with over 2.2 million acres of public land as a playground. Mountain trails and lakes open up, beautiful wildflowers come in bloom, and wildlife have their young. Libby is the basecamp for the Cabinet Mountains Wilderness Area, 90-mile long Lake Koocanusa, the Northwest Peaks Scenic Area, and the Ten Lakes Scenic Area. There is good access to most of the Forest and plenty of room to get away from it all!
WINTER
Winter in Montana means snow, and lots of it! For those who love to play in the deep powder, the Libby area offers tremendous winter fun. Turner Mountain Ski Area, located just 22 miles from Libby, offers challenging downhill skiing with a beautiful view. Their slogan is "steep, deep and cheap", and Turner definitely lives up to that. It's still fairly undiscovered, so you can escape the crowds and get the cheapest lift tickets around. For those who love snowmobiling, there are hundreds of miles of backcountry roads to sled on in the Kootenai National Forest. Cross-country skiers and ice fishermen also can find solitude on a lake and miles of quiet forest trails to enjoy the outdoors. Those who are a bit on the wild and crazy side will love the antics of the Libby Polar Bear Club. Members take winter-time "swims" in frigid Libby Creek every Sunday from October to April. Plungers have ranged in age from 3 to 61. As long as the ice can be broken on the creek, if it has formed, the group will take their plunge, no matter the temperature.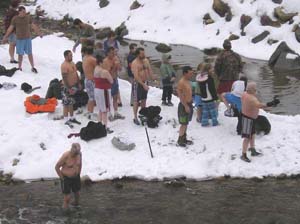 These people must be craaaazzzzzy!
Libby Polar Bear Club