News: Montana begins Phase 2 COVID-19 Guidance June 1, 2020 (posted 6/1/2020)
Increases group gatherings to 50; Montana entrance to Yellowstone National Park opens; travel quarantine expires
Effective June 1st, Montana begins operating under Phase Two of the State's COVID-19 Phased Reopening directives. Click on this link to read the Governor's Directive regarding Phased Reopening.
To date, Montana has had 515 cases of positive tested COVID-19, 17 deaths, 456 people recovered, and 39,798 tested for the disease. Click on this link for current COVID-19 health statistics for Montana. Click on this link for current COVID-19 health statistics in the U.S. from the CDC.

Phase Two:
Increase in Permissible Group Size to Groups of 50
• Effective June 1, avoid gathering in groups of more than 50 people in circumstances that do not readily allow for appropriate physical distancing. It is recommended to continue to social distance in gatherings of any size.
• Groups larger than 50 people should be cancelled unless physical distancing can be maintained.
• If you are planning an event with more than 50 people you should consult with your local public health office on a plan to implement adequate social distancing.
• Consistent with the Centers for Disease Control and Prevention's (CDC) guidelines, event cutoff threshold is at the discretion of community leadership based on current circumstances in your community.
• Physical distancing guidelines for groups and gatherings do not apply to household members.

Phase Two: Individuals and Employers
• Effective June 1, the below guidelines apply to both individuals and businesses in Phase Two.
• Vulnerable individuals should continue to adhere to the stay-at-home guidance.
• All businesses may operate, provided they adhere to physical distancing and the conditions in this Directive, the Phase Two Guidelines, and all other Directives and guidance remaining in effect. Businesses should follow CDC sanitation protocols.
• Restaurants, bars, breweries, distilleries and casinos remain in the same operational status as Phase One, but with an increase to 75 percent capacity.
• Gyms, indoor group fitness classes, pools, and hot tubs can operate at 75 percent capacity and only if they can adhere to strict physical distancing and they exercise frequent sanitation protocols.
• Concert halls, bowling alleys, and other places of assembly may operate with reduced capacity and must adhere to strict physical distancing guidelines set forth for group gatherings and follow CDC sanitation protocols. May 19, 2020 Page 5
• Child-care facilities can increase capacity consistent with the guidelines and FAQ contained in the April 1 Directive on childcare and if physical distancing guidelines can be implemented, however the 24-person cap per facility no longer applies effective June 1.
• Employers should continue to permit telework as much as possible and where feasible, but refer to guidelines for Phase One where telework is not possible.
• Senior living or assisted living facilities must continue to follow the guidelines of Phase One.
• Outdoor recreation remains in the same operational status as Phase One.

Phase Two: Travel Quarantine to Expire June 1
• Effective June 1, the provisions of the March 30 Directive requiring quarantine for non-work-related arrivals in Montana will no longer be in effect.
• The Montana National Guard remains authorized to conduct temperature checks, assess individuals for COVID-19 symptoms, and to inquire about exposure history of any traveler arriving in Montana from another state or country through air or rail travel, consistent with the terms and restrictions provided in the March 30 Directive.
• The State will execute a robust public health plan in communities most impacted by tourism, including:
- Surveillance testing of employees.
- Enhanced contact tracing resources deployed to these areas as requested by local authorities.
- Ability to surge personal protective equipment to impacted health care systems.
- Guidelines for operation for businesses that see high-tourist activity.

Directive Is Public Health Order and Enforceable By County Attorney
• This Directive, along with any prior Directive that implements and references the public health authorities of the Department of Public Health and Human Services (DPHHS) provided in Title 50, constitutes a "public health . . . order[]" within the meaning of § 50-1-103(2), MCA, and is enforceable by the Attorney General, DPHHS, a county attorney, or other local authorities under the direction of a county attorney. Local Public Health Agencies to Assist in Administration of this Public Health Order
• Local public health agencies are directed to assist in the administration of this Directive, consistent with § 50-1-202(2)(a), MCA.

Less-Restrictive Local Ordinances Preempted
• This Directive is in effect statewide in Montana. In the interest of uniformity of laws and to prevent the spread of disease, all inconsistent emergency county health ordinances are preempted by this Directive, but only to the extent they are less restrictive. Authorities: Sections 10-3-103, -104, -302, and -305, MCA; §§ 50-1-202, -203, and -204, MCA; 37 A.G. Op. 132 (1978); Executive Orders 2-2020 and 3-2020; Montana Constitution, Art. VI, Sections 4 and 13; and all other applicable provisions of state and federal law. May 19, 2020 Page 6 Limitations
• This Directive is effective immediately and expires at the end of the emergency, except where specified.
• This Directive shall be implemented consistent with applicable law and subject to the availability of appropriations.
• Nothing in this Directive shall be construed to limit, modify, or otherwise affect the authority granted by law to the Governor, any department, agency, political subdivision, officer, agent, or employee of the State of Montana except as expressly provided in this Directive or other Directives now in effect implementing Executive Orders 2-2020 and 3-2020.
• If any provision of this Directive or its application to any person or circumstance is held invalid by any court of competent jurisdiction, this invalidity does not affect any other provision or application of this Directive, which can be given effect without the invalid provision or application. To achieve this purpose, the provisions of this Directive are declared to be severable.
• This Directive is not intended to, and does not, create any right or benefit, substantive or procedural, enforceable at law or in equity by any party against the State of Montana, its departments, agencies, or entities, its officers, employees, or agents, or any other person.


---
FWP to open offices, visitor centers to customers June 3 (posted 6/1/2020)
Montana Fish, Wildlife & Parks
As the state moves into Phase 2 of Gov. Steve Bullock's Reopening the Big Sky Plan, Montana Fish, Wildlife & Parks (FWP) offices and visitor centers will open to the public on Wednesday, June 3.

FWP offices have been closed since late March due to Montana's COVID-19 pandemic response. As the public returns, strict adherence to Phase 2 guidelines will be critical: stay at home if you feel sick, make sure to frequently wash and sanitize your hands, and maintain at least six feet of distance from other people.

FWP front offices around the state will be set up to help facilitate these simple guidelines, including marking floors to help keep people spaced out, providing hand sanitizer for customers, and glass dividers between front counter staff and customers.

"We're looking forward to having our customers back in our regional and local lobbies and visitor centers," said FWP Director Martha Williams. "We've worked hard to prepare our buildings to keep our public and staff safe."

Please note that many FWP employees are still working remotely, so for business beyond front desk license purchases and other related information, please plan to reach out to the appropriate staff member directly by phone or email or ask front desk staff for contact information.

For more information on FWP's COVID-19 response, please go online to fwp.mt.gov/COVID19.

---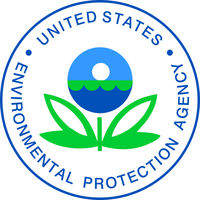 EPA deletes portion of Libby Superfund site from National Priorities List (posted 6/1/2020)
Includes the former plant, Riverfront Park area, and embankments of Hwy 37
U.S. Environmental Protection Agency
On May 26, 2020, the U.S. Environmental Protection Agency (EPA) announced the deletion of a portion of the Libby Asbestos Superfund site in Libby, Montana from EPA's National Priorities List (NPL). EPA and the Montana Department of Environmental Quality have determined that all required cleanup activities are complete in the Operable Unit 1 (OU1) area for deletion.

"This is the second deletion of properties in Libby from the Superfund list in two years, a milestone that demonstrates the progress EPA and our partners have made in the cleanup and restoration of properties," said EPA Regional Administrator Gregory Sopkin. "We will continue to ensure protectiveness at this deleted Operable Unit, as well as address contamination at other Operable Units that have not been deleted."

The Libby Asbestos Superfund site was placed on EPA's NPL in 2002 due to high levels of Libby Amphibole asbestos in and around the communities of Libby and Troy. The site is divided into eight Operable Units. Operable Unit 1 of the site includes areas impacted by asbestos contamination released from the former Export Plant. These areas include the former plant, the Riverfront Park area and the embankments of Highway 37, collectively totaling 17 acres. Components of the long-term remedy included the removal and containment of contaminants and institutional controls to prevent exposure. EPA completed these cleanup actions in 2014.

EPA is deleting OU1 based on a determination that no further remediation action is needed to protect human health and the environment. The area will continue to be subject to operation and maintenance activities, including regular reviews for protectiveness. EPA will continue to address contamination concerns at remaining Operable Units of the Libby Asbestos site, which includes the former mine site.

For more information about the Libby Superfund site, visit: https://www.epa.gov/superfund/libby-asbestos

---
Registration open for Summer and Fall courses at FVCC (posted 6/1/2020)
Registration is open for in-person and online summer and fall courses at Flathead Valley Community College. To protect the health and well-being of students and staff, FVCC is following stringent social distancing and sanitation protocols in all in-person courses and across campus.

FVCC offers courses that satisfy general-education requirements of the Montana University System and courses that transfer to colleges and universities nationwide. FVCC also offers many career and technical degree programs with courses beginning in summer and fall. Accommodations are available as necessary for students to virtually attend classes.

The summer and fall course schedules are online at fvcc.edu/course-schedules. In-person courses are noted by the campus on which they will be held ("Kalispell Campus" or "Lincoln County Campus/Libby"). Online courses are noted as "Online Course."

Students who are new to FVCC must complete the admission application process before registering for courses. There is no fee to apply to FVCC. The application is available online at fvcc.edu/apply.

For more information, call 406-756-3880 or email fvccadvisor@fvcc.edu.

---
Army Corps opening Libby Dam Campgrounds (posted 5/22/2020)
Blackwell Flats and Dunn Creek Flats open May 22
U.S. Army Corps of Engineers – Libby Dam
U.S. Army Corps of Engineers (USACE) officials at Libby Dam will open Blackwell Flats and Dunn Creek Flats Campgrounds Friday afternoon, May 22, 2020, in time for Memorial Day weekend.

While the campgrounds, boat ramps and day-use areas are open, the Libby Dam Visitor Center and Dam Tours will remain closed until further notice. Special Events have been cancelled or rescheduled for the fall. Picnic Shelters also remain closed, with no reservations available for now. Individual picnic tables are still available.

Read more at: https://www.nws.usace.army.mil/Media/News-Releases/Article/2196288/army-corps-opening-libby-dam-campgrounds/
---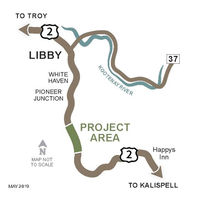 US 2 Swamp Creek East road project

US 2 Swamp Creek East Project update (posted 5/22/2020)
Motorists will soon be driving on a paved surface through the work zone
Montana Department of Transportation
Paving work will continue on the US 2 Swamp Creek East project after the Memorial Day Weekend. The construction crews need a few days of good weather to complete paving. Additional ongoing activities include placing gravel, topsoil operations, and installing guardrail throughout the project area.

What to expect:
• During the day, traffic will be reduced to a single lane and controlled with traffic signals and a pilot car.
• Expect up to 15-minute delays.
• At night and on weekends, traffic will return to two lanes.
• Speed limit is reduced to 35 mph at all times.

The Montana Department of Transportation together with its construction contracting partners continue to take the COVID-19 pandemic very seriously. Construction projects on Montana's roads and bridges are considered an "essential" operation and will continue moving forward as scheduled in 2020. Construction workers will continue several measures to help keep employees, contractors and the public safe during the construction season. Some of the measures include following social distancing and good hygiene guidelines, and not reporting to work if showing symptoms of illness. For more information visit https://covid19.mt.gov/

Project overview
The Montana Department of Transportation is reconstructing five miles of roadway and a bridge over Swamp Creek on US Highway 2, approximately 15 miles southeast of Libby. Construction is anticipated to be completed in fall 2020.

Improvements include:
• Widening the travel lanes to 12 feet.
• Adding 4-foot shoulders on both sides of the roadway.
• Replacing a bridge over Swamp Creek with a wider single-span concrete bridge.
• Repaving the road surface of US 2.
• Using Geofoam blocks as part of the road base to limit the settling of the road.

For more information about the project visit: www.mdt.gov/pubinvolve/swampcreek Email: brandon@rbci.net Call: (406) 465-3350

For current road conditions and traffic updates visit: http://roadreport.mdt.mt.gov/travinfomobile/

---
Libby real estate news (posted 4/20/2020)
January through March 2020
Alice Hayes, Team Hayes Realtors LLC
How has the Libby, Troy, & Yaak Market Been in 2020??
January 1, 2020 to March 31, 2020 Real Estate Figures:

SALES
32 Residential SALES: 21 Libby; 10 Troy; 1 Yaak
9 Land SALES: 7 Libby; 2 Troy; 0 Yaak
0 Commercial/Multi-Family SALES

PENDING
23 Residential PENDING: 12 Libby; 6 Troy
8 Land PENDING: 3 Libby; 1 Troy; 2 Yaak
2 Commercial/Multi-Family PENDING

ACTIVES
80 Residential ACTIVES: 39 Libby; 35 Troy; 6 Yaak
150 Land ACTIVES: 80 in Libby; 61 in Troy; 9 in Yaak
21 Comm/Multi-Fam ACTIVES: 14 Libby; 4 Troy; 3 Yaak

2020 started as a very busy year. And then COVID-19 hit and we are having very limited physical contact with clients and the majority of our work is being done from home. Due to the wonders of technology - much of our Client Care can be done on-line and by phone. But, we miss the human contact and anxiously await the return of the opportunity to sit down with our friends and clients and visit, laugh, shake hands, and even hug.

Interest Rates are Truly Amazing!
Now could be a great time to purchase.
As of 3/31/202 - Conforming & FHA Loans:
Per Quicken 30-Year Fixed:
Interest = 2.99%; APR = 3.958%
15-Year Fixed: Interest = 2.625%; APR = 3.088%

TIPS:
1. The buying and selling landscape has changed Buyers might feel that sellers and agents should be rolling out the red carpet for them to look at homes. Please understand that this process might not be as instant as it was last week or even two days ago.
2. The transaction will likely be socially distanced Agents will likely ask buyers to take their own car to meet at showings. If buyers are coming from out of town, encourage them to rent a car for their protection and the protection of their families (and your safety, too!)
3. Now is not the time to try to take advantage Buyers might be tempted to throw out multiple low-ball offers at sellers to see what will stick. Buyers might feel as if they are entitled to a deal during these unusual circumstances. Stop.
4. Delays will inevitably happen Right now, life isn't going according to anyone's plan. Major life events such as graduations, anniversary parties, showers and weddings are being postponed or cancelled. Sadly, even celebrations of life due to a loved one's passing can't be held.
5. Adjust your expectations We're living in unpredictable times. No one has all the answers — and that includes real estate agents. While people are doing their best to obtain information and updates from their company's real estate leadership, local, state and national Realtor associations, along with national, state and local officials, this situation is rapidly changing. What happens today might be drastically different tomorrow.
6. Accept that you might not have all the answers This one is tough. It can be easy to panic at the thought of the unknown. Will things get better after mid-April when many of those "temporary" closures and lockdowns are supposed to end? Those are arbitrary dates and deadlines, and we don't know if they will be extended.

Information courtesy Alice Hayes, Team Hayes Realtors LLC
TEAM HAYES REALTORS LLC
417 Mineral Ave, Suite 1, Libby, Montana, in the Mineral Plaza
Office: 406-293-2725
Cell: (Alice) 406-293-8364, (Jim) 406-293-1926
Text: (Alice) 406-293-8364
Email:
alice@alicehayes.com
jim@alicehayes.com
Website: www.teamhayesrealtors.com

---
Lincoln County resources for COVID-19 information (posted 3/26/2020)
Below are links to helpful information about the COVID-19 situation in Lincoln County, Montana. Note that the status of things is changing daily and organizations are doing their best to try to keep information current in a quickly evolving situation.

Lincoln County COVID Information Hotline: 1-406-293-6295
Lincoln County Public Health Facebook page
www.lincolnmthealth.com Lincoln County Public Health (Montana)
Lincoln County Emergency Management - Facebook page
Lincoln County, Montana COVID-19 information
KLCB-KTNY Radio, Libby - Facebook page
www.thewesternnews.com The Western News, local newspaper for Libby, Montana
Libby Area Chamber of Commerce - Facebook page
Montana COVID-19 Montana Department of Health and Human Services
Map of current COVID-19 cases in Montana
CDC COVID-19 Information Centers for Disease Control and Prevention (CDC)

---
Libby lies in the northwest corner of Montana and is nestled in a valley carved by the Kootenai River on the flank of the majestic Cabinet Mountain Range and Wilderness Area. Today about 2,800 people live within Libby proper. The main industries are lumber and wood products, mining, tourism and recreation. The movies "The River Wild" and "Always" were filmed here. Contact the Libby Chamber of Commerce for brochures, info on lodging and events, general area information, and contact information for local businesses and services.
SUMMER
When the weather warms and the mountain snows melt away, the Kootenai National Forest comes alive with over 2.2 million acres of public land as a playground. Mountain trails and lakes open up, beautiful wildflowers come in bloom, and wildlife have their young. Libby is the basecamp for the Cabinet Mountains Wilderness Area, 90-mile long Lake Koocanusa, the Northwest Peaks Scenic Area, and the Ten Lakes Scenic Area. There is good access to most of the Forest and plenty of room to get away from it all!
WINTER
Winter in Montana means snow, and lots of it! For those who love to play in the deep powder, the Libby area offers tremendous winter fun. Turner Mountain Ski Area, located just 22 miles from Libby, offers challenging downhill skiing with a beautiful view. Their slogan is "steep, deep and cheap", and Turner definitely lives up to that. It's still fairly undiscovered, so you can escape the crowds and get the cheapest lift tickets around. For those who love snowmobiling, there are hundreds of miles of backcountry roads to sled on in the Kootenai National Forest. Cross-country skiers and ice fishermen also can find solitude on a lake and miles of quiet forest trails to enjoy the outdoors. Those who are a bit on the wild and crazy side will love the antics of the Libby Polar Bear Club. Members take winter-time "swims" in frigid Libby Creek every Sunday from October to April. Plungers have ranged in age from 3 to 61. As long as the ice can be broken on the creek, if it has formed, the group will take their plunge, no matter the temperature.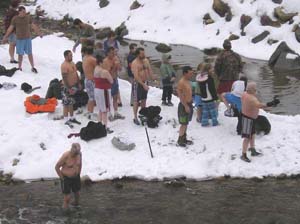 These people must be craaaazzzzzy!
Libby Polar Bear Club