News:
Real Estate in Libby, Troy & the Yaak – January 2020 Newsletter (posted 2/6/2020)
Guest article by Alice L. Hayes, Loveless Realty
How is Libby, Troy, Yaak Real Estate market in 2019?

January 1, 2019 to December 31, 2019 real estate figures were:
SALES & PENDINGS:
174 Residential SALES:
115 in Libby, 53 in Troy, 6 in Yaak

89 Land SALES:
4 in Libby; 33 in Troy; 8 in Yaak

5 Commercial/Multi-Family SALES:
4 in Libby; 1 in Troy

21 Residential PENDING:
16 in Libby; 5 in Troy

2 Land PENDING:
1 in Libby; 1 in Troy

0 Commercial/M-Family PENDING:

ACTIVE LISTINGS:
85 Residential ACTIVES:
42 in Libby; 32 in Troy; 11 in Yaak

157 Land ACTIVES:
83 in Libby; 60 in Troy; 14 Yaak

4 Commercial/Multi-Fam ACTIVES:
4 in Libby

2019 was super busy. We were able to help many people move to their new home, move out of their old home, sell their land, or even move to a new town. But, there have been others who are still looking to sell their home or land or looking to buy that 'just right home' or 'perfect piece of land.'

Our Inventory of homes is in rather short supply and we are looking for more options to offer buyers. If you've 'toyed' with the idea of selling - we would enjoy visiting with you about how we can help.

What were the price ranges of SOLDS in 2019?
10K-$150,000 = 62 Sales
151K - $250,000 = 56 Sales
251K - $500,000 = 49 Sales
501K - $800,000 = 6 Sales
801K - $1,500,000 = 1 Sale

Interest rates are GOOD - Now could be a great time to purchase.
As of December 31, 2019, conforming & FHA Loans:
30-Year Fixed; Interest = 4.250%, APR=4.375%
15-Year Fixed; Interest = 3.625%; APR=3.843%

Information obtained from Quicken.

Alice & Jim - Team Hayes Realtors
Loveless Realty - 519 W. 9th - Libby, MT 59923
Cell # s:
(Alice) 406-293-8364
(Jim) 406-293-1926
Texts: (Alice) 406-293-8364
Emails:
alice@alicehayes.com
jim@alicehayes.com
Website: www.alicehayes.com
---
FWP proposes expanding wolf hunting opportunities in Northwest Montana (posted 2/5/2020)
Public comment open until March 16, 2020
Montana Fish, Wildlife & Parks
Montana Fish, Wildlife & Parks is recommending proposed changes to the wolf hunting and trapping seasons in Region 1 (northwest Montana). The Montana Fish and Wildlife Commission will consider these proposals at the Feb. 13 meeting.

FWP's proposals for Region 1 include:
- Extend the general hunting season to begin Aug. 15 and end March 31. Currently, archery season begins Sept. 1, general season begins Sept. 15 and ends March 15.
- Extend trapping season to March 15. Currently, the trapping season ends Feb. 28.
- Increase the individual limit to 10 wolves per person. Currently, the limit is five per person.
If approved by the Commission, these proposed changes would take effect in Region 1.

These proposals emerged from the latest biennial season-setting process that involved the review of hunting season structures for most game animals and other managed species. FWP regional staff met and took input from local communities at four meetings across northwest Montana this winter. Public comment was also received online from Dec. 5 to Jan. 27 and forwarded to commissioners and FWP staff for their consideration.

FWP will recommend extending the public comment period through March 16 for these changes to the original hunting season proposals.

"We heard from a substantial number of people attending the public meetings throughout northwest Montana who requested additional opportunity for wolves. Biologically, we have the wolf population to sustain additional harvest opportunity and wanted to be responsive to public input and participation," FWP Regional Wildlife Manager Neil Anderson said.

The Commission will consider these and other proposals from the statewide season-setting process at its Feb. 13 meeting in Helena. The meeting will be streamed live via video to all FWP regional offices. The meeting will also be audio streamed online at fwp.mt.gov. The meeting begins at 8:30 a.m.

For the full agenda and background on the scheduled topics, go to the FWP website at fwp.mt.gov under "Quick Links" click "Commission."

---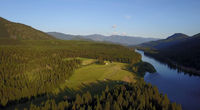 Proposed conservation easement property. Photo courtesy Montana Fish, Wildlife and Parks.

FWP proposes Conservation Easement along the Kootenai River near Troy (posted 1/30/2020)
Public comment due by Feb. 15, 2020
Montana Fish, Wildlife & Parks
Montana Fish, Wildlife and Parks is seeking public comment on a proposal to purchase a conservation easement that would protect approximately 50 acres of important fish and wildlife habitat along the Kootenai River just northwest of Troy, Montana.

The property is owned by The Vital Ground Foundation, which has been working over the last several years to purchase this property and protect it from residential development. The project is part of an area identified by biologists as the best linkage corridor for grizzly bears between the Purcell and Cabinet Mountains in the Cabinet-Yaak recovery area. FWP conserved a large portion of this linkage in 2012 with a 28,000-acre conservation easement in the Kootenai Valley. Vital Ground is working to conserve the remaining gaps in this area. This project would continue FWP's collaborative effort by helping Vital Ground conserve this property and its important riparian and upland habitat.

Vital Ground would continue to own and manage the land while FWP would hold a conservation easement that would preclude future residential or commercial development and ensure the property is managed to benefit fish and wildlife habitat in perpetuity. Public access to the property would be allowed for fishing and bird watching opportunities. The conservation easement would not require Vital Ground to provide hunting access on this property due to the property's small size and the proximity to U.S. Highway 2 and neighboring residences.

Following completion of the draft environmental assessment and review of the public comments received, the FWP Region 1 Supervisor will issue a decision notice that makes a recommendation to the Fish and Wildlife Commission on a course of action. The Commission will make the final decision on which course of action to take.

A copy of the draft environmental assessment is available at the FWP Region 1 office, 490 N. Meridian Rd., Kalispell; Montana State Library, 1515 E 6th Ave., Helena; FWP State Headquarters, 1420 E 6th Ave., Helena; the FWP website at http://fwp.mt.gov/news/publicNotices/ and available for viewing at local libraries.

FWP asks that comments on this draft environmental assessment be submitted to either of the following addresses by 5 p.m., February 17, 2020:
Stevie Burton
Montana Fish, Wildlife & Parks
490 North Meridian Road
Kalispell, MT 59901
or stevie.burton@mt.gov

For more information about the project, contact Stevie Burton at the email address above or via phone, (406) 751-4579.

---
FWP seeks volunteer instructors for Hunter, Bowhunter education (posted 1/30/2020)
Montana Fish, Wildlife & Parks
Montana's hunting legacy depends on active, skilled and ethical hunters who pass on their traditions to new generations.

This happens in hundreds of classrooms across Montana each year through the state's Hunter and Bowhunter Education program. Instructors in the program volunteer their time and talents to give new hunters baseline instruction on safety, ethics, procedure and other components of successful hunting.

Hunter Education, which is administered by Montana Fish, Wildlife & Parks, is also a statutory requirement for new hunters in the state. Anyone born after Jan. 1, 1985, must pass a Hunter Education course in order to purchase a hunting license.

Montana needs more volunteer instructors — especially women instructors — who are willing to perpetuate these opportunities for new hunters. Anyone with experience in hunting or bowhunting is encouraged to apply.

"Archery has given me so much in my life," said Brian Koelzer, who has been teaching Bowhunter Education in Montana for 13 years. "That's when I really decided I wanted to help share that."

Volunteers in the program must meet certain requirements. They must have experience in the use of firearms or archery equipment, possess a valid Montana driver's license or ID card, pass a background investigation and criminal records check, have experience in or be comfortable with public speaking or teaching, and be eligible under state and federal law to handle and possess firearms and ammunition.

Once an application is submitted and those requirements are met, applicants will receive training on teaching, course curriculum, and program policies and procedures. Experienced instructors help mentor volunteers who are new to the program.

Hunter Education is personally rewarding for many volunteer instructors. They often feel they are making a difference in the lives of new hunters by passing on their knowledge, experience and enthusiasm for hunting. Many instructors also discover common interests and camaraderie with other program volunteers.

"If you're a hunter, and you know where to go and what to do and how to do it safely, and you know what ethics are about, then we need you," said Jim Johnson, a Hunter Education instructor of 21 years. "We need you to instruct the next generation of people to keep the sport alive."

For more information or to apply, visit fwp.mt.gov/education/hunter/instructors or call 406-444-9948.

---
2nd Moose tests positive for Chronic Wasting Disease in Libby area (posted 1/17/2020)
Montana Fish, Wildlife & Parks
A second moose has tested positive for chronic wasting disease in northwest Montana.

A hunter harvested the bull moose during the last week of the general hunting season near Fawn Creek southeast of Libby. The moose was harvested within the Libby CWD Management Zone near the southeastern boundary.

Montana Fish, Wildlife & Parks collected the sample from the moose Dec. 1 at the Libby Sampling Station on U.S. Highway 2 and submitted it for testing to the Veterinary Diagnostic Lab at Colorado State University in Fort Collins, Colorado. The lab identified it to be suspected of CWD infection on Jan. 14 and confirmed the positive detection Jan. 17 with a second test.

CWD was first detected in the Libby area in the spring of 2019 after a white-tailed deer tested positive. FWP established the Libby CWD Management Zone, spanning a 10-mile radius around town, and began surveillance efforts to identify the prevalence and distribution of the disease. Surveillance efforts included sampling road-killed and symptomatic animals, deer trapped in the urban center of town, and hunter harvests of deer, elk and moose inside the CWD Management Zone. More than 950 samples were collected and tested inside the Management Zone.

To date, 61 white-tailed deer, two moose and one mule deer have tested positive for CWD in the Libby area. The first moose to test positive was harvested approximately half a mile outside the northwest corner of the Libby CWD Management Zone in late October. The rest of the positives have all occurred within the Management Zone, and a majority were near the urban center of town.

The estimated prevalence of CWD in the Libby urban area, identified as the Libby Survey Area, is approximately 13 percent. In the greater Libby CWD Management Zone, the estimated prevalence is nearly 4 percent.

"FWP is working with the City of Libby as it considers an urban deer management plan that would reduce the density of deer in the Libby Survey Area and hopefully reduce the prevalence and spread of CWD," said FWP Region 1 Wildlife Manager Neil Anderson.

During the 2020 hunting season setting process, FWP is proposing an over-the-counter either-sex white-tailed deer B license for both the archery and general hunting seasons that would only be valid inside the Libby CWD Management Zone. This license would increase overall harvest of white-tailed deer within the Libby CWD Management Zone with the goal of reducing the spread of CWD. Public input is open until Jan. 27, and the Fish and Wildlife Commission will review this proposal at its February meeting.

CWD is a fatal disease that can affect the nervous system of mule deer, white-tailed deer, elk and moose. Transmission can most commonly occur through direct contact between cervids, as well as shed in urine, feces, saliva, blood and antler velvet from infected cervids. Carcasses of infected cervids may serve as a source of environmental contamination as well and can infect other cervids that come into contact with that carcass.

There is no known transmission of CWD to humans or other animals, including pets or livestock. The Centers for Disease Control and Prevention (CDC) recommends that hunters harvesting a deer, elk, or moose from an area where CWD is known to be present have their animal tested for CWD prior to consuming the meat, and to not consume the meat if the animal tests positive.

For more information, visit fwp.mt.gov/cwd.

---
FWP makes two changes to 2020 licenses (posted 1/16/2020)
Montana Fish, Wildlife & Parks
Hunters and anglers can expect a few changes this year when they buy their 2020 licenses starting March 1.

The most visible change Montana Fish, Wildlife & Parks customers will see is a change to license paper. Starting this year, both licenses and carcass tags will be printed on normal-sized paper, and license buyers will be able to print them at home.

For years, FWP licenses and tags have been produced on weather-resistant paper. However, this paper is not only expensive, but requires printing technology so outdated that it's almost impossible to replace. The switch to standard 8.5 by 11-inch paper will provide significant savings and ultimately be easier for customers.

What this means is hunters won't have to wait for special permits or licenses to come in the mail from FWP, but rather will be able to print them at home or at their local license provider.

This change also will reinforce the ability in Montana to have your license electronically on your mobile device and not printed out in your pocket. While carcass tags still need to be printed out, other licenses, such as a fishing license, do not. If checked in the field, this electronic version of your license is perfectly legal.

FWP recommends that people carry small plastic bags with them while hunting, and place validated carcass tags in the bags before attaching them to an animal. Small plastic bags ideal for this application will be available at all license providers, but any small sandwich bag will work.

Additionally, in 2020, hunters applying for licenses or permits will be able to do so online or at an FWP office. Mail-in applications will no longer be accepted.

With modern technology, the number of online applications continues to steadily grow. Eighty-six percent of Montana hunters now choose this method. The small percentage of mail-in applications creates a time-consuming, expensive and inefficient delay in the license-drawing process. Mail-in applications must be entered manually in the licensing system, leaving room for human error and delays.

Customers who still look for written guidance to help them through the application process will be able to find information sheets online or at an FWP office in the coming weeks. These information sheets will not be accepted as applications.

This simple change means that drawing results will now be available two weeks after the application deadline, rather than six weeks, allowing hunters to begin making plans for the upcoming season that much earlier.


---
Glacier National Park removing sign claiming glaciers will be gone by 2020 (posted 1/10/2020)
KPAX 8 (Western Montana) News posted a story that Glacier National Park is removing signs in the park that state 'glaciers will be gone by 2020.' The signs were installed in the early 2000s based on scientific predictions at that time. The latest research still shows that the glaciers in the park are shrinking, but not at the rate predicted, so the wording on the signs needs to be updated. The park is working with the U.S. Geological Society to monitor the glaciers in the park and will update signs as necessary.

Click on this link to read the full story: Glacier National Park to remove all 'glaciers will be gone by 2020' signs By Maren Siu, KPAX8, www.kpax.com, Jan. 6/9, 2020

---
Depression Support Group meetings (posted 1/9/2020)
Depression Support Group meets from 11:00am to noon at Libby Christian Church on Tuesdays until May. The group is facilitated by Liz Erickson RN. They offer encouragement, education and exercise. Everyone welcome. For more information call 406-293-3747.

---
Hunters advised of optimal hours for checking harvested animals at Libby Area Office (posted 1/9/2020)
Montana Fish, Wildlife & Parks
Hunters and trappers in the Libby area are reminded of the optimal days to check harvested animals.

Montana Fish, Wildlife & Parks will have staff available to check mountain lions, wolves, bobcats, and other animals at the Libby Area Office, 385 Fish Hatchery Road, on Sundays, Mondays, and Thursdays from 8:30 a.m. – 4:30 p.m. through Jan. 19. After Jan. 19, FWP staff will be available on Mondays and Thursdays (excluding holidays).

FWP cannot guarantee staff will be readily available to check animals outside of those hours.

Hunters can call to schedule a time outside of the designated hours:
Tonya Chilton-Radandt: (406) 293-4161 x 209
Kim Annis: (406) 293-4161 x 207
Tamie Laverdure: (406) 291-1954

Inspection of bobcat, fisher, otter, swift fox, and marten harvests can now be completed within 10 days of the calendar close of the season.

Black bear, mountain lion, or wolf must be presented to a Montana FWP official within 10 days of harvest for inspection, tagging and possible removal of a tooth (for aging). A hunter who has completed a transfer form may have a representative present the hide and skull to a Montana FWP official for inspection.

---
Bull Trout harvest closure to take effect on Lake Koocanusa (posted 1/7/20)
Montana Fish, Wildlife & Parks
The harvesting of bull trout on Lake Koocanusa will be closed in an effort to improve the diminished population of the threatened species.

The Montana Fish and Wildlife Commission on Jan. 6 approved a request from Montana Fish, Wildlife & Parks regional biologists to implement the closure while maintaining catch-and-release fishing on the large lake in Lincoln County. The closure will take effect March 1, 2020. Prior to the closure, harvest was limited to one bull trout per license year from June 1 through February 28 with catch-and-release fishing allowed the rest of the year. Anglers were required to have a Lake Koocanusa Bull Trout Catch Card when fishing for bull trout.

Bull Trout are listed as a Threatened Species under the Endangered Species Act. Through special arrangements with the U.S. Fish and Wildlife Service, limited harvest is allowed to occur at Lake Koocanusa, Hungry Horse Reservoir, and a catch-and-release fishery is allowed in the South Fork Flathead River. Due to the threatened status of the native species, FWP prefers to take a very conservative approach to bull trout management while still allowing opportunities for harvest when possible.

Bull Trout redd counts in the fall are used as an important metric for measuring fish reproduction and recruitment and are included as part of the requirements for the harvest permit. For the Lake Koocanusa bull trout population, redd counts in Wigwam River in British Columbia and Grave Creek in Montana are important for determining harvest quotas. Over the past six years, redd counts had been fairly steady in both streams. In Fall 2019, spawning redds in both streams declined substantially, prompting concerns that limited angler harvest could have population-scale impacts.

FWP biologists believe it is appropriate to limit harvest until redd counts improve.

Bull trout are native to rivers, streams and lakes in the Columbia (Kootenai, Clark Fork, Bitterroot, Blackfoot, Flathead, and Swan drainages) and Saskatchewan River (St. Mary and Belly drainages) basins. Declines in bull trout abundance and distribution have been caused by habitat loss and degradation from land and water management practices; population isolation and fragmentation from dams and other barriers; competition, predation and hybridization with introduced non-native fish species (lake trout, northern pike, brook trout and others); historical overharvest; and poaching.

---
Moose near Troy tests positive for Chronic Wasting Disease (posted 12/2/19)
Montana Fish, Wildlife & Parks
A moose in northwest Montana tested positive for chronic wasting disease, marking the first time the disease has been detected in the species in Montana.

A hunter harvested the bull moose in late October near Pulpit Mountain west of Quartz Creek and north of Troy. The harvest occurred less than half a mile to the west of the existing Libby CWD Management Zone.

Montana Fish, Wildlife & Parks collected the voluntary sample from the moose and submitted it for testing to the Veterinary Diagnostic Lab at Colorado State University in Fort Collins, Colorado. The lab identified it to be suspected of CWD infection and confirmed the positive detection with a second test.

---
Libby lies in the northwest corner of Montana and is nestled in a valley carved by the Kootenai River on the flank of the majestic Cabinet Mountain Range and Wilderness Area. Today about 2,800 people live within Libby proper. The main industries are lumber and wood products, mining, tourism and recreation. The movies "The River Wild" and "Always" were filmed here. Contact the Libby Chamber of Commerce for brochures, info on lodging and events, general area information, and contact information for local businesses and services.
SUMMER
When the weather warms and the mountain snows melt away, the Kootenai National Forest comes alive with over 2.2 million acres of public land as a playground. Mountain trails and lakes open up, beautiful wildflowers come in bloom, and wildlife have their young. Libby is the basecamp for the Cabinet Mountains Wilderness Area, 90-mile long Lake Koocanusa, the Northwest Peaks Scenic Area, and the Ten Lakes Scenic Area. There is good access to most of the Forest and plenty of room to get away from it all!
WINTER
Winter in Montana means snow, and lots of it! For those who love to play in the deep powder, the Libby area offers tremendous winter fun. Turner Mountain Ski Area, located just 22 miles from Libby, offers challenging downhill skiing with a beautiful view. Their slogan is "steep, deep and cheap", and Turner definitely lives up to that. It's still fairly undiscovered, so you can escape the crowds and get the cheapest lift tickets around. For those who love snowmobiling, there are hundreds of miles of backcountry roads to sled on in the Kootenai National Forest. Cross-country skiers and ice fishermen also can find solitude on a lake and miles of quiet forest trails to enjoy the outdoors. Those who are a bit on the wild and crazy side will love the antics of the Libby Polar Bear Club. Members take winter-time "swims" in frigid Libby Creek every Sunday from October to April. Plungers have ranged in age from 3 to 61. As long as the ice can be broken on the creek, if it has formed, the group will take their plunge, no matter the temperature.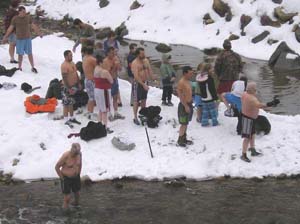 These people must be craaaazzzzzy!
Libby Polar Bear Club