News:
Lt. Governor Cooney to host Main Street Montana Roundtable in Troy Oct. 12 (posted 10/11/18)
Governor Steve Bullock's office media release
TROY, MONTANA – On Friday, October 12, Lt. Governor Cooney will host a roundtable discussion on rural issues, including tourism and recreation, food and agriculture, broadband, and outdoor manufacturing, with state and local community leaders as part of the Main Street Montana – Rural Partners Project.

Governor Steve Bullock and Lt. Governor Mike Cooney last month launched a new initiative of the Main Street Montana Project which will focus on building economic opportunities in rural and tribal communities in Montana. Lt. Governor Cooney is engaging in six initial community partnerships, including in Troy, to provide meaningful assistance and bring economic and community development projects to fruition.

Lt. Governor Mike Cooney will meet with local community leaders at the Silver Spur Restaurant in Troy on Friday, October 12th from 3-4:30PM as part of the Main Street Montana – Rural Partners Roundtable. Also present will be representatives of the Governor's Office of Economic Development, Montana Department of Agriculture, Montana Department of Commerce. The Silver Spur Restaurant is located at 13891 US 2 in Troy.

---
Troy School District Winter Events (posted 10/11/18)
Mark your calendar
Monday, Oct. 29: Northwest Montana Chorale Express HS Auditorium, Troy is hosting this year. A concert of a combination of 6 HS choirs - Libby, Troy, Eureka, Plains, Noxon, Thompson Falls. A guest director will come over and rehearse with the students starting at noon, and then a concert for the public at 6:30PM. This year's guest director is Nicole Sanford from Flathead Valley Community College. The Libby's Select Children's Choir will perform as a guest choir. Free Admission.

Tuesday & Wednesday, November 13th & 14: Troy High School Play 7:00PM HS Auditorium. Troy JH and HS drama club present "Check Please: Take 1, 2, & 3" a comedy about blind dating. Adventure with "Guy" and "Girl" who go on very absurd dates with people they have met online. Admission is $4 for students and $6 for adults.

Monday, December 17: Troy Winter Concert 7:00PM Junior High Band, High School Band, and High School Choir Winter Concert in the Auditorium. Free Admission

Thursday, December 20: Morrison Elementary Winter Concert: At 6:00PM in the Troy Activities Center. Bring a canned food for admission.

---
Thursday Night Pursuits in October in Libby (posted 9/28/18)
Libby Christian Church presents Thursday Night Pursuits for five Thursdays in October. They will be in hunting season starting October 18 at 7 pm. There will be videos of local wildlife, weekly firearm giveaways and other fun drawings, children's programming. Libby Christian Church is located at 100 Kootenai River Road. For more information go to libbychristianchurch.com/events or call 406-293-3747.

---
Grizzly Bear returned to Cabinet Mountains (posted 9/15/18)
Grizzly Bear returned to Cabinet Mountains
A subadult male grizzly bear was captured in north Idaho and returned to the Cabinet Mountains in northwest Montana after it frequented a baiting site.

The 2.5-year-old grizzly bear was originally moved to the Cabinet Mountains in late July as part of an augmentation program aimed at saving the grizzly bear population and boosting genetic diversity in the Cabinet-Yaak Ecosystem.

In recent weeks, the bear moved inside the Idaho border south of Cabinet Gorge Dam and was frequenting a bait site for black bears on private property. Black bear season is open in Idaho and baiting is allowed. The grizzly bear did not have any conflicts and there was no indication that it was food conditioned or habituated to people.

Idaho Fish and Game captured the grizzly bear in early September and delivered it to U.S. Fish and Wildlife Service personnel in northwest Montana. In collaboration with Montana Fish, Wildlife & Parks and the U.S. Forest Service, the USFWS released the grizzly bear in a remote section of the upper South Fork of the Bull River.


---
Libby Area Real Estate News – September 2018 (posted 9/1/18)
Alice & Jim - Team Hayes Realtors
How has Libby, Troy, Yaak's Market been in 2018?
January 1, 2018 to August 31, 2018 Current real estate figures were:

SALES & PENDINGS:
110 Residential SALES:
66 in Libby; 39 in Troy; 5 in Yaak

60 Land SALES:
39 in Libby; 19 in Troy; 2 in Yaak

8 Commercial/Multi-Family SALES:
7 in Libby; 1 in Troy

37 Residential PENDING:
27 in Libby; 7 in Troy; 3 in Yaak

6 Land PENDING:
8 in Libby; 6 in Troy; 2 in Yaak

1 Commercial/M-Family PENDING:
1 in Libby

ACTIVE LISTINGS:
125 Residential
ACTIVES: 59 in Libby; 58 in Troy; 8 Yaak

216 Land
ACTIVES: 118 in Libby; 84 in Troy; 14 in Yaak

17 Comm/Multi-Fam
ACTIVE: 14 in Libby; 3 in Troy; 0 Yaak

2018 has been very busy. We have been able to help many people move to their new home, move out of their old home, sell their land, or even move to a new town. But, there have been others who are still looking to sell their home or land or looking to buy that 'just right home' or 'perfect piece of land'. We trust this will be their year.

Inventory is in pretty Short supply and we are looking for more options to offer buyers. If you've 'toyed' with the idea of selling –we would enjoy visiting with you about how we can help.

What Were the Price Ranges of SOLDS so far in 2018?
10K - $150,000 = 42 Sales
151K - $250,000 = 37 Sales; 251K -
$500,000 = 26 Sales
501K - $800,000 = 3 Sales
801K - $1,500,000 = 2

Interest Rates Remain LOW— NOW Could be a Great Time to Purchase
As of 08/31/2018 Conforming & FHA Loans:
30-Year Fixed; Interest = 4.66%; APR= 4.73%
15-Year Fixed; Interest = 4.14 %; APR= 4.26%
Information obtained from Montana Regional MLS (MRMLS)

Cell #'s:
(Alice) 406-293-8364
(Jim) 406-293-1926

Emails:
alice@alicehayes.com
jim@alicehayes.com
Website: www.alicehayes.com

Loveless Realty - 519 W. 9th - Libby, MT 59923

---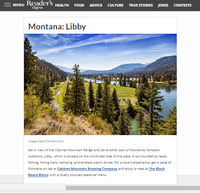 Charming Libby, Montana

Libby, Most Charming Small Town in Montana (posted 8/14/18)
According to Reader's Digest
Reader's Digest posted a story under the Travel section of their website on "The Most Charming Small Town in Every State." Libby was selected as the Most Charming Small Town for Montana. "You'll find the heart of America in these small-town gems lost in time. Add them to your must-visit list now," said author Lyn Mettler.

"Set in view of the Cabinet Mountain Range and yet another part of Montana's fantastic outdoors, Libby, which is located on the northwest side of the state, Libby is surrounded by lakes, fishing, hiking trails, camping, and endless scenic drives. For a local's experience, get a taste of Montana on tap at Cabinet Mountain Brewing Company and enjoy a meal at The Black Board Bistro with a locally-sourced seasonal menu."

Click on this link for their complete list of Most Charming Towns:
https://www.rd.com/advice/travel/most-charming-small-towns-in-every-state/

---
Libby lies in the northwest corner of Montana and is nestled in a valley carved by the Kootenai River on the flank of the majestic Cabinet Mountain Range and Wilderness Area. Today about 2,800 people live within Libby proper. The main industries are lumber and wood products, mining, tourism and recreation. The movies "The River Wild" and "Always" were filmed here. Contact the Libby Chamber of Commerce for brochures, info on lodging and events, general area information, and contact information for local businesses and services.
SUMMER
When the weather warms and the mountain snows melt away, the Kootenai National Forest comes alive with over 2.2 million acres of public land as a playground. Mountain trails and lakes open up, beautiful wildflowers come in bloom, and wildlife have their young. Libby is the basecamp for the Cabinet Mountains Wilderness Area, 90-mile long Lake Koocanusa, the Northwest Peaks Scenic Area, and the Ten Lakes Scenic Area. There is good access to most of the Forest and plenty of room to get away from it all!
WINTER
Winter in Montana means snow, and lots of it! For those who love to play in the deep powder, the Libby area offers tremendous winter fun. Turner Mountain Ski Area, located just 22 miles from Libby, offers challenging downhill skiing with a beautiful view. Their slogan is "steep, deep and cheap", and Turner definitely lives up to that. It's still fairly undiscovered, so you can escape the crowds and get the cheapest lift tickets around. For those who love snowmobiling, there are hundreds of miles of backcountry roads to sled on in the Kootenai National Forest. Cross-country skiers and ice fishermen also can find solitude on a lake and miles of quiet forest trails to enjoy the outdoors. Those who are a bit on the wild and crazy side will love the antics of the Libby Polar Bear Club. Members take winter-time "swims" in frigid Libby Creek every Sunday from October to April. Plungers have ranged in age from 3 to 61. As long as the ice can be broken on the creek, if it has formed, the group will take their plunge, no matter the temperature.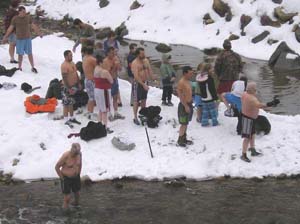 These people must be craaaazzzzzy!
Libby Polar Bear Club