News:
Candidate Forum Sept. 23 in Libby (posted 9/22/14)
The Libby Area Chamber is sponsoring a Candidate Forum on September 23 at 6:00pm at the Maki Theater.
Send in questions that you would like to have answered from the candidates. Your name will not be made public and the Chamber Board will review the questions before asking them. Send to Pam Peppenger, Libby Area Chamber of Commerce, 406-293-4167, executivedirector@libbychamber.org.

---
Standoff ends with manís arrest (posted 9/7/14)
Duane Williams, KLCB-KTNY Radio
Larry Mathew Hanson, age 45, of Libby, is currently being held at the Lincoln County Detention Center. Hanson has been charged with Violation of a Protective Order - 3rd Offense, $100,000 bond and is being held on a Felony Bench Warrant issued by District Court Judge James Wheelis with a bail of $10,000,000 (ten million dollars).

Thursday night, Sept. 4th about midnight, Lincoln County deputies and Libby police officers responded to find three men outside of a residence at River's Edge Trailer Court on highway 37, north of Libby. They were concerned about the well-being of a woman inside and were able to determine that Hanson was inside the home, in violation of a restraining order issued by Lincoln County Justice of the Peace Jay Sheffield. Deputies were able to make temporary visual contact with the woman in the house.

Hanson had recently been disguising himself in order to visit the home unnoticed.

A search warrant was obtained from Justice Court. Telephone contact was made with Hanson, who was in the home.

Sheriff Roby Bowe negotiated Hanson's surrender to deputies at approximately seven hours later about 7:05 a.m.
___________________________________________

By Duane Williams, KLCB-KTNY Radio, e-mail: klcb@frontiernet.net, www.klcb-ktny.com

---
Drowning victim recovered (posted 9/5/14)
Duane Williams, KLCB-KTNY Radio
The body of drowning victim, Anthony Joseph Bachman, was located and recovered from Middle Thompson Lake, Thursday, at about 11 a.m.

Four dog teams from David Thompson Search and Rescue had been searching the Middle Thompson Lake, and had multiple dog alerts over several days that correlated well with the point last seen.

Flathead County Sheriff's Office responded with a remotely operated vehicle. The body was quickly located in about 75 feet of water. Divers from David Thomson Search and Rescue and the Lincoln County Sheriff's Office subsequently recovered the body, which was turned over to the Lincoln County coroner.

Anthony Joseph Bachman, age 62, of Missoula, drown August 16th after falling off of the bow of a moving pontoon boat on Middle Thompson Lake, across from Logan State Park, about 45 miles southeast of Libby. Witnesses aboard the boat attempted to rescue Bachman but were unsuccessful. Bachman was not wearing a personal flotation device. Initial indications are that alcohol consumption was a major contributing factor to this accident.
____________________________________________

By Duane Williams, KLCB-KTNY Radio, e-mail: klcb@frontiernet.net, www.klcb-ktny.com

---
Caller ID Spoofing (posted 8/27/14)
Caller faking phone numbers for spam phone calls
Dawn Ballou, Editor, LibbyMT.com
Earlier this week we received an angry phone call from a woman who said she was tired of receiving phone calls two or three times a day from "Libby" and what she claimed was our business phone number. The calls were spam for credit card offers and other things. She insisted we stop calling her.

The problem for both of us is that we arenít the ones calling her.

Most everyone gets these kinds of recorded and live sales pitches every day. The puzzling part of this one is that the called insisted our phone number and business name were what was displayed in the Caller ID.

Since we arenít making these calls, we want to make our readers aware that there are companies and devices that allow people to mask or change their Caller ID number that comes up on the recipientís phone display. Itís called "Caller ID Spoofing," and can have serious consequences for anyone not aware this is possible and is tricked into giving out personal information over the phone to a scammer.

Spoofing the Caller ID number is not illegal in the United States, except for in cases where fraud occurs. Federal Communications Commission (FCC) rules prohibit telemarketers from blocking Caller ID information and require them to pass accurate caller ID numbers. However, for calls done for pranks, amusement, or revenge, it is perfectly legal to alter the Caller ID number.

A quick Google search will reveal a host of companies that offer special phone cards to do this service with them, for a fee. Their websites explaining the service give a number of flimsy, but plausible, excuses why someone might want to hide their real phone number: to get their teenager to answer the phone from their parent; professionals wanting to call patients but donít want their real cell phone number to get out; pranksters wanting to pull one over on a friend; law enforcement uses. The process is as easy as punching in three phone numbers: your own number, the number you wish to call, and the number you want to show up on the phone Caller ID display when the call is made. Any 10 digit number can be used. Not only will the number show up, but also the name registered for that number would automatically appear. Voices can be altered to male or female during the call. Spoofcards can be purchased online and are relatively cheap for 60 minutes and up to 8-hours worth of spoof calling time for under $100. For those using voice over IP, faking Caller ID is as easy as editing a configuration file on the computer.

There may be some people who need this service for legitimate purposes, but clearly this technology is being used be crooks wanting to mask unsolicited sales calls and get around the Do Not Call legislation and the fines for unsolicited sales calls.

Unsuspecting victims who rely on the Caller ID number to screen their calls will answer a recognized number and potentially fall for the pitch of a slick salesperson or con artist to give out confidential information. More sinister uses include stalking and a whole host of identify theft purposes.

A big concern is people being tricked by calls appearing to come from their bank, credit card company or a government agency and persuading victims to give up their personal identity and financial information that a thief can use to empty their bank account, open a new account, apply for loans or obtain credit cards. Imagine a phone call with the Caller ID showing up as your local bank or credit union in Libby and the representative says they are verifying account information and just need you to answer a few quick questions (social security number, motherís maiden name, account pin numberÖ) Minutes later your account is cleaned out.

An online article on the topic of Caller ID spoofing tells of another variation where a victim receives a phone call claiming they missed jury duty and asks for their Social Security number. The call seems legitimate because the Caller ID displays the number for the local courthouse.

Imagine a call coming in appearing to be from the Lincoln County Sheriffís Office and a kind "detective" claiming to be working on a fraud protection incident theyíve uncovered with you as the possible target and they just want to verify your social security number and bank accounts "for your protection"Ö

At the federal level, the Truth in Caller ID Act of 2009 offers some protections for traditional telephone and voice over internet protocol (VOIP), but does make exceptions for use for certain law-enforcement purposes. Callers are also still allowed to preserve their anonymity by choosing to block all outgoing caller ID information on their phone lines. A number of states have also begun to pass their own laws under deceptive trade practices and consumer fraud acts. These laws still only prohibit Caller ID spoofing for fraud purposes. Uses by individuals for amusement or revenge is still legal.

If you have caller ID and receive a call from a telemarketer without the required caller ID information, and you suspect that Caller ID information has been falsified, or you think the rules for protecting the privacy of your telephone number have been violated, you can file a complaint with the Federal Communications Commission (FCC). You can file your complaint electronically using the on-line complaint Form 1088 found on the FCC Web site at www.fcc.gov/cgb/complaints.html. You can also file your complaint by e-mailing fccinfo@fcc.gov; calling 1-888-CALL-FCC (1-888-225-5322) voice or 1-888-TELL-FCC (1-888-835-5322) TTY; faxing 1-866-418-0232; or writing to:
Federal Communications Commission
Consumer & Governmental Affairs Bureau
Consumer Inquiries and Complaints Division
445 12th Street, SW
Washington, D.C. 20554

How to protect yourself:
1. Never give out personal information such as your Social Security Number, driverís license number, credit card account information or bank account information over the phone. Banks, credit card companies and government offices typically do not call over the phone to confirm this information. They do this via mail.

2. If you think the call is legitimate, call the organization back yourself using a phone number you obtain from an independent source you get yourself. Donít use the number they give you as their contact number, ask that could reroute you to an accomplice in the scheme. Look the phone number up in the phone book or get it off your official paperwork from that company and call back to verify the person and request for your confidential information.

3. Report suspicious phone calls to local law enforcement and any local organization that appears to have their number being used for fraudulent purposes. While there is little that law enforcement and the individual business can do to stop the calls, they can at least alert citizens and customers that the scam is happening and to be wary of suspicious phone calls.
________________________________

For those wanting to research more on this topic, the following keywords provide links to a lot of good articles and reports: Caller-ID spoofing, Caller-ID Fraud, Caller-ID masking, Identity Spoofing, Anti-Spoofing Legislation, Truth in Caller ID Act of 2009.

Related Links:
Caller ID Spoofing - (Wikipedia)
Caller ID and Spoofing - Federal Communications Commission (FCC)
calleridspoofing.info
---
Libby lies in the northwest corner of Montana and is nestled in a valley carved by the Kootenai River on the flank of the majestic Cabinet Mountain Range and Wilderness Area. Today about 2,800 people live within Libby proper. The main industries are lumber and wood products, mining, tourism and recreation. The movies "The River Wild" and "Always" were filmed here. Contact the Libby Chamber of Commerce for brochures, info on lodging and events, general area information, and contact information for local businesses and services.
SUMMER
When the weather warms and the mountain snows melt away, the Kootenai National Forest comes alive with over 2.2 million acres of public land as a playground. Mountain trails and lakes open up, beautiful wildflowers come in bloom, and wildlife have their young. Libby is the basecamp for the Cabinet Mountains Wilderness Area, 90-mile long Lake Koocanusa, the Northwest Peaks Scenic Area, and the Ten Lakes Scenic Area. There is good access to most of the Forest and plenty of room to get away from it all!
WINTER
Winter in Montana means snow, and lots of it! For those who love to play in the deep powder, the Libby area offers tremendous winter fun. Turner Mountain Ski Area, located just 22 miles from Libby, offers challenging downhill skiing with a beautiful view. Their slogan is "steep, deep and cheap", and Turner definitely lives up to that. It's still fairly undiscovered, so you can escape the crowds and get the cheapest lift tickets around. For those who love snowmobiling, there are hundreds of miles of backcountry roads to sled on in the Kootenai National Forest. Cross-country skiers and ice fishermen also can find solitude on a lake and miles of quiet forest trails to enjoy the outdoors. Those who are a bit on the wild and crazy side will love the antics of the Libby Polar Bear Club. Members take winter-time "swims" in frigid Libby Creek every Sunday from October to April. Plungers have ranged in age from 3 to 61. As long as the ice can be broken on the creek, if it has formed, the group will take their plunge, no matter the temperature.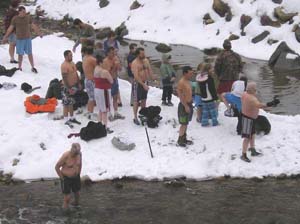 These people must be craaaazzzzzy!
Libby Polar Bear Club