News:
Reynolds Creek Fire update – July 28, 2015 (posted 7/28/15)
National Park Service - Glacier National Park
Update July 28, 2015 8:00AM: The Reynold Creek Fire started on Tuesday, July 21st and is located approximately 6 miles east of Logan Pass, 4 miles west of St. Mary Visitor Center. Current size is estimated at 3,170 acres and it is about 45% contained. The cause is under investigation. One structure has been lost, the historic Baring Creek patrol cabin. The fire is burning along the north shore of Saint Mary Lake, in rocky, rugged terrain and burning in timber, brush, and grass.
Fire Information Hotline: (406)732-7791
Personnel Assigned: 691, including 8 Interagency Hotshot crews and 8, 20-person hand crews and other various personnel

Equipment Assigned: 23 engines, 8 helicopters and multiple shared resources

Cooperating Agencies: Resources from Flathead National Forest, Glacier County, East Glacier, Babb, St. Mary, Cutbank, Evergreen, and West Valley Fire Departments, Blackfeet Fire Management, Montana Department of Natural Resources, Flathead County, as well as Glacier County and Montana Disaster & Emergency Services are assisting Glacier National Park.

Yesterday's actions (Monday, July 27, 2015): The cloud cover and the rain throughout the day subdued the fire. Crews continued building fire line in the area above Going-to-the Sun Road on the west end of the fire and mopped up hot spots within the perimeter. Helicopters flew limited missions due to the weather. Structural protection continued at Rising Sun with firefighters dropping hazard trees and clearing debris in adjacent areas.

Today's planned actions: Firefighters are prepared for increased fire activity due to today's predicted higher temperatures and lower humidity. Crews have completed line on the southwest edge of the fire. They will extinguish hot spots 100 feet from the fire perimeter. On the northeast end of the fire, firefighters are continuing to build line and assess potential areas for fire spread. Helicopters will support crews with water drops as needed. Hazard tree and debris removal continues along Going-to-the-Sun Road. Structural protection is still in place in the Rising Sun area.

Closures: The Going-to-the-Sun Road is closed from just beyond the St. Mary Visitor Center on the east side and Big Bend on the west side, a distance of 18 miles. Additionally, the St. Mary Campground, the Rising Sun Motor Inn, the Rising Sun Campground and Logan Pass are still closed to the public.

Openings: The St. Mary Visitor Center has re-opened with hours from 8:00 a.m. to 6:00 p.m., with limited services. The Sperry Trail is open from Lake McDonald Lodge to Gunsight Pass. Any travel beyond the pass is closed due to fire activity. The Lake Ellen Wilson Backcountry site is also open.

The majority of Glacier National Park remains open with many excellent recreation opportunities available.

For more information and updates: For information on current park activities, visit www.nps.gov/glac, Facebook.com/GlacierNPS, twitter.com/glaciernps, or flickr.com/photos/glaciernps. Additionally, current conditions can be viewed on park webcams at: http://www.nps.gov/glac/learn/photosmultimedia/webcams.htm. Additional updates about the wildfire can be found on the Inciweb national fire situation website: http://inciweb.nwcg.gov; on the top right corner of the homepage, select Reynolds Creek Fire from the drop-down list.

---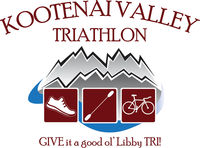 Kootenai Valley Triathlon August 29th in Libby

Kootenai Valley Triathlon August 29th (posted 7/23/15)
5K run/7 mile paddle/7.5 mile pedal
Libby Christian Church is sponsoring the Kootenai Valley Triathlon on Saturday, August 29th. This is a 5K run/7 mile paddle/7.5 mile pedal, a competitive race for serious racers and a great triathlon to try as a beginner. Participants may take part in the race individually or in teams. The event starts at 9:00AM.

More information about the race is available at libbychristianchurch.com or stop by the church office to pick up a registration form. Mail completed forms to: Libby Christian Church, 100 Kootenai River Road, Libby, MT 59923 (attn: Triathlon) or drop it by the church office. For more information contact Jared Lampton at 406-283-1582 or Matt Warner at 406-293-3747.

---
Stage I Fire Restrictions still in effect for NW Montana (posted 7/21/15)
Northern Rockies Coordination Group – Kalispell Area
Stage I Fire Restrictions are still in effect across North West Montana.

Jurisdictions include:
• Flathead National Forest
• Kootenai National Forest
• Bob Marshall Wilderness Lands within the Flathead National Forest
• Glacier National Park
• Confederated Salish and Kootenai Tribes
• U.S. Fish & Wildlife Service
• MT-DNRC Northwestern Land Office
• Montana Fish Wildlife and Parks Region 1
• Counties: Flathead, Lake, Lincoln, and Sanders
• Property within city limits in the area are EXEMPT from this order

Stage I fire restrictions apply to campfires and smoking. This last week, wildland fire agencies have responded to over 34 fires in the area with 17 of those human caused. The human caused fire starts are from unattended campfires, vehicles and logging equipment. Please be careful when working or recreating outdoors.

During Stage I, "Building, maintaining, attending, or using a fire or campfire" is prohibited unless noted in the exemptions. Exemptions include fires fueled solely by liquid petroleum or LPG, or other activities for which there is a permit or written authorization.

Lists of federal and state sites exempted from Stage I, and county-specific conditions under which campfires are allowed are available to the public via www.firerestrictions.us and posted at agency offices and fire departments. Signs will be posted in the field. Completely contained wood stoves with a fire screen or spark arrester are allowed ONLY in the Bob Marshall Wilderness Complex, instead of campfires. Counties allow campfires under certain conditions, and it is your responsibility to know what they are before you light one. By state law, a campfire is defined as "a fire set for cooking, warming, or ceremonial purposes; not more than 3 feet in diameter or height; void of overhanging branches; with all combustible material cleared at least 1-1/2 times the diameter of the fire; or a barbecue in a noncombustible container.

In addition to the campfire restrictions, smoking is prohibited unless within an enclosed vehicle, building, or in an area 3 feet in diameter, that is barren or cleared of all flammable materials.

These restrictions apply to any lands outside of designated city limits, regardless of ownership. The restrictions will remain in effect until there is a significant long-term change in fire danger.

The smallest spark has the potential to cause significant damage, so always crush smokes dead out; never leave a campfire unattended; ensure that your vehicle has a properly installed spark arrester that is operational; stop and park only in areas clear of vegetation; and observe all fire restrictions. Take precautions, but always be prepared: carry a shovel, bucket and fire extinguisher. Also remember that cross country travel is not allowed on most federal and state lands.

---
FVCC Launches Montana's First Brewing Science and Brewery Operations Program (posted 6/18/15)
This fall, Flathead Valley Community College will introduce Montana's first brewing science and brewery operations program to prepare individuals for entry-level careers in the rapidly-growing craft beer industry. With only a handful of these programs taught in the nation, FVCC's program was developed with the input of many local craft brewing businesses to meet the workforce needs at the local and national levels.

According to the Craft Brewers Association, the craft beer industry is growing at a rate of 17 percent annually, currently representing 20 percent of the market share in national beer sales. It is estimated that a new craft brewery opens every 16 hours in the United States and over 115,000 craft brewing industry jobs were created across the nation in 2014. Montana ranks among the top five states in craft breweries per capita.

Students who successfully complete the two-year Associate of Applied Science degree program will have gained practical experience in brewing through coursework and internships at Montana breweries. Graduates will have the skills to demonstrate the fundamental techniques of brewing beer and the understanding of the microbiology and biochemistry concepts involved in beer fermentation. The program also will focus on the production, selection and analysis of brewing materials, including malt and hops; evaluation of beer quality; classification of beer style and characteristics; brewery operations safety; packaging and handling technologies; practical aspects of the brewing process; and business principles, including compliance and licensing.

For more information, contact FVCC Agriculture Program Director Heather Estrada, Ph.D., at (406) 756-4182 or hestrada@fvcc.edu or visit www.fvcc.edu/brewing.
---
Real Estate in Libby and Troy – June 2015 (posted 6/18/15)
Team Hayes Realtors—Alice & Jim Hayes
The figures of the Current Activity and Past Activity show we are moving forward. Our amazing warm and sunny weather puts sellers and buyers in the mood to think about selling and/or think about buying real estate.

2014 showed one (1) more residential sale than 2013. 2014 showed land sales were three (3) less than 2013. 2014 showed one (1) more commercial sale than 2013. We are looking forward to keeping the sales momentum moving throughout 2015.

2015—How is Lincoln County Real Estate Progressing in the New Year?

ACTIVE LISTINGS
298 Residential ACTIVES:
120 in Libby
79 in Troy
11 in Yaak
16 in Flathead
72 in Sanders

380 Land ACTIVES:
125 in Libby
106 in Troy
18 in Yaak
32 in Flathead
99 in Sanders

40 Commercial ACTIVE:
21 in Libby
4 in Troy
3 in Yaak
2 in Flathead
10 in Sanders

January 1, 2015—June 1, 2015 Current Real Estate Figures:
SALES & PENDINGS
47 Residential SALES:
28 in Libby
8 in Troy
10 in Sanders
1 in Flathead

18 Land SALES:
7 in Libby
6 in Troy
3 in Yaak
1 in Flathead
1 in Sanders

4 Commercial SALES:
4 in Libby

36 Residential PENDING:
18 in Libby
6 in Troy
1 in Yaak
3 in Flathead
8 in Sanders

16 Land PENDING:
7 in Libby
5 in Troy
2 in Flathead
2 in Sanders

1 Commercial/M-Family PENDING:
1 in Flathead

Information obtained from Lincoln County MLS.

Interest rates remain at ALL Time LOWS.
Inventory selections are growing.
NOW could be a Great Time to buy or sell!
As of 6/01/2015 Conforming & FHA Loans:
30-Year Fixed; Interest = 4.11%; APR= 4.18%
15-Year Fixed; Interest = 3.31%; APR= 3.44%

So How Did Our Market Actually Do? Let's Compare

January 1—December 31, 2014
157 Residential SOLDS
53 Land SOLDS
8 Commercial SOLDS

January 1—December 31, 2013
156 Residential SOLDS
56 Land SOLDS
7 Commercial SOLDS

January 1—December 31, 2012
120 Residential SOLDS
33 Land SOLDS
6 Commercial SOLDS

January 1—December 31, 2011
111 Residential SOLDS
37 Land SOLDS
7 Commercial SOLDS

January 1—December 31, 2010
93 Residential SOLDS
28 Land SOLDS
0 Commercial SOLDS

January 1—December 31, 2009
82 Residential SOLDS
33 Land SOLDS
6 Commercial SOLDS

Information obtained from Lincoln County MLS.

Team Hayes Real Estate
Alice and Jim Hayes
406-293-8364
406-293-1926
alice@alicehayes.com
jim@alicehayes.com
www.alicehayes.com

---
Libby lies in the northwest corner of Montana and is nestled in a valley carved by the Kootenai River on the flank of the majestic Cabinet Mountain Range and Wilderness Area. Today about 2,800 people live within Libby proper. The main industries are lumber and wood products, mining, tourism and recreation. The movies "The River Wild" and "Always" were filmed here. Contact the Libby Chamber of Commerce for brochures, info on lodging and events, general area information, and contact information for local businesses and services.
SUMMER
When the weather warms and the mountain snows melt away, the Kootenai National Forest comes alive with over 2.2 million acres of public land as a playground. Mountain trails and lakes open up, beautiful wildflowers come in bloom, and wildlife have their young. Libby is the basecamp for the Cabinet Mountains Wilderness Area, 90-mile long Lake Koocanusa, the Northwest Peaks Scenic Area, and the Ten Lakes Scenic Area. There is good access to most of the Forest and plenty of room to get away from it all!
WINTER
Winter in Montana means snow, and lots of it! For those who love to play in the deep powder, the Libby area offers tremendous winter fun. Turner Mountain Ski Area, located just 22 miles from Libby, offers challenging downhill skiing with a beautiful view. Their slogan is "steep, deep and cheap", and Turner definitely lives up to that. It's still fairly undiscovered, so you can escape the crowds and get the cheapest lift tickets around. For those who love snowmobiling, there are hundreds of miles of backcountry roads to sled on in the Kootenai National Forest. Cross-country skiers and ice fishermen also can find solitude on a lake and miles of quiet forest trails to enjoy the outdoors. Those who are a bit on the wild and crazy side will love the antics of the Libby Polar Bear Club. Members take winter-time "swims" in frigid Libby Creek every Sunday from October to April. Plungers have ranged in age from 3 to 61. As long as the ice can be broken on the creek, if it has formed, the group will take their plunge, no matter the temperature.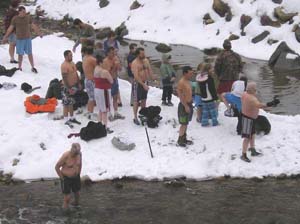 These people must be craaaazzzzzy!
Libby Polar Bear Club