News:
Court ruling reinstates the 2022 wolf hunting and trapping regulations (posted 11/29/2022)
Montana Fish, Wildlife & Parks
Montana's 2022 wolf regulations passed by the Fish and Wildlife Commission in August will go back in effect immediately after a court ruling in a lawsuit against Montana Fish, Wildlife & Parks denied the plaintiff's motion for a preliminary injunction and lifted a temporary restraining order.

The lawsuit challenges Montana's wolf management. Two weeks ago the judge in the case issued a temporary restraining order reverting wolf regulations back to the 2020 wolf hunting and trapping season. That temporary restraining order expired Tuesday, November 29, 2022.

Though the court denied the plaintiff's motion for a preliminary injunction, the lawsuit is still ongoing.

Wolf hunting season is open across Montana, as defined in the 2022 wolf regulations. This includes wolf management unit 313, which borders the area north of Yellowstone National Park. The quota in this WMU 313 is six wolves.

Trapping for wolves remains closed in areas with occupied grizzly bear habitat.

Bear activity is still high in many areas as bears prepare to enter their winter dens. Trapping season in occupied grizzly bear habitat will be closed until bear activity decreases or Dec. 31, whichever comes first. FWP staff will assess bear activity on a weekly basis and may open areas to trapping if bear activity decreases.

---
Libby lies in the northwest corner of Montana and is nestled in a valley carved by the Kootenai River on the flank of the majestic Cabinet Mountain Range and Wilderness Area. Today about 2,800 people live within Libby proper. The main industries are lumber and wood products, mining, tourism and recreation. The movies "The River Wild" and "Always" were filmed here. Contact the Libby Chamber of Commerce for brochures, info on lodging and events, general area information, and contact information for local businesses and services.
SUMMER
When the weather warms and the mountain snows melt away, the Kootenai National Forest comes alive with over 2.2 million acres of public land as a playground. Mountain trails and lakes open up, beautiful wildflowers come in bloom, and wildlife have their young. Libby is the basecamp for the Cabinet Mountains Wilderness Area, 90-mile long Lake Koocanusa, the Northwest Peaks Scenic Area, and the Ten Lakes Scenic Area. There is good access to most of the Forest and plenty of room to get away from it all!
WINTER
Winter in Montana means snow, and lots of it! For those who love to play in the deep powder, the Libby area offers tremendous winter fun. Turner Mountain Ski Area, located just 22 miles from Libby, offers challenging downhill skiing with a beautiful view. Their slogan is "steep, deep and cheap", and Turner definitely lives up to that. It's still fairly undiscovered, so you can escape the crowds and get the cheapest lift tickets around. For those who love snowmobiling, there are hundreds of miles of backcountry roads to sled on in the Kootenai National Forest. Cross-country skiers and ice fishermen also can find solitude on a lake and miles of quiet forest trails to enjoy the outdoors. Those who are a bit on the wild and crazy side will love the antics of the Libby Polar Bear Club. Members take winter-time "swims" in frigid Libby Creek every Sunday from October to April. Plungers have ranged in age from 3 to 61. As long as the ice can be broken on the creek, if it has formed, the group will take their plunge, no matter the temperature.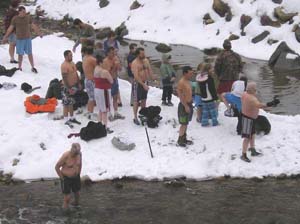 These people must be craaaazzzzzy!
Libby Polar Bear Club