News:
Heritage Museum Holiday Bazaar Nov. 4 & 5 (posted 11/1/2022)
Kick off the season with the Holiday Bazaar! The Heritage Museum will once again host their Holiday Bazaar to kick off the holiday season after a 2-year hiatus due to COVID.

This is the place to get an early start on your holiday shopping. An array of handcrafted items will be displayed throughout the museum.

Friday, November 4th from 4 to 7 p.m. and Saturday, November 5th from 10 a.m. to 4 p.m. the museum will be filled with music and holiday cheer as shoppers search for those perfect gifts. There will be handcrafted gifts, décor and edibles. In addition, the Museum's table will be filled with items and gift certificates that have been generously donated for this fundraiser by local merchants and friends of the museum. 100% of the money earned at this table goes directly to the museum.

The Kootenai Valley Quilt Guild will have a beautiful display of their seasonal quilts in the Tower Gallery. Don't miss this kaleidoscope of color!

In the cookhouse, located at the end of the parking lot, you will have your choice of homemade soups on Friday night. Come straight from work and have a comforting bowl of chicken noodle or potato soup before you shop. Saturday we'll be serving everyone's favorite – hamburgers and hot dogs. Be sure to save room for dessert! There will be a selection of homemade pies and other treats both Friday and Saturday.

There will be a Silent Auction for a 7-night stay at the Pend Oreille Shores Resort in Hope, Idaho. You could enjoy this getaway in a one-bedroom condo which sleeps four, with a fully equipped kitchen and fireplace. Also on site is an athletic club with indoor pool, indoor and outdoor hot tubs, sauna, steam room, tanning bed, weight room and racquetball courts. Bidding begins Nov. 4th at 4:00 p.m. and closes Nov. 5th at 3:00 p.m. Full details available at the Holiday Bazaar Silent Auction table.

The Holiday Bazaar is a major fundraiser for the Museum. The Museum depends on the Holiday Bazaar to cover the yearly insurance premium and winter heating bills. A portion of the profit will come from the Holiday Raffle. First prize is $400 cash donated by Edward Jones Investments. Second prize is four $25 gift certificates to The Shed donated by The Shed. Third and Fourth prizes will be baskets filled with wares donated by participating crafters. Tickets are 12 for $10, 6 for $5 or $1 each. The drawing will take place during the Winter Expo at the Museum, Saturday, December 17th at 3 p.m. You need not be present to win.

Related Links:
www.libbyheritagemuseum.com The Heritage Museum

---
How was the Real Estate Market in 2021? (posted 1/23/2022)
Guest article by Alice Hayes/Team Hayes Realtors
1/1/2021 - 12/31/2021 Real Estate Figures were:
253 Residential SALES:
169 Libby; 64 Troy; 20 Yaak

184 Land SALES:
90 Libby; 76 Troy; 18 Yaak

15 Comm/Multi-Family SALES:
10 Libby; 3 Troy; 2 Yaak

42 Residential PENDING:
30 Libby; 9 Troy; 3 Yaak

24 Land PENDING:
14 Libby; 8 Troy; 2 Yaak

2 Comm/Multi-Family PENDING:
1 Libby

27 Residential ACTIVES:
16 Libby; 9 Troy; 2 Yaak

49 Land ACTIVES:
27 in Libby; 15 in Troy; 7 in Yaak

8 Comm/Multi-Fam ACTIVES:
6 Libby; 2 Troy; 0 Yaak

Interest rates are Truly Amazing! Now could be a great time to purchase.
As of 12/31/2021 - Conforming & FHA Loans:
Per Quicken
30-Year Fixed: Interest/2.875%; APR/3.843%
15-Year Fixed: Interest/2.625%; APR/3.043%

The buying and selling landscape has changed - and still continues to change.
- We are still in a "Seller's Market" and 'low-ball offers' and taking plenty of time to make up your mind is no longer the case.
- If a buyer is serious about making a purchase - they need to be ready - really, really ready.
- If they have a home to sell, that process needs to already be completed and/or the sale must be very close to closing.
- If you will need to obtain a loan in order to purchase. You will need to have been prequalified and have your pre-qualification document in your hand.
- And then there is the very real possibility of Multi-Offers on the place you wish to purchase. With Low Inventory, Historically Low Interest, and Multiple Buyers - folks are sometimes missing out on the places they wish to buy.
- Delays will inevitably happen. Title companies, lending institutions, and appraisers are overwhelmed and delays are happening.
- We are hoping transactions will run smoother in the New Year - and there is a lot more inventory to choose from.

2021 has been a super busy year - and with the 'rush to buy' in Montana - our Inventory of Listings is at an all-time low! We are looking for listings to share with our Buyers. If you have considered selling your home, we would like to visit with you and give you some ideas of how we can help. And you never know - we just might have a very qualified buyer or buyers 'waiting in the wings'!

TEAM HAYES REALTORS LLC
Contact us for more information:
OFFICE #: 406-293-2725
Alice: 406-293-8364, alice@alicehayes.com
Jim: 406-293-1926, jim@alicehayes.com
www.teamhayesrealtors.com
417 Mineral Ave Ste 1 in the Mineral Plaza, Libby, Montana

---
Libby lies in the northwest corner of Montana and is nestled in a valley carved by the Kootenai River on the flank of the majestic Cabinet Mountain Range and Wilderness Area. Today about 2,800 people live within Libby proper. The main industries are lumber and wood products, mining, tourism and recreation. The movies "The River Wild" and "Always" were filmed here. Contact the Libby Chamber of Commerce for brochures, info on lodging and events, general area information, and contact information for local businesses and services.
SUMMER
When the weather warms and the mountain snows melt away, the Kootenai National Forest comes alive with over 2.2 million acres of public land as a playground. Mountain trails and lakes open up, beautiful wildflowers come in bloom, and wildlife have their young. Libby is the basecamp for the Cabinet Mountains Wilderness Area, 90-mile long Lake Koocanusa, the Northwest Peaks Scenic Area, and the Ten Lakes Scenic Area. There is good access to most of the Forest and plenty of room to get away from it all!
WINTER
Winter in Montana means snow, and lots of it! For those who love to play in the deep powder, the Libby area offers tremendous winter fun. Turner Mountain Ski Area, located just 22 miles from Libby, offers challenging downhill skiing with a beautiful view. Their slogan is "steep, deep and cheap", and Turner definitely lives up to that. It's still fairly undiscovered, so you can escape the crowds and get the cheapest lift tickets around. For those who love snowmobiling, there are hundreds of miles of backcountry roads to sled on in the Kootenai National Forest. Cross-country skiers and ice fishermen also can find solitude on a lake and miles of quiet forest trails to enjoy the outdoors. Those who are a bit on the wild and crazy side will love the antics of the Libby Polar Bear Club. Members take winter-time "swims" in frigid Libby Creek every Sunday from October to April. Plungers have ranged in age from 3 to 61. As long as the ice can be broken on the creek, if it has formed, the group will take their plunge, no matter the temperature.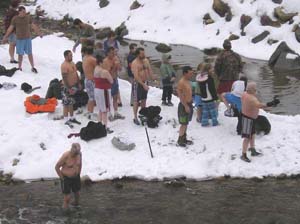 These people must be craaaazzzzzy!
Libby Polar Bear Club