The LibbyMT.com web site is a Visitor's Guide to Libby, Montana. Its purpose is to provide quality information to people interested in either visiting Libby or learning more about what the area has to offer. Our business link section has options for display ads as well as text listings.
Full color, visible 24/7 to a world-wide audience
Hot links to e-mail and your web site from the business directory
Text link to your website from the LibbyMT.com front page
Link Ads are available ONLY to businesses who operate in Lincoln County
Our Business Directory ad dimension are 650 pixels across by 350 pixels tall. We prefer that files be 25K or less in file size. You do not need to have a web site of your own or e-mail to have a Business Link on LibbMT.com. Listings are alphabetical under each category and run for one year. There is no set up fee, but Business Directory listings must be paid for by the year, in advance.
Businesses can have Links under multiple categories, each with different text and pictures. Additional Link Ads are half price, $150/year. Multiple Links are a great way to target specific audiences at a very economical price. For instance, an Outfitter may wish to have a Link Ad on our Outfitters & Guides page to advertise their hunting services, one under the Fishing page for fishing guide services, and one under Snowmobiling for their winter activities. Link Ads are a very economical form of advertising to reach an ever-growing audience, 24-hour a day, 7 days a week. Compare our prices with a display ad in the local newspaper or sport magazine.
Display Ad Example:
(Customer designed ads must be prior approved and meet dimension specifications. Ad file size must be less than 25K.)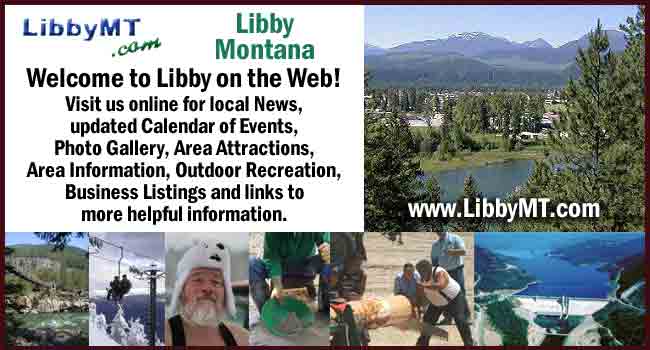 FREE TEXT LISTINGS
LibbyMT.com offers free text-only listings to Lincoln County, Montana businesses and organizations under our Business Directory category pages. Text listings have business name, address, phone number. Condition of hotlinks to your website and e-mail is a hotlink back to LibbyMT.com from your website. LibbyMT.com reserves the right to refuse free listings to businesses or entities we deem inappropriate or objectionable. Please contact us to add, remove or correct your business or organization listing from our Link pages.
__________________________________________________
Example 1 (basic contact info):
Libby RV Camp, 543 Any Street, PO Box 6490, Libby, MT 59923, (406) 293-5555
__________________________________________________
Example 2 (with hotlinks to website and e-mail):
Libby RV Camp, 543 Any Street, PO Box 6490, Libby, MT 59923, (406) 293-5555, info@libbymt.com, www.LibbyMT.com
___________________________________________________