The schedule for the Kootenai River Rodeo will feature
Women's Barrel Racing
Bull Riding
Bareback Bronc
Saddle Bronc
Tie Down Roping
Team Roping
Steer Wrestling
Food and beer will be available. Rodeo events begin at 7:30 pm both evenings.
Tickets for the rodeo can be purchased at Timberline Auto Center and the Chamber of Commerce in Libby. In Troy, tickets can be purchased at Trojan Lanes.
Anyone interested in having a booth or volunteering to help at the rodeo can contact the Libby Chamber for information and a registration form. 406-293-4167, libbyacc@libbychamber.org
Directions to J. Neils Memorial Park: Approximately 1/2 mile north of Libby on Hwy 37, on the opposite side of the Kootenai River. Plenty of parking. Outside arena and bleachers. Food and drink available. Public restrooms.
Photos by Maggie Craig
BBQ
Dancing
Food & Drink
Parking
Public Restroom
Handicap Accessible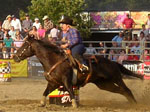 For area iniformation:
Libby Chamber of Commerce
P.O. Box 704
905 W. 9th
Libby, MT 59923
406-293-4167
www.libbychamber.org
libbyacc@libbychamber.org