Ross Creek Cedars

Ross Creek Cedar is a grove of western red cedars, some of which are more than 8 feet in diameter. An interpretive walking tour, slightly less than a mile in length, explains the area ecology and history.

Kootenai National Forest
Ross Creek Cedars Scenic Area page


Ross Creek Giant Cedar Grove
(click on pictures for larger view)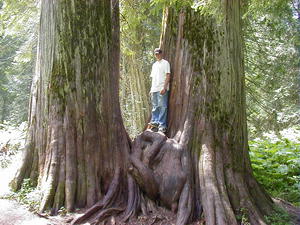 Visitors to northwest Montana often find an ancient forest rivaling the spectacular beauty of the giant sequoias of northern California. Some trees in the grove are more than 400 years old.

Area loggers first noted the beauty of the grove and then worked to protect the tall trees.

In 1960, the Kootenai National Forest set aside the Ross Creek Cedar grove and established it as a scenic area protecting it for scientific and recreational value.

Many of the ancient western red cedars are more than 8 feet in diameter and loom 175 feet above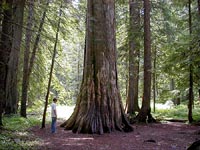 Ross Creek. The self-guided .9 mile loop nature trail through the grove takes about an hour to 1-1/2 hours.
The meandering path leads past informative signs about the history and ecology of the many plant and animal species native to the grove.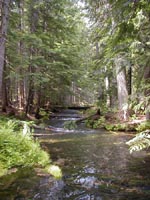 The nature trail often follows the banks of Ross Creek which often runs hidden beneath the rocky stream bottom. The waters of Ross come from the rugged alpine basins and peaks of the upper Ross Creek valley.

Many of these trees still growing in the grove today were here before Columbus set sail for the new world.

The turnoff to the Ross Creek Cedars is found a half mile past the south end of Bull Lake off Montana Highway 56 - known locally as the Bull Lake Road. A 4-mile long, paved windy road climbs to the parking area at the Cedars.

Be aware there may be cyclists and hikers on the narrow road. If time permits, stop at the scenic turnout about 2 miles up the road for a scenic view of the Cabinet Mountains and Bull River valley. You'll be able to hear Ross Creek Falls from this point.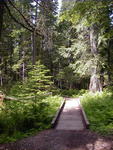 Don't forget to bring your camera for the grove and the excellent view of the Bull River Valley and the Cabinet Mountains. There are picnic tables and handicapped accessible toilets near the entrance to the grove.
There are no camping facilities at the grove, but two campgrounds (Bad Medicine & Door Skeels) are located nearby.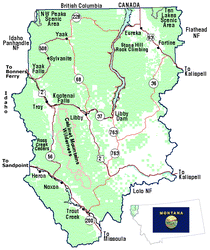 For further information contact:
Kootenai National Forest
506 US Highway 2 West
Libby, MT 59923
(406) 293-6211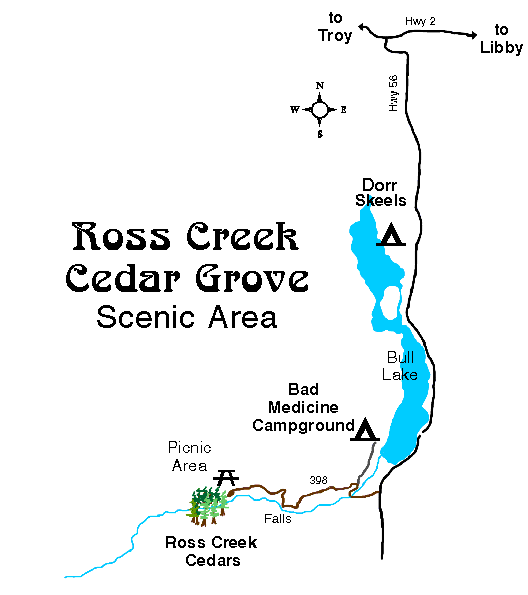 All page content copyright 2013. All rights reserved. Photos and graphics by LibbyMT.com unless otherwise credited.
Kootenai Forest map by Kootenai National Forest



LibbyMT.com
PO Box 940, Libby, MT 59923
406-293-3608
e-mail: info@libbymt.com