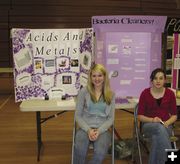 Acids and Metals

Acids and Metals by Audryana Allen, Bacteria Cleaners by Jolee Holder.


Libby Middle School Science Fair Photos
by Kootenai Valley Record
March 4, 2008

Photos from the Libby Middle School Science Fair which was held Feb. 28. Pictures by Kootenai Valley Record.

_________________________________________

Editorís Note: See the March 3, 2008 edition of the Kootenai Valley Record for the printed version of this story. The Kootenai Valley Record publishes once a week, on Monday, in Libby, Montana. They are a locally owned community newspaper, located at 403 Mineral Avenue in Libby. For in-county and out-of-county subscription information, call 406-293-2424, or e-mail kvrecord@gmail.com.




Related Links