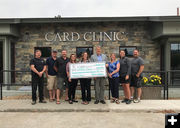 CARD donation

(L-R) LeRoy Thom, Jason Williams, Jon Roberts, Jamie Rosling, Donna Williams, Brad Black, Tracy McNew, Erica Hartley, and Joe Miller pose with the $24,381.94 check donated to the CARD Clinic by the CARD Foundation. The money was raised during this year's Big Sky Bash and it will be used to help fund the clinic's new parking lot. Photo courtesy CARD.


CARD Foundation donates over $24K to new parking lot
by Center for Asbestos Related Disease
August 12, 2019

The Center for Asbestos Related Disease (CARD) Foundation, located in Libby, Montana, recently donated $24,381.94 to the CARD Clinic to help fund a much-needed new parking lot. According to Tracy McNew, Administrative Director at CARD, the clinic needs a new parking lot for safety's sake. The current parking lot is dangerously sloped causing a hazard for patients especially during the winter time with snow and ice. Also, it does not offer any accessible parking for those with disabilities, and it is too small to accommodate the number of patients seen at the clinic on a daily basis.

According to Donna Williams, President of the CARD Foundation board, "The CARD Foundation is very thankful for the public's support of our annual Big Sky Bash, and we are pleased to be able to give this large donation to the clinic for their parking lot." The CARD Foundation received grant money from the Lincoln County Community Foundation and donated an automatic door opener earlier this year to make the CARD Clinic more accessible for patients with disabilities. The new parking lot will further improve access for the disabled and fix basement flooding problems as well.

Dr. Brad Black started the CARD clinic way back in 2003. At first CARD operated with four staff members in a temporary trailer. They eventually bought a building, and later added on to update and accommodate growth. They bought the lot next door to their building about five year ago, and now, finally, after 16 years, they'll have a parking lot big enough to accommodate their growing patient population and 23 person staff.

"It's a relief to finally be able to put in a new parking lot that will make accessing CARD much easier and safer for our patients. We sincerely thank the Foundation volunteers for their efforts and support," said Dr. Black.

Although the parking lot project will cost over $210,000, this donation will help the nonprofit clinic significantly. The new parking lot will double the number of spaces, level the grade, include handicapped parking spots, and improve water drainage. Construction is anticipated to begin in October.

For more information about supporting the project please contact the CARD Foundation by email at foundation@libbyasbestos.org.