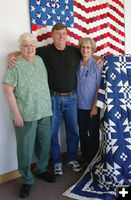 Wings Week

Connie Wood (left) and John and Peggy Craver stand with two quilts made and donated by members of the Libby High School class of 1959 for a raffle to benefit Wings Regional Cancer Support. Raffle tickets are $1 each or six for $5 and are available at The Printing Press/Kootenai Valley Record, Headlines and Mountain Meadows or from Wings volunteers. Photo by Kootenai Valley Record.


Wings gearing up for annual fundraiser
Wings Week May 8-14
by Brent Shrum, Kootenai Valley Record
May 4, 2010

After 15 years of walking the streets in a clown costume soliciting donations for Wings Regional Cancer Support, Peggy Craver says she can count on one hand the number of times she's been turned down. She was confident that the money would go to help other people.

"We never thought we would use it," she said. "We're like every other family in town."

That changed last November when Peggy's husband, John, was diagnosed with lung cancer after visiting a doctor to see what could be done about some back pain he was experiencing.

"They said, 'Have you been real sick lately?'" John recalled. "I said no. They said 'You haven't been real nauseated or throwing up or anything? We think you've got cancer.'"

The diagnosis was "like being kicked in the stomach," John said.

"I feel good," he said. "I can't believe I'm as sick as they say I am."

Since November, John Craver has been through four sessions of chemotherapy and is getting weekly checkups. He's responding well to the treatment and hasn't experienced much in the way of negative side-effects.

"I didn't have nearly as much trouble as some people have," he said. "Some people get really sick on that stuff."

Over the course of his treatment, John has been impressed by the spirit and camaraderie of other cancer patients and their families he's gotten to know.

"I haven't seen any 'poor me' attitudes among any of the people who have this," he said.

Taking care of her husband has taken an emotional toll on Peggy, though.

"We'd walk in and they'd look at me like I was the one who was sick," she said.

Wings has been there to help the Cravers with the financial costs associated with treatment. The organization provides reimbursements for expenses not covered by insurance, like the gas, food and lodging costs that pile up when making repeated trips to a hospital out of town.

People in the local communities have been strongly supportive of Wings since it was founded in 1995, said Connie Wood, one of the original members and also a cancer survivor.

"It's humbling that people just trust that you're going to do the right thing with their money, and it's going where it's supposed to," Wood said.

Over the past 15 years, Wings has retained its loosely organized, all-volunteer structure.

"People say, 'How do I join? Who's your president?'" Wood said. "All you have to do is say, 'I want to help," and you're in."

Last year, Wings provided 121 grants to residents of Lincoln, Flathead and Lake counties adding up to nearly $84,000. In Lincoln County, 56 grants provided more than $40,000 to cancer patients and their families. To date, more than $1 million in assistance has been provided.

The organization's annual fundraising effort, Wings Week, will run from May 8-14. St. John's Lutheran Hospital will give the effort an early boost with a "jeans day" fundraiser on Friday, April 30. On Saturday, May 8, things start in earnest with a Cinco de Mayo buffet dinner and auction beginning at 6 p.m. at the Yaak Tavern. Tickets are $10 at the door.

The annual Wings bowling tournament is set for Tuesday, May 11, starting at 7 p.m. at Lincoln Lanes in Libby and Trojan Lanes in Troy. To sign up, call Jini Huth in Libby at 293-6610 or call Trojan Lanes at 295-5024.

Dollar Day, the heart of Wings Week, will be Wednesday, May 12. Volunteer walkers will be canvassing the communities of Libby and Troy asking for $1 donations. Walkers will meet at 5 p.m. at the fire hall in Libby and at the park in Troy. Donations can also be dropped off at First Montana Bank in Libby or Troy. For more information in Libby, call Connie Wood at 293-4380. In Troy, call Judy Orr at 295-4536 or Bonnie Price at 295-4773.

The week will wrap up on Friday, May 14, with a spaghetti feed and silent auction at the Elks Lodge in Libby. Dinner starts at 6 p.m., and tickets are $8 at the door.
_________________________________

Editor's Note: See the April 27, 2010 edition of the Kootenai Valley Record for the printed version of this story. The Kootenai Valley Record publishes once a week, on Tuesdays, in Libby, Montana. They are a locally owned community newspaper, located at 403 Mineral Avenue in Libby. For in-county and out-of-county subscription information, call 406-293-2424, or e-mail kvrecord@gmail.com.