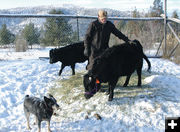 Jean Bourdeau

Accompanied by his dog Elijah, Jean Bourdeau tends to his cows at McGinnis Meadows. Photo by Kootenai Valley Record.


Wolf attack claims cow at McGinnis Meadows
by Brent Shrum, Kootenai Valley Record
January 15, 2010

For the 15 years the Jean and Jan Bourdeau have lived at McGinnis Meadows, wolves have always been a part of life.

"We've always said, 'If they leave us alone, we'll leave them alone,'" Jan Bourdeau said. "Well, all bets are off now."

For the Bourdeaus, the wolves crossed the line last week when they attacked one of their 16 Dexter cattle, a small, hardy, people-friendly breed from Ireland that's well-suited to small farms and rugged landscapes. The Bourdeaus name all their cattle; each one is considered a member of the family.

"It was Dolly," Jan said. "She wasn't even 2 years old. She had her first calf in her."

The Bourdeaus were alerted to the fact that something was wrong before dawn on Tuesday. They heard cows bellowing, their blue heeler Elijah was carrying on, and when they looked outside they could see their cattle circling together into a tight herd.

When they went outside to check, they found Dolly, grievously wounded in the hindquarters, struggling back home.

"She got up and walked in, bless her heart," Jan said. "She didn't have much to walk with by then, but she came into the corral."

The Bourdeaus tended to Dolly as best they could, but to no avail.

"Somewhere in the night, she just passed on," Jean said.

A phone call to Montana Fish, Wildlife and Parks led to a visit Thursday from federal officials from the Department of Agriculture, who confirmed that a wolf had caused Dolly's injuries.

"They basically said, 'Yes, it's a wolf; she's dead,'" Jan said.

The Bourdeaus are waiting on paperwork to fill out for compensation, and they've received permission to shoot wolves to prevent another loss to their herd, but that's small consolation for them.

"Our belief with cows, and why it hurts so bad, is we respect the cow because they keep us humans alive," Jan said. "We eat their meat; we drink their milk."

Jean and Jan Bourdeau believed they were doing everything they could to live responsibly in balance with nature, taking steps like cleaning up afterbirth and bringing in sick cows to avoid attracting predators. They say they don't hate wolves, but they want to be able to live without fear. Something more needs to be done to keep the population in check, they believe.

"We believe that the wolves should be allowed to roam free, but something's upset the balance," Jan said. "We never had a problem before."

Accompanied by his dog Elijah, Jean Bourdeau tends to his cows at McGinnis Meadows. Photo by Kootenai Valley Record.
__________________________________

Editor's Note: See the January 10, 2010 edition of the Kootenai Valley Record for the printed version of this story. The Kootenai Valley Record publishes once a week, on Tuesdays, in Libby, Montana. They are a locally owned community newspaper, located at 403 Mineral Avenue in Libby. For in-county and out-of-county subscription information, call 406-293-2424, or e-mail kvrecord@gmail.com.