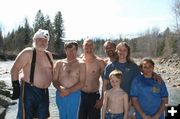 The group of Polar Bears who took the final plunge of the season.


Polar Bears Final Plunge of Season
by Maggie Craig
April 5, 2009

Libby Polar Bear Club members took their 24th and final plunge of the season Sunday afternoon in Libby Creek. It was a beautiful spring day (finally!) to enjoy the last swim of the 2008-2009 season. In addition to the veteran swimmers (Rick Klin, Dan McLaury and Steve Sonju), an intrepid family of four came to watch but decided to swim. Frank Adams, Sarah Oliver, Gavy Oliver and Colten Clemons also took the plunge in 45 degree water. The air temperature was 60 degrees under a glorious blue sky. As always, Marion Hayden was in attendance as the most faithful Polar Bear spectator in Libby.