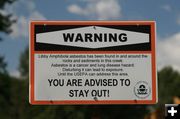 Asbestos Warning Sign

EPA has posted warning signs near areas in Libby that still may pose a health risk due to the presence of asbestos.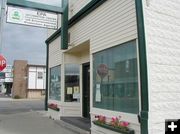 EPA in Libby

Libby has been designated an EPA Superfund site. The EPA has an office downtown. The Zonolite vermiculite mine closed down in 1990. The impacts of the exposure and clean-up efforts continue into to the present.


W.R. Grace asbestos trial to begin Feb.19
Trial being held in Missoula, Montana
by Dawn Ballou, LibbyMT.com
February 16, 2009

The long-awaited trial of W.R. Grace & Co. begins on Thursday, February 19, with jury selection in Missoula. The trial will begin the following week and is expected to last about four months.

The company, and seven top executives have been charged with knowingly exposing employees and the citizens of Libby to harmful cancer-causing asbestos. The government has prepared a 49-page indictment listing 10 specific criminal counts of conspiracy, knowing endangerment, obstruction of justice and wire fraud. Libby has been designated an EPA Superfund site with extensive cleanup operations still on-going. The Zonolite mine shut down in 1990 and its facilities have since been fenced to prevent public access and the grounds have undergone extensive cleanup and mitigation efforts.

Since the grand jury issued the indictments four years ago, one of the accused and at least two of the government's witnesses have died.

The company has unequivocally denied any wrongdoing, maintaining that company officials were concerned about employees and their health and took what steps they believed were reasonable and appropriate at the time.

Below are links to articles about the upcoming trial:

W.R. Grace: The Trial - Former company town plans independent future
http://www.missoulian.com/articles/2009/02/16/news/local/news02.txt
By Michael Jamison, The Missoulian, 2/16/09
This story is about local's perspective on dealing with the aftermath of the town's exposure to asbestos. How that has impacted the lives of local citizens, tourism, land values, local economics and area growth in the future.

Judge: Asbestos sufferers aren't victims
http://seattlepi.nwsource.com/local/400227_asbestos16.html
By Andrew Schneider, Seattle Post-Intelligencer, 2/15/09
Judge Donald Molloy, presiding judge on the long-awaited asbestos trial, ruled last week that "there are no crime victims identifiable" in the environmental-crimes case against W.R. Grace & Co. This story is about local reaction to the judge's decision to bar victims from the courtroom.
The Seattle P-I first exposed the problems with asbestos and the W.R. Grace & Co.'s mining in Libby, Mont., in 1999 in a series called "An Uncivil Action." Click on this link to find that and subsequent stories related to Libby asbestos: http://seattlepi.nwsource.com/uncivilaction/

W.R. Grace civil suits have been in the courts for decades
http://www.missoulian.com/articles/2009/02/15/news/local/news02.txt
By Tristan Scott, The Missoulian, 2/15/09
This story gives background history on litigation prior to the big case against W.R. Grace. The first of many personal injury and wrongful death cases were filed against W.R. Grace & Co. at the Lincoln County Courthouse in Libby in the mid-1980s. The caseload at the courthouse grew to such a volume the county had to designate a worker to specifically handle Grace litigation files.

WR Grace to go on trial this week
http://www.helenair.com/articles/2009/02/15/state/top/65st_090215_grace.txt
By Tristan Scott, The Missoulian, 02/15/09, posted in helenair.com
An indictment unsealed four years ago charges that W.R. Grace & Co. and six of its one-time employees knowingly endangered the lives of mine workers and other residents of Libby, and ignored warnings by state agencies to clean up the contaminated vermiculite mining operation. Asbestos contamination here has been blamed for the deaths of about 200 Libby residents, and has sickened hundreds more, like Strand and her husband.

EPA study shows safe air in Libby
http://www.thewesternnews.com/articles/2009/02/12/news/doc499443738eff1544489067.txt
By Canda Harbaugh, The Western News, 2/12/09
The Environmental Protection Agency held a town meeting in Libby presenting the final draft of results of a two-year study of ambient air quality in Libby. The study took air samples from 18 locations in and around Libby, as well as additional reference samples in Helena and Eureka, from October 2006 to June 2008, to determine the levels of Libby amphibole. EPA's conclusion was that asbestos levels in Libby's air are low enough that they don't pose a significant cancer risk.

Asbestos Lawyers Prepare for February Trial Involving Asbestos Titan W.R. Grace
http://www.bestsyndication.com/?q=node/23936
By Jason Wentworth, Best Syndication, 2/9/09
This article looks at the upcoming trial against W.R. Grace from the perspective of asbestos lawyers, calling the case "one of the most significant criminal indictments for an environmental crime in U.S. history." The author is a paralegal who works closely with asbestos and mesothelioma lawyers of Weitz & Luxenberg to raise public awareness of the dangers of asbestos.

Libby featured on ABC News Nightline Nov 3 & 4
http://www.libbymt.com/news/2005/11/LibbyfeaturedonABCNe.htm
LibbyMT.com, 11/2/05

EPA Libby Asbestos Information
http://www.epa.gov/region8/superfund/libby/index.html
EPA has been working in Libby since 1999 when an Emergency Response Team was sent to investigate local concern and news articles about asbestos-contaminated vermiculite. Since that time, EPA has been working closely with the community to clean up contamination and reduce risks to human health.

EPA Libby Asbestos Background Information
http://www.epa.gov/region8/superfund/libby/background.html
In response to local concern and news articles about asbestos-contaminated vermiculite, the U.S. Environmental Protection Agency sent an Emergency Response Team to Libby, Montana in late November 1999. The Team immediately began collecting information. EPA's first priority was to assess the current risk to public health from asbestos-contaminated vermiculite in Libby. Next, the Agency began taking necessary actions to reduce this risk. In December 1999 EPA began collecting samples - nearly 700 - from air, soil, dust and insulation at homes and businesses. Indoor air sample results were released in January - first to property owners and then to the media and general public. EPA also moved immediately to locate areas in and near Libby that were likely to have high levels of contamination such as two former vermiculite processing facilities. EPA also looked at general asbestos exposures in the community and at health effects seen in people who had little or no association with the vermiculite mine in Libby. EPA worked closely with local, state and federal agencies to understand how people might come into contact with asbestos-contaminated vermiculite and what can be done to prevent future exposures - in Libby and elsewhere.