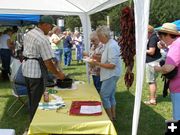 Bob Castaneda

Bob Castaneda serves up his prize-winning chili which was also voted "People's Choice" in 2007. Photo courtesy The Heritage Museum.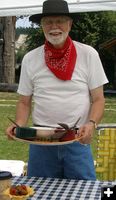 Larry Hebenstreit

Larry Hebenstreit has cooked up winning chili in earlier competitions. File photo courtesy The Heritage Museum.


3rd Annual Chili Cook-off Sept. 20
Proceeds help the Heritage Museum in Libby
by Heritage Museum
September 4, 2008

Entries are still being accepted for The Heritage Museumís Third Annual Chili Cook-Off on Saturday, September 20th. For an entry fee of $5, contestants can compete for the $100 First Prize in each category. Cash prizes of $50 and $25 will also be awarded for second and third places. The gates will open at 7:30 for those who need to start cooking early. Judging begins at noon. Categories will be Chili with Meat, No Beans and Chili with Beans, With or Without Meat. All rules and details are listed on the entry form.

Sampling kits, which include a cup, spoon and cornbread, will be available for $3.00. All proceeds go to the Heritage Museum. A special "Peopleís Choice" award will be given after the public has had the opportunity to sample the chilies and vote for their favorite.

Entry forms are available at Libby, Troy and Eureka Libraries, Libby Chamber of Commerce, AmeriGas, and on the museumís website: www.libbyheritagemuseum.org. The Heritage Museum is closed for the season; however, forms can be mailed to The Heritage Museum, PO Box 628, Libby 59923 along with the $5 fee per entry. Entries are due by Monday, September 15th. Call Chairman Susan Castaneda, 293-2171, for more information.