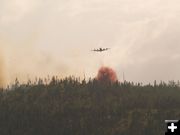 Slurry Drop

A bomber drops a load of retardant on the fire.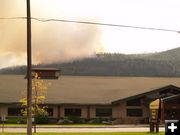 Behind Forest Service

View of smoke from fire Saturday afternoon. The building in the foreground is the Kootenai National Forest Supervisor's Office in Libby.


Wildfire burning in Parmenter Creek area
New fire burning near Libby
by Duane Williams, KLCB 1230 AM Libby News Radio
July 26, 2008

A wild fire broke out around 3pm Saturday afternoon, July 26. The origin appears to be near the Parmenter Trail Head on the Kootenai National Forest, just above Libby.

A bucket chopper has been working the fire since early on. About 5pm a heavy slurry bomber from Moses Lake, Washington, make a slurry run over the fire. It is expected more will follow.

The fire is estimated, and this is entirely an estimate, at about 25-to 30 acres. It is putting up a lot of smoke. There have been brisk winds today.

Contrary to rumors, at 6pm, no evacuations have been ordered. Some residents have been told to gather important belonging in the event an evacuation is called. Again no evacuations have been ordered.

An emergency incident command has been set up at the City Hall by Emergency Services.
_________________________________________

Story and photos by Duane Williams, KLCB 1230 AM Libby News Radio, www.todaysbestcountryonline.com.