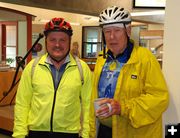 Floyd Beck and Louie Boitano

Floyd Beck, from Libby, and Louie Boitano, from Fife, Washington, have ridden in all 14 STOKR's. Photo courtesy Susie Rice.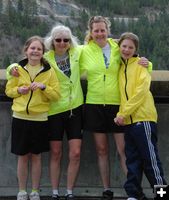 3 Generations!

There were two, three generation groups on STOKR this year. Photo courtesy Susie Rice.


2008 STOKR Photo Gallery
by LibbyMT.com
May 12, 2008

The 2008 STOKR was held on May 10 & 11th. STOKR, Scenic Tour of the Kootenai River, is held each year on the second weekend in May.

The STOKR bike ride benefits the Kootenai Valley Partners Habitat for Humanity. Money raised goes to build Habitat for Humanity homes for those in need in Libby, Montana. To date, seven homes have been built in our community with funds raised by STOKR. It takes two STOKR fundraisers to build one Habitat for Humanity Home.

STOKR has a limit of 400 riders each year. Refreshment stops are available both days with food and snacks available to riders. Libby towns people donate homemade cookies, pasta salads, pots of soups and sub sandwiches for the food stops. The pie stop is the all-time favorite on the 98 mile loop.

SATURDAY- Day 1 Kootenai River/Pipe Creek
Saturday offers two options, a 98-mile long and a shorter 45-mile route. Both are very scenic. Start/Finish is at the Libby Chamber of Commerce on Highway 2, with the STOKR Headquarters across the street at the Venture Inn Motel.

Option #1: The 98-mile ride begins in Libby and travels west alongside the Kootenai River. The route turns and follows the Yaak River, by beautiful Yaak Falls, through remote countryside with little one-room schoolhouses and bars like the Golden Nugget and the Dirty Shame. We'll gradually climb 4,000 foot Pipe Creek Pass and be rewarded with a scenic 25 mile descent back to Libby alongside Pipe Creek. It is suggested that you have at least one 50 mile ride, and at least 200 miles on your legs, before attempting this ride.

Option #2: This scenic 45-mile route begins with the 98 milers heading west alongside the Kootenai River. There will be plenty of time to stop and take a short walk to Kootenai Falls (film site of the movie The River Wild). The ride goes beside a meandering blue ribbon trout stream, then over a small farmland plateau. It then returns to Libby along the Kootenai River.

SUNDAY - Day 2 - Lake Koocanusa/Libby Dam
Sunday riders will enjoy a scenic 37-mile ride following the scenic Kootenai River upstream to Lake Koocanusa and the Visitor Center at Libby Dam. We will ride on a private side road where the majority of the traffic will be osprey, deer and squirrels!