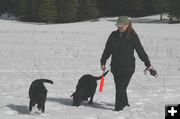 Jill Beach enjoys playing with her two dogs, Abby and Gunny, Saturday afternoon along the Kootenai River below Libby Dam.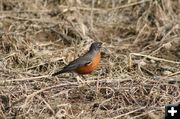 Robins - one of our premiere harbingers of spring!

Signs of Spring
March 1, 2008
There are some hopeful signs of spring emerging...daytime temperatures have nudged into the 50's this past week and the snow is finally melting...the geese are flying overhead, returning to their nesting grounds...red-winged blackbirds and chickadees can be heard with their spring calls...the robins are beginning to return...and people can start getting out to enjoy sunny spring days!