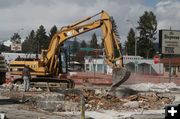 This is what Burger Express looked like on Tuesday.

Burger Express Building Demolished
New building to take its place
March 19, 2008
The former Burger Express/Sunny's building is history this week as contractors began demolition on Monday. Bill and Robin Armstrong, the owners of Burger Express, are building a new restaurant at the site. There will be an enhanced menu, expanded seating, and a whole new look. It's anticipated the new building should be ready for business in July.