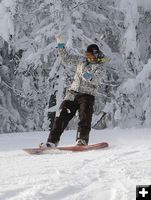 Snowboarding

Snowboarder, Army Pvt. Jacob Kujawa, was on home on leave from Fort Sill, Oklahoma, for six days to see family. He leaves for Africa for duty in mid-March. Jacob is the son of DeeDee and John Kujawa of Libby.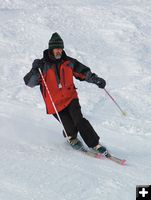 Greg Rice

Dr. Greg Rice of Libby enjoys skiing at Turner.



Turner is open Friday, Saturday and Sunday, holidays and by reservation during the ski season. Lifts run 9:30 AM to 4:00 PM.


Turner Ski Area 'excellent'
Challenging downhill skiing and snowboarding just 22 miles from Libby
by Brent Shrum, Kootenai Valley Record
January 9, 2008

The ski season at Turner Mountain is off to one of its best starts in years thanks to plenty of fresh snow just in time for the holidays.

"The conditions have been stellar," said Bruce Zwang, president of Kootenai Winter Sports, which manages the local ski hill. "We got fresh snow on a number of days through the holidays, so it made for some fabulous powder skiing."

Turner opened for the season on Saturday, Dec. 22, and was open daily through Jan. 1 with the exception of Christmas day. Attendance topped 200 skiers on several days.

"It's probably the best holiday run we've had in seven years or 10 years as far as excellent snow conditions and good attendance," Zwang said.

Jim Mari of Libby was skiing Turner on New Year's Day. It was his third day at the hill after missing the first week due to a trip out of town to visit family for Christmas.

"I got 28 days in last year," Mari said. "Hopefully, this year I'll get more. I've always got a season pass."

Mari has been skiing at Turner for nearly a decade. Before that, he hadn't skied in about 35 years, but some friends taught him the art of powder skiing.

"Mainly, 'Follow me!'" Mari said.

Mari often visits Big Mountain on weekdays when Turner isn't open, but when the conditions are right he'll never pass up a day at Turner.

"I've got a 'Ski Turner Mountain' bumper sticker on the front of my skis, so when I go to Big Mountain people will see it and say, 'What's that?'" he said. "And I tell them."

Sarah Dinning started skiing Turner after the old T-bar lift was replaced with a chair lift in 2002. She'd heard "horror stories" about the supposed difficulty and rustic nature of Turner, which she has since decided may have been somewhat exaggerated.

"Maybe all the old-timers didn't want the secret out," she said.

She said she would rather ski Turner – with its low prices for lift tickets and food, its lack of lift lines and its "camaraderie factor" – than anywhere else. "I'm always disappointed whenever I go somewhere else," she said.

With the chair lift and the new lodge that opened in 2005, Turner retains its charm but offers more amenities. Rental equipment is offered, and lessons are available every Saturday by certified ski and snowboard instructor Chad Munro.

"So many people think it's the old Turner with the old T-bar and the old snack shack with no equipment and no bathrooms and it's just brutal," Dinning said. "And it's just not that way."

Dinning's daughter, Riley, is a senior at Libby High School and has been skiing for about four years. She agreed with her mother about the friendly atmosphere at Turner.

"Everyone's accepted," she said.

She finds the runs at Turner challenging enough to help her develop skills that can be put to use elsewhere.

"After skiing Turner and then going to different hills, you definitely feel more confident," she said.

More runs will be groomed this year with the recent acquisition of a second groomer, Zwang said. The increase in groomed terrain may add to Turner's appeal among out-of-town skiers who make it their weekend destination. It's been estimated that over the last couple of years, skiers from outside the area have made up about 25 percent of all visitors to Turner.

That trend seems to be continuing so far this year, Zwang said.

"We were seeing a lot of people coming over the holidays who just didn't want to deal with the crowds at Schweitzer or Big Mountain," he said.

Turner is currently open from 9:30 a.m. to 4 p.m. Friday through Sunday. Current conditions and more information are available online at www.skiturner.com or by calling 406-293-2468.

Photos by Kootenai Valley Record

______________________________

Editor's Note: See the January 7, 2008 edition of the Kootenai Valley Record for the printed version of this story. The Kootenai Valley Record publishes once a week, on Monday, in Libby, Montana. They are a locally owned community newspaper, located at 403 Mineral Avenue in Libby. For in-county and out-of-county subscription information, call 406-293-2424, or e-mail kvrecord@gmail.com.