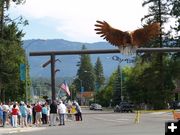 Mineral Avenue Gateway

The new "City of Eagles" Mineral Avenue gateway sculpture was dedicated on Saturday, July 7th.


Libby City of Eagles
New Mineral Avenue Gateway Sculpture
by KLCB 1230 AM Libby News Radio
July 8, 2007

Dignitaries and supporters turned out for the dedication of the new "City of Eagles" gateway sculpture on Mineral Avenue on Saturday morning. The sculpture was one of a series now in Libby done by Todd Berget. The project was part of the Libby Mainstreet Program, funded in part by local businesses, city and county grants and individual donations. To date, the project has raised $25,000 of the total $27,000 cost for the sculpture.

Story information courtesy KLCB 1230 AM Libby News Radio, www.todaysbestcountryonline.com. Photos by Duane Williams.