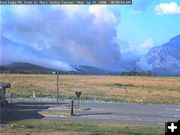 Red Eagle Fire

Red Eagle Fire as seen from the Glacier Park St. Mary webcam. NPS photo.

Wildfire in Glacier National Park grows
Cut Bank area campground, trail and backcountry sites closed due to Red Eagle fire
July 31, 2006
Updated 2:30 PM Monday, July 31
Glacier National Park officials ordered the evacuation of the Cut Bank Creek campground, and residents of the park administrative site at St Marys were evacuated late in the afternoon on Sunday due to a wildfire that started on Friday, July 28. No structures have been lost, and no injuries have been reported.

Location: Glacier National Park and Blackfeet Reservation, approximately 1 mile Southeast of St. Mary's, Montana. It was first reported Friday afternoon after smoke was seen from the St. Mary's Visitor Center.

Size as of Monday, July 31: 22,200 acres

Cause: Under Investigation

Current activity (as of July 31):
Structure protection has been the primary focus of firefighters' efforts. The rapid growth of the fire during the first two days of burning was slowed yesterday even though winds continued to be high. The fire was mapped at 22,200 acres, and it is expected that further mapping will show another increase in size. Glacier National Park ordered the evacuation of the Cut Bank Cr campground, and residents of the park administrative site at St Marys were evacuated late in the afternoon. No structures have been lost, and no injuries have been reported.

Highway 89 remains closed north of Browning at the junction with Star School Road and just south of Babb. Access between Babb and Browning is available via Highway 464 (Duck Lake Road). Going-to-the-Sun Road is open from the west to Rising Sun, where visitors are being asked to turn around. The Cut Bank Creek Campground has been evacuated and closed. The remainder of Glacier National Park remains open for visitor activities.

Structure protection will again be the priority at St Marys on Monday. Construction of bulldozer line will be extended on the North divisions of the fire. Crews will continue handline construction West of the highway and South of St Marys to stop the fires advance toward the town and the National Park Service administrative buildings.

A Northern Rockies Type 1 Incident Management Team will be arriving today (Monday) and the transition of the fire to that team will begin.

Resources on fire:
PERSONNEL: 200+
HELICOPTERS: 2
ENGINES: 13
AIR TANKERS: 1
BULLDOZERS: 5
WATERTENDERS: 6

More information
All other areas of the park remain OPEN. The Going-to-the-Sun remains open from the west entrance to Rising Sun. Lodging, food, boat tours, and bus tours remain available throughout the park, including at Rising Sun. Park interpretive programs continue to be offered on the park's west side and on the east side at Many Glacier and Two Medicine.

No programs will be offered at St. Mary Visitor Center until that section of the park reopens. For information on other services, visit the park's website at
www.nps.gov/glac/home.htm.

Extreme fire behavior is occurring through both day and night operations. Firefighter and public safety is the priority concern. Extremely dry fuels, many insect-killed trees, and strong shifting winds provide the potential for active and unpredictable fire behavior. Firefighters also need to use caution regarding the possible presence of bears. Native American cultural sites are a concern for protection from fire and from suppression activities.

Smoke from the fire can be seen from St. Mary and can be seen from points along the Going-to-the-Sun Road. The St. Mary webcam is online at: http://www.nps.gov/glac/webcams/smcam.htm

More current information about the Red Eagle fire is available from "InciWeb," the Incident Information System, which is online at:
Red Eagle Fire.