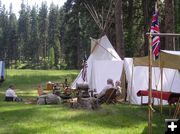 Two Rivers Rendezvous

It was a quiet camp at the Two Rivers Rendezvous Saturday afternoon, due to temperatures well over 100 degrees.


Two Rivers Rendezvous
by Maggie Craig
July 22, 2006

It was an unofficial reading of 107 degrees in Libby Saturday afternoon, but official or not, it was hot! The Kootenai Muzzleloaders held their 11th annual Two Rivers Rendezvous at Fawn Creek Campground, and it was a quiet camp by late afternoon because of the heat. Shooting stopped at 2:00 p.m. due to fire danger. Visiting, napping and looking over wares for sale filled the afternoon.