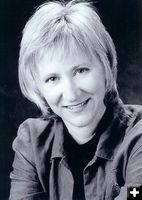 Chrysti Smith

Chrysti Smith will give a free presentation at the Heritage Museum on July 12. Photo courtesy Heritage Museum.


'Eating Our Words' July 12 at Museum
Where did that expression come from?
by The Heritage Museum
July 6, 2006

The Heritage Museum will host the Montana Committee for the Humanities Speakers Bureau program "Eating Our Words" with Chrysti M. Smith on Wednesday, July 12 from noon – 1:00 PM during Lemonade on the Lawn at the Lincoln County Library, 220 West 6th Street, Libby. The presentation is free and open to the public. Partial funding for the MCH Speakers Bureau program is provided by a legislative grant from Montana's Cultural Trust.

"Eating Our Words" is a discussion on the many terms and expressions that make reference to food and eating. The discussion wanders through history and customs, with an eye on food preparation, food fads, and the ways in which food appears in our vocabulary.

How is someone "worth his salt?" Where's the ham in hamburger? How is "cheesecake" both a dessert and an image of a scantily clad woman? Why "couch potato?" If you think "easy as pie" is simple, have you ever tried to make one? Why is "crying over spilled milk" a waste of tears? Why did that apple stick in Adam's throat?

Questions delicious to contemplate. "Eating Our Words" is full of stories about life's most important activity. Audience members will be encouraged to discuss their favorite food expressions, and to page through several dictionaries and word books that specialize in food terms and expressions.

Chrysti M. Smith is writer and host of the radio series "Chrysti the Wordsmith," produced at KGLT-FM on the campus of Montana State University-Bozeman. The series is carried on KGLT-FM in Bozeman, Yellowstone Public Radio in Billings, Montana Public radio in Missoula, and Armed Forces Radio. While searching for new topics for the "Chrysti the Wordsmith" radio series, she discovered dozens of delightful food-related words in specialized dictionaries. Many of these will be discussed in "Eating Our Words." Smith is also author of Verbivore's Feast, a compilation of word and phrase histories. She has been a popular member of the MCH's Speakers Bureau since 1999.

The Heritage Museum will be serving lunch featuring Pizza Hut pizza and salad at Lemonade on the Lawn. For $2 each or $3 for the combo, you can enjoy a delicious meal while listening to the presentation. Many of the salad fixings will come from the Heritage Garden at the museum which was planted this spring as part of the Key Ingredients: America by Food exhibition. This traveling exhibit from the Smithsonian Institution opens at the museum on July 16. For more information on the exhibit or events, please call Laurie Mari at The Heritage Museum, 293-7521.