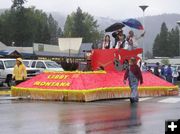 Libby's float with 2005 Nordicfest royalty


Nordicfest 2005
"Just for the Halibut"
by Maggie Craig
September 9-11, 2005

Libby celebrated its 20th anniversary of Nordicfest with a theme of "Just for the Halibut." There was no shortage of entertainment for the weekend, with a youth runnerfell, Fjord horse show, parade, quilt show, craft show, fine arts show, a Kootenai Heritage Council melodrama, abundant musical entertainment and food, food, food. While it was a rainy Saturday morning during the parade, it was still another great weekend to visit Libby.