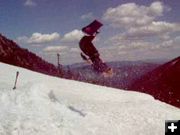 Leigh back flip

Miles Granger does a backflip while snowboarding down Blackwell Glacier on Snowshoe Peak on May 1st.



"It was awesome!"
-Miles Granger


Snowboarding on Blackwell Glacier by Leigh Lake
by Dawn Ballou
May 4, 2005

Photos by Clayton Lundin and Miles Granger

Miles Granger wasn't quite ready to give up winter around Libby just yet, so he and a friend hiked into Blackwell Glacier on Snowshoe Peak in the Cabinet Mountains Wilderness area last weekend to find snow for backcountry snowboarding. This hike is popular in the summer with Leigh Lake as the final destination, but few try it while still covered with winter snow. The trailhead is less than 20 miles from Libby. May brings the best of two seasons, combining an early spring hike for the lower portion with the thrill of finding snow to fill the craving for a few final steep snowboarding runs before winter finally fades away.

Snowshoe Peak is the highest point in the Cabinet Mountains Wilderness area. Blackwell Glacier is on the north side, and is the only named glacier remaining in the Cabinet Mountains. Remote, secluded and wild, with a spectacular view of the surrounding rugged alpine peaks, glacier cirques and high mountain lakes.

On Sunday, May 1st, Miles and friend, Clayton Lundin, hiked in wearing t-shirts and snow pants, with snowboard strapped on their backs. The road and trail going in were bare and dry, finding snow only near the top by the lake after hiking for roughly an hour. They found some good chutes with patches of snow around the lake that worked perfectly for their snowboarding craving. The hike to the top of their chosen run took another 45 minutes.

They made several runs down the glacier, then used a shovel to build ramps for an afternoon of jumps, rotations and inverted flips, all on the slopes overlooking still-frozen Leigh Lake. With no ski lift, they had to hike back up the steep mountain slope for each run. "I must say, it was awesome," he said. "Skiing up there was a blast, a lot of work, but well worth it." He said the weather was warm with blue skies and sunshine, with an incredible view. They spent the day snowboarding in t-shirts. He even got a bit sunburned. It doesn't get any better than that.