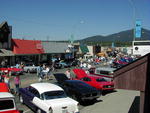 Each August, the Igniters Car Club holds their annual car show on the streets of Libby. Formerly called 'Hot August Nites', the show is now called "Ignite the Nites". This year will be the 46th anniversary of the open car show. The Igniters Car Club of Libby was established in 1961.
The car show is ALWAYS the 3rd weekend in August, and is open to all makes and model vehicles.
Friday is registration, cruising, poker run, flame-thrower contest and neon contest. Saturday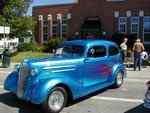 is the formal car show day with awards and the burn-out afterwards. The burn-out contest is always Saturday after the car show. The burn-out will be held at the Libby Drive-In Theater. There will be a dance Saturday night at the Memorial Center.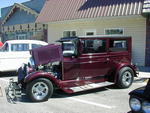 This event has grown each year with almost 200 entries in recent years. The show features categories for Best of Show, People's Choice, Most Improved and other categories for specific types and vintages of automobiles and motorcycles. Vehicles are lined up along Mineral Avenue allowing people to wander on the street viewing the vehicles and talk with the owners.
For more information
Gary Rantala, 406-293-2633, grantala@libby.org
Norma Hanson, 406-293-2276, hanson@kvis.net
Dee Teske, dteske@mt.gov
IGNITERS CAR CLUB
PO Box 611
Libby, MT 59923

For more information about the Libby area, or to have literature mailed to you, contact the Libby Chamber of Commerce, 406-293-4167.
2006 SCHEDULE
(Tentative - updated 2/9/06)
FRIDAY, August 18:
Golf Tournament: 9 hole best ball. Teams of 4 or 5 players, 1 pm
Registration: 3-8 pm
Poker Run: 3-8 pm
Cruise the Gut: 6-10 pm
The Gut (Mineral Avenue) will be closed to public driving. Only Car Show participants will be allowed to cruise.
Neon & Flame Throwing Contest: 10 pm on the Gut
SATURDAY, August 19 :
Mineral Avenue
Registration: 8 am to Noon
Car Show: 9 am to 3 pm & Poker Walk
Awards: 3 pm & Raffle drawing for the pedal car
Burn Out Contest: 5 pm at the Drive-In on Hwy 2 West
Dance Band still to be determined. Live music.
2006 Car Show Registration Fees:
1st Car: TBA
2nd Car: TBA
Poker Run & Walk: TBA
Dance: TBA
2006 T-Shirts:
Small, Medium, Large, X-Large: $TBA
XXL & XXXL: $TBA
Purchase at the Car Show