The Kootenai National Forest has more than 350 miles of groomed snowmobile trails through scenic mountain terrain. Trails range in elevations from 1,862 feet to 8,712 feet. Trails are groomed on a regular or intermittent basis, and conditions may vary depending on the weather.

Grooming is done by local snowmobile clubs, the Lincoln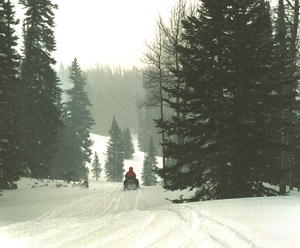 Sno-Kats and the Ten Lakes Snowmobile Club. Most roads on public lands are available to snowmobiles, unless closed by Forest Service order. Access to these roads may not be plowed.
Snowmachine trails may cross areas prone to avalances. Sledders are advised to check with local Forest Service offices regarding avalanche hazard for the area they wish to go into. Avalance information is also available by calling the North Western Avalanche Information phone, 1-800-526-5329. Snowmachine trail maps are available from the local Chamber of Commerce and from Forest Service offices.
General Snowmobiling Tips
Be in Good Physical Condition
Top physical condition may be required to walk out of a remote area if your equipment fails.
Don't Snowmachine Alone
Travel in a group of at least three people and have at least two snowmachines in the group.
Carry a Emergency Repair Kit
Snowmachiners should maintain their equipment in good repair, carry an emergency repair kit and know how to make repairs. Have enough gas for the area in which you are going to sled, and bring along spare gas. Carry snowshoes or skis in case the sled breaks down and you have to walk out. Make sure the light on your sled is in good working order.
Plan Your Trip
Know where you are going to recreate and inform a responsible person of your planned route, then stick to that route. Use sign in boards where provided.
Check the Weather before you Go
Don't travel in a storm. If the weather turns bad and visibility is reduced, follow your tracks back out. Be aware of the dangers of hypothermia.
Stay in Safe Areas
Avoid avalanche terrain and check with local Forest Service offices on conditions before you leave. Avoid sledding on thin ice or unsafe river crossings.
Carry a Survival Kit
Carry survival equipment with you and know principles of winter survival. A flashlight or flare should be included for signaling at night.
Know the Regs and Get the Maps
Snowmachiners are responsible for knowing and oberying all federal, state and local rules regulating the operation of snowmobiles in the area they use their machines. Trail maps are available from the local Chamber and Forest Service offices.
Don't harass Wildlife
Winter is already a stressful time for wildlife. Snowmachiners should avoid actions that cause undue additional stress to animals.