The Kootenai National Forest has 40 Forest Service campgrounds with a total of 704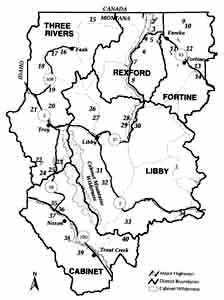 units, throughout the forest. Some campgrounds are open year round, others are open during the summer months only. Campground use is heaviest in July and August. The forest also offers thousands of acres for general dispersed recreation and camping.

Much of the area is accessible by road. Far backcountry and wilderness areas are open to hikers, hunters, fishermen and other foot travel. No mechanized vehicles (including mountain bikes) are allowed within designated wilderness areas.

Forest users should check in with local Forest Service District Offices to get the latest information on current conditions, advisories, and any fire precautions.

Picnicking available at overnight campsites until 2 pm daily; designated areas also available.

14-day Stay Limit on all forest campgrounds. Pets must be leashed.
For trail information, please click here.