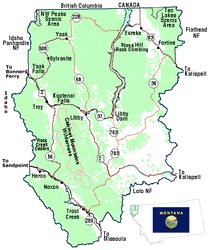 Ten Lakes Scenic Area encompasses 15,700 acres, with an additional 19,000 acres surrounding it. The Ten Lakes Scenic Area is one of an original nine areas designated for special wilderness evaluation under the Montana Wilderness Study Act. Located along the northeastern edge of the Forest with the Canadian border as one of its boundaries, the Ten Lakes Area is dominated by a high ridge of the Whitefish Mountains. The 1984 Montana Wilderness Study Act recommended the Ten Lakes Scenic Area and segments of the surrounding country as wilderness. While not officially designated, the Kootenai National Forest is managing the area to keep its wilderness characteristics. Motorized vehicles or equipment of any kind are not allowed in the Scenic Areas or portions recommended for Wilderness, except for over-snow vehicles.

Alpine glaciers shaped much of the present rugged scenery. As the glaciers grew they carved deep scallops, or cirques, and high, rim-rocked basins sheltering the many lakes of the area. The area is named for the Ten Lakes basin along the Canadian border. Other alpine lakes, often bordered on one side by subalpine vegetation and on the other by a headwall or rook harboring old snowdrifts, hide in nearly every high basin and cirque. Offering spectacular beauty are the Therriault Lakes and Bluebird Basin areas. Poorman Mountain reaching 7832 feet is the highest peak with Ksanksa, Stahl and Independence Peaks ranging from 7505 to 7416 feet scattered throughout the range.

Camping, hiking and horseback riding are the favorite uses of the area, with more than 89 miles of trails available. Little and Big Therriault Campgrounds provide campsites, fire rings, water pumps and vault toilets. The Horse Camp has hitching posts, feed racks, a fire ring, table and outhouse. At Horse Camp space is provided for trailer turn-around and parking. Trailhead bulletin boards display trail maps as well as seasonal information.