The Cabinet Mountains Wilderness offers 94,272 acres of rugged, mountainous terrain in the Kootenai National Forest. More than 20 trails lead into the Wilderness Area giving access to running north/south in the center of the Kootenai National Forest. Primitive camping is allowed with no public facilities. Call the Kootenai National Forest District offices for camping and permit information.

Ranges of high, craggy peaks mark the Forest with Snowshoe Peak in the Cabinet Mountains Wilderness at 8,738 feet, the highest point. Other high mountain peaks include A Peak-8634 ft, Bockman-8174 ft, Elephant-7938 ft, St. Paul-7714 ft, Treasure Mountain-7694 ft, Bald Eagle-7655 ft, and Mt. Snowy-7618 ft.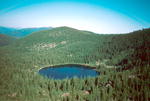 More than 20 trails leading into the Wilderness give access to dozens of high mountain lakes and streams. These trails pass through beautiful forested side slopes, huckleberry patches, and alpine meadows dotted with wildflowers.
Hikers and backpackers are encouraged to "Pack it In and Pack it Out" and practice minimal impact camping techniques, including proper food storage and waste disposal techniques. The Cabinets are home to many species of wildlife, including black and grizzly bears. Visitors are strongly advised to check in with the local Forest Service office for current trail conditions and advisories before venturing into the wilderness area. This is especially true during late summer fire season. Hikers should be familiar with the area they plan to be in, and have alternate routes in mind in case of emergencies or fires. Trail maps and guide books are available at sporting goods shops in town.
For further information contact:
Kootenai National Forest
506 US Highway 2 West
Libby, MT 59923
(406) 293-6211
http://www.fs.fed.us/r1/kootenai/